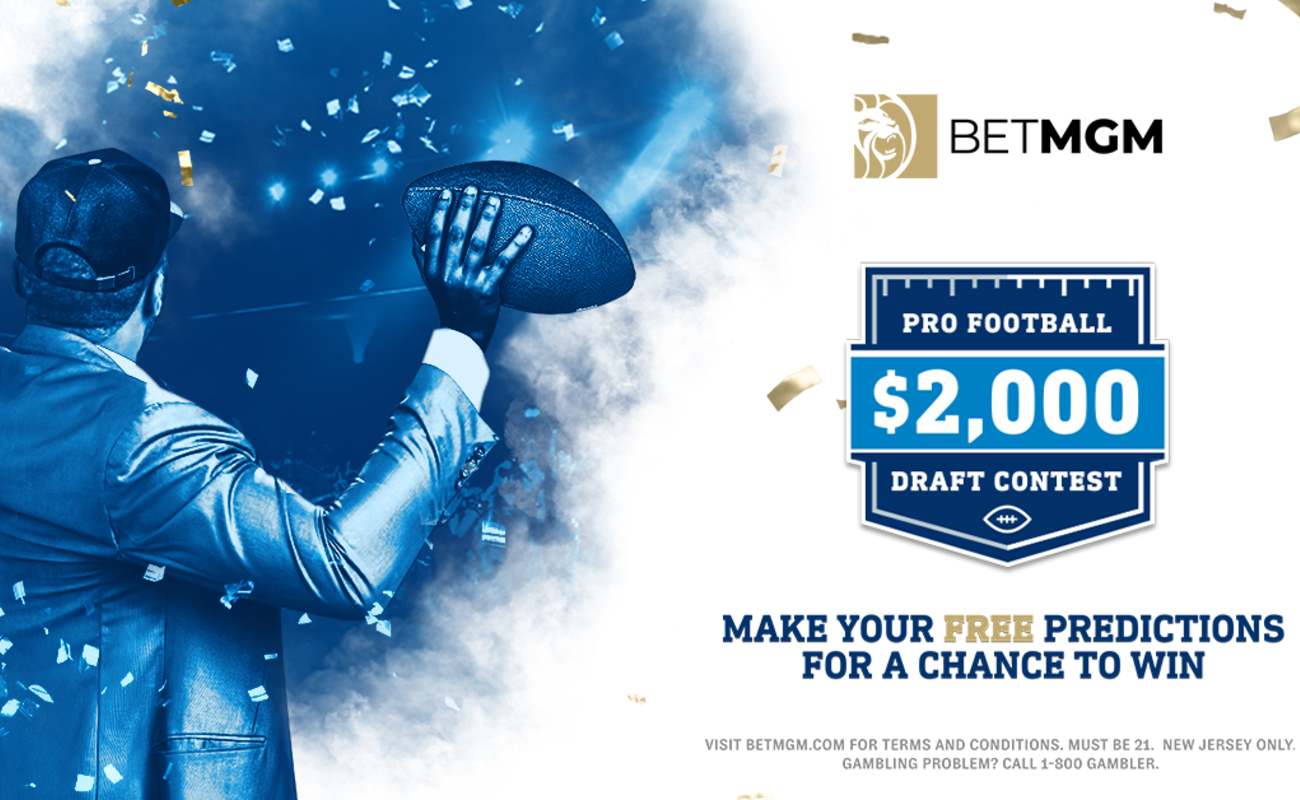 Check out our preview of the 2020 NFL Draft, including the top five bargain picks from this year's unique draft, the best NFL draft betting tips, and some light-hearted topics to get you into the mood.
BetMGM is helping you kick-off your own draft adventure this year with the free-to-play $2,000 Pro Football Draft Contest! Answer 20 questions on what you predict will happen during the 2020 NFL Draft, and the player who guesses the most questions correctly will win a grand prize of $2,000 cash!
How it works:
Register for or login to your BetMGM account.
Play the BetMGM $2,000 Pro Football Draft Contest using your verified BetMGM credentials. *The game is completely free to play*.
Answer all 20 questions on what you think will happen in the Pro Football Draft. Make sure to click 'submit' after answering all questions.
The top 5 players will win a cash prize, and 1st place will win a $2,000 Grand Prize!
The 2020 NFL Draft is Upon Us!
This year's NFL Draft will be different. There will be no fanfare. No handshakes or hugs, no J-E-T-S or E-A-G-L-E-S chants. No cheers for exciting picks; no boos and jeers for underwhelming selections.
The current COVID-19 crisis has made sure this draft will be unique. All 32 teams will pick from isolation using software like Zoom, and if the rehearsal on Monday gives any indication, it's expected to run…not smoothly. One thing that hasn't changed, however, is every team – and fanbase – is desperate to acquire the best talent possible or fill positions of need to take their team to the next level – or to the next Super Bowl.
The top 5 draft steals & sleepers in the 2020 NFL draft
By now you've read dozens of mock drafts and are probably familiar with all the biggest names in this year's draft, like Ohio State edge rusher Chase Young and LSU quarterback Joe Burrow. So, instead of focusing on them, we are going to give you insight into the top value picks based on recent mock drafts.
Cesar Ruiz | OL | Michigan
Avg. Mock draft position: 40
Our Grade: Round 1
Teams who should draft him: Detroit, Arizona, Denver
Ruiz, from Camden, NJ is our highest-graded interior OL in this draft. He profiles as an automatic starter in the NFL and has the prototypical skillset of a modern center or guard in the league. Ruiz uses his above average athleticism and unmatched motor to excel in all blocking schemes and is regularly seen getting to the next level in the screen game. Ruiz has some work to do in the pure strength department, but his tape shows he rarely loses to bull rushes. This is a player we expect to improve any team that selects him in the short-term and he could develop into a Pro Bowl player down the line.
Brandon Aiyuk | WR | Arizona State
Avg. Mock Draft Position: 41
Our Grade: End of Round 1
Teams who should draft him: Philadelphia, Minnesota, New Orleans
Aiyuk is a name you might already be familiar with – particularly if you happen to be an Eagles fan, as he has been the darling of many a conversation within that fanbase. But the hype is deserved. Aiyuk is a first round talent at WR who could be available in the middle of the second round – or even early in the third. He combines athletic traits not dissimilar to Henry Ruggs III with a versatility that has seen him play out wide; in the slot, in the backfield and as a return man during his stint at ASU. He's a likely week 1 starter and could develop into a dangerous deep threat in the NFL.
Jeremy Chinn | S | Southern Illinois
Avg. Mock Draft Position: 61
Our Grade: Middle of Round 2
Teams who should draft him: Buffalo, Philadelphia, New Orleans, Chicago
Chinn is an explosive safety with coverage skills and linebacker size. He has shown himself to be a willing and violent tackler while at Southern Illinois and combined splashy highlight plays with overall consistent production. He showed elite athleticism for his size at the combine and grades out way above his expected draft position in many categories. An area he needs to improve upon, and one reason why he's not being mocked higher, is he has shown a naivety when forced to diagnose plays. He's at his best when flying at ball carriers or covering man-to-man, but has been susceptible in zone schemes and has taken too long to decipher his responsibility when the offense gains the upper hand. However, his ball skills and athleticism alone should appeal to teams who need that X factor type in the secondary. He may find a future role in dime packages covering tight ends or as a coverage linebacker.
Cameron Dantzler | CB | Mississippi State
Avg. Mock Draft Position: 101
Our Grade: Late Round 2
Teams who should draft him: Jacksonville, Kansas City, Buffalo, Dallas
As a junior at MSU, Dantzler developed as one of the SEC's top cornerbacks. He is tall and rangy with excellent strength and proved more than a match for many of the quarterbacks in the SEC, regularly forcing them to target more favourable matchups. He showed proficiency in press coverage and in zone packages which set him up well for the next level. His coverage technique is questionable at times but with NFL coaching and his natural length, this is an area we expect to develop quickly. He also needs to work on his tackling, but as a pure competitor at corner, there are few in this draft better equipped to compete in the NFL right away. A slow 40-time at the combine is cause for concern, but his tape and the current draft price make him a steal in our book as a likely future starter.
Davon Hamilton | DT | Ohio State
Avg. Mock Draft Position: UDFA
Our Grade: Round 4
Teams who should draft him: Pittsburgh, Arizona, New York Giants
Hamilton is an impressive defensive line prospect whose current draft stock makes him a victim of playing alongside 2020 NFL Draft's best player – defensive end Chase Young.
Hamilton has above average quickness and sudden power stout against the run. He is proficient at shedding blocks to make tackles near the line of scrimmage. Our analysis grades him out as a rotational defensive tackle in the NFL with the potential to develop into a reliable contributor. If he is to reach that potential, he must improve his hand use and his upper body strength to become more of a threat as a pass rusher. However, any team drafting him in the late rounds is getting one of the bargains of this draft.
2020 NFL draft betting tips
o Total draft day trades involving first round picks: UNDER 4.5 (19/10)
o First safety drafted: Grant Delpit (4/1)
o Philadelphia to trade its round 1 pick (11/10)
o First kicker drafted: JJ Molson (15/1)
Light-hearted NFL draft predictions
The most likely team to have technical issues
The New York Giants
Dave Gettleman is a FOOTBALL GUY… a football guy who needs to figure out technology…in isolation. This could be like the guy in your online fantasy draft who accidentally takes the Texans DST in the first round.
The team most likely to draft Tua Tagovailoa
The Miami Dolphins
The Dolphins have the makings of a competitive roster already – and they have 14 (!) picks in this draft, including 5th overall. They may use that pick to draft their QB of the future and assume the AFC East throne… Maybe.
Over/under number of times teams lose connection while on the clock
11.5 (sorry, you can't bet on this!)
Team most likely to be interrupted by their kids
The Indianapolis Colts
Philip Rivers could quarterback an offense made up entirely of his own kids. Philip Rivers is the new QB of the Indianapolis Colts.
Teams most likely to make a draft day trade
The Philadelphia Eagles and the Baltimore Ravens
They do it every year. They're like inter-conference best buddies.
Team most likely to trade a player for picks on draft day
The Jacksonville Jaguars
Yannick Ngakoue wants a trade, so much he's burned all bridges on social media by flirting with other teams, in particular, the Eagles. But the Jags have also been shopping perennial Pro Bowl running back Leonard Fournette, who could be an under-the-radar bargaining chip on draft day.