The US college
basketball
scene's iconic March tournament will soon begin. We take a look at one of the strongest competitors this year, San Diego State University, and what you might expect from this powerhouse team.
A brief history of San Diego State Basketball
is impressive basketball program has represented San Diego State University on the courts since 1921. The team has competed in a number of leagues, tournaments, and conferences, including the NAIA, NIT, Division II, and Division I. They are currently coming off the back of excellent performance in the West Coast Conference, as they prepare to enter the biggest national collegiate basketball tournament, on the 17th of March 2020. The team was the home of five highly regarded NBA players including Steve Malovic, Michael Cage, Joel Kramer, Kawhi Leonard, and Malcolm Thomas.
Notable performances
San Diego State vs New Mexico, Mountain West regular-season title, February 2020 Earlier this year, the San Diego State basketball team came up against New Mexico for the Mountain West regular-season title. Despite the two teams being within five points of each other in the first 20 minutes, San Diego State managed to close the game out, 82 points to New Mexico's 59, claiming the conference title for the 12th time.
San Diego State vs New Mexico, Mountain West regular-season title, March 2014
Having lost to New Mexico earlier that year, it looked like San Diego State was again looking to suffer a defeat at the title match. However, despite being down 41-25, San Diego State University was able to turn things around in the second half. They ended the game 51-48 and took home the title.
San Diego State vs Gonzaga, November 2010
In a game that the San Diego Union-Tribune called, "The game that changed everything", the 25th place seeded San Diego State team took down the 11th seeded Gonzaga University. The San Diego State basketball team took the win by a mere 3 points, with a score of 79-76 when the final whistle blew. Many credit Billy White and Kawhi Leonard with the victory, after they wracked up a combined score of 48 points.
Coached to achieve excellence
One cannot discuss this basketball team and their great 2020 performance without talking about their coach Brian Dutcher. Dutcher joined the San Diego State team as an associate head coach in 1999. Dutcher's patience was rewarded after long-time head coach Steve Fisher retired in 2017, allowing him to move into the head coach position. The relationship between these two coaching greats goes all the way back to 1989 when Dutcher helped Steve Fisher and the University of Michigan reach the national championship. This style of coaching has clearly paid off for Dutcher, his Mountain West Conference record as a head coach speaks for itself. The team ended the 2017-18 season 22-11 overall and tied for fourth place. In 2018-19, their overall record was 21-13, again tied for fourth. They ended the last season with an overall record of 30-1 and achieved a standing of first place.
San Diego State basketball roster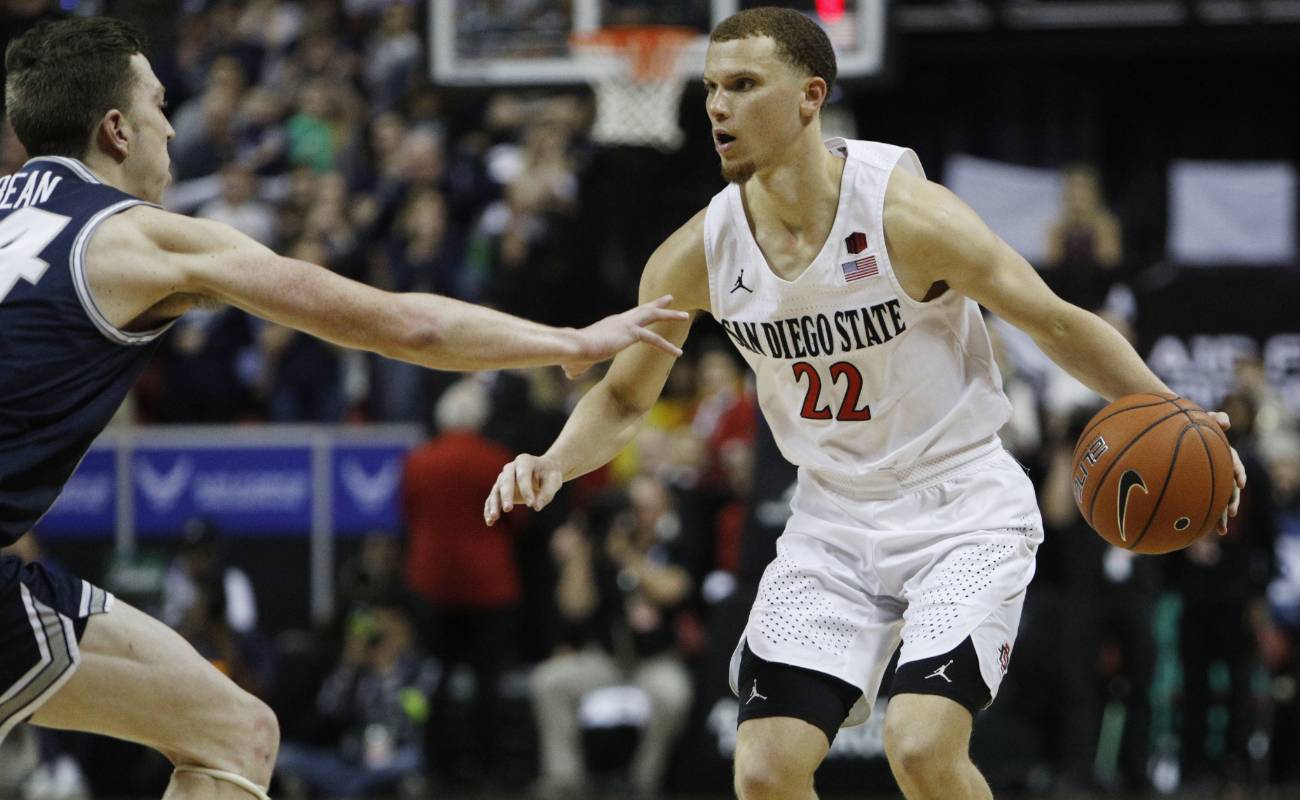 The current roster for the team is: 0) Keshad Johnson – Forward 2) Adam Seiko – Guard 3) Aguek Arop – Forward 4) Trey Pulliam – Guard 5) Yanni Wetzell – Forward 10) KJ Feagin – Guard 11) Matt Mitchell – Forward 12) Nolan Narain – Forward 13) Caleb Giordano – Guard 20) Jordan Schakel – Guard 21) Jared Barnett – Guard 22) Malachi Flynn – Guard 31) Nathan Mensah – Forward 35) Joel Mensah – Forward Number 35, Joel Mensah, has been out of action for almost 3 months, due to a blood clot in his lungs, which required specific blood medication that prevented him from playing contact sports. However, with his treatment almost over, the Aztecs are hoping to have him back on the court in time for the upcoming tournament. Despite Mensah being unable to play, the team has still been performing excellently. Many credit this to the team transfers Malachi Flynn, Yanni Wetzell and KJ Feagin who have the most minutes played on the roster. Flynn has been performing exceptionally well, even if he seems to have slipped under most people's radar until now. The team has noted that while Feagin's defensive skills are still very impressive, his offensive potential seems to have dropped since his sophomore days. However, there is the expectation that he may bounce back if he's given enough time.
Expectations for the national collegiate tournament
Expectations are high for this winning team, with respected college basketball analyst Andy Katz placing the San Diego State basketball team as a No. 2 seed. Katz, who had previously expected them to come in as a No. 1 seed, moved them to No. 2, after their loss against Utah in the final moments of a Mountain West tournament championship game. While this may seem like bad news, expectations for this team were virtually zero, having received zero votes in preseason polls. In his February 15th analysis, Katz highlighted how San Diego State University now has a solid chance of making it into the top four teams for the March tournament. He spoke about what makes this team so special, and why they have a shot to take it all the way:
They are one of the best and most consistent teams when it comes to defence, in the entire country.
While their offensive capabilities are not as good as their defence, they are still scoring pretty well, thanks to their ability to take shots from many positions on the floor.
Transfer Malachi Flynn has been performing exceptionally well.
Grad Transfers Yanni Wetzell and KJ Feagin have added great experience to the roster.
Matt Mitchell is blossoming.
The great leadership and experience of Coach Brian Dutcher, who has developed decades of knowledge as an assistant coach before taking the reins.
However, despite San Diego State University losing a bit of steam recently, some analysts still expect them to take a No.1 seed. Many believe that the team still has what it takes to secure a number one spot. Brent Schrotenboer from USA Today thinks that their recent loss could actually help the team. Without the need to maintain a perfect record, a lot of pressure has been taken off of them, which could lead to an even better performance in the long run.