As we move into the 2020 March college basketball tournament, there's no doubt that many basketball fans are looking back at the best players that competed in this part of the season. In this article, we'll take a look at 6 of the best March college basketball tournament players ever, and where they are today.
Earvin "Magic" Johnson
You don't need to be a basketball fan to recognize the name Magic Johnson. This NBA superstar became a household name because of his incredible charm and his plays on the court. His rise to glory began in the national association tournament.
As a player for Michigan State, Johnson helped lead his team through an amazing run in 1979, with an average of 21.8 points, 10 assists and 8.8 rebounds. His success helped the team claim their first national title.
The excitement around Johnson as a star player, in combination with his rivalry with Larry Bird, is also believed to have helped the national college association tournament get into the mainstream. The 1979 season's final, which saw Johnson and Bird come head-to-head, had a 24.1 Nielsen rating, the highest rating for a college basketball game to this day. It resulted in a growth in team numbers and TV rights fees.
Where they are today
Johnson will forever be remembered for his fantastic play for Michigan State and the LA Lakers. He will also never be forgotten for his heartbreaking announcement that he was not only retiring from the NBA in 1991 but that he was also HIV positive.
Despite the seemingly tragic ending to his career, Johnson has since gone on to have a successful life. He became part-owner of the LA Lakers, as well as taking on the role of coach for a number of years. He also became a motivational speaker, NBA commentator, and investor in other organizations, including the LA Dodgers, aXiomatic eSports, and the EquiTrust Life Insurance Company.
Steph Curry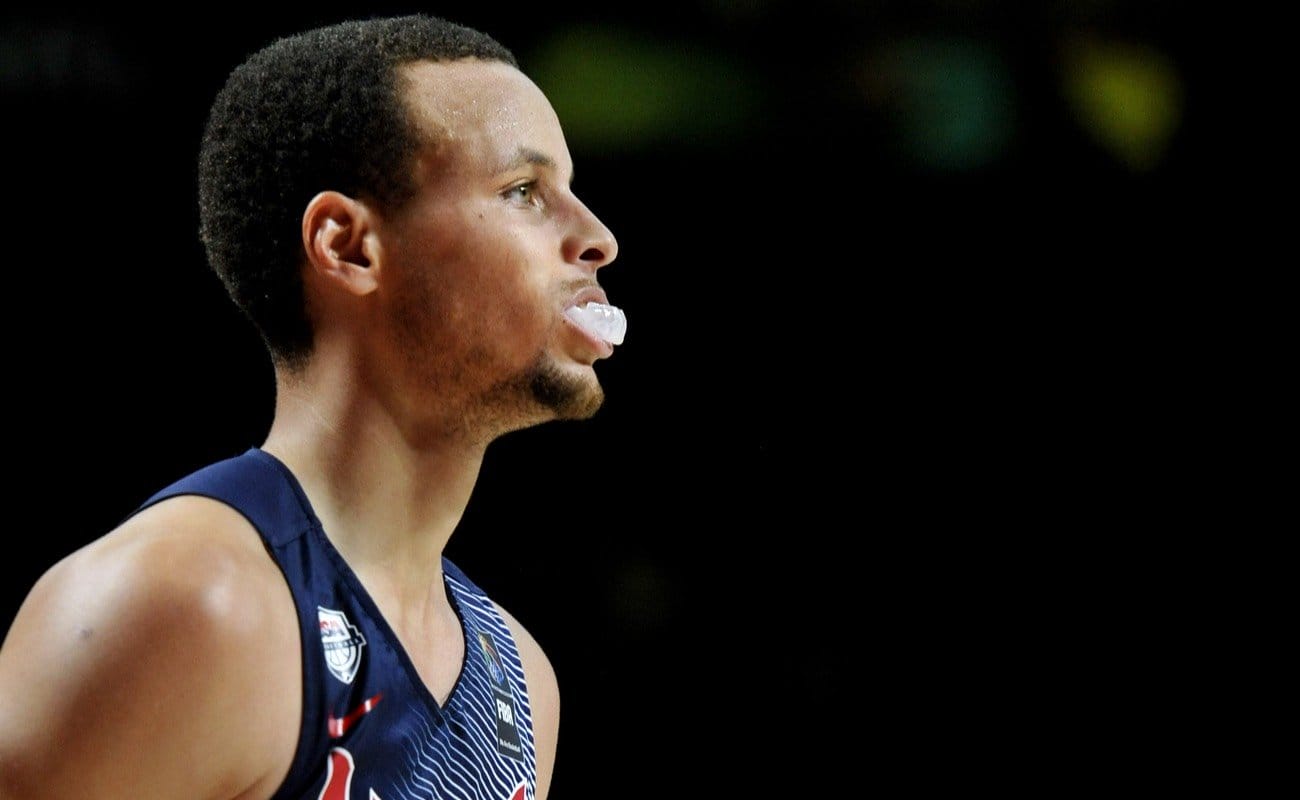 Stephen "Steph" Curry is a player that made a massive impact on a team nobody had any expectations for. Playing for Davidson, he took the team to the top 8 in 2008. He did it in style, scoring 40 points against Gonzaga University in his first tournament game. His 25 point performance also took Davidson within spitting distance of the top four teams, but Kansas prevented them from achieving this goal. Curry also delivered stellar scores against Georgetown (30 points) and Wisconsin (33 points) during this tournament.
Where they are today
Curry has a successful career in the NBA, signing with the Golden State Warriors in 2009, a team he plays for, to this day. His career grew from strength to strength, averaging 17.5 points per game in the 2009-10 season, peaking at an amazing 30.1 in 2015-16, before dropping down to an impressive 27.3 points per game in 2018-19.
However, the 2019-20 season has not gone well for Curry. In a game against the Phoenix Suns, Aron Baynes fell on Curry's left hand, putting him out of the game for three months.
With Curry out of action, Klay Thompson also suffering an injury, and the departure of Kevin Durant from the team, the Warriors have been going through an extremely difficult season at 12-46. However, with Curry set to return soon, Warrior's fans are undoubtedly hoping he can turn the situation around.
Bo Kimble
Bo Kimble will forever be remembered for the tragedy that affected him and his team, Loyola Marymount, in the 1989-90 season. During the West Coast Conference Tournament quarterfinal, Kimble's teammate Hank Gathers collapsed. Gathers was rushed to the hospital, but doctors were, unfortunately, unable to do anything for the young player, who was declared dead.
Despite mourning the loss of their teammate and friend, what makes Kimble's play during the March college basketball tournament truly memorable was the tribute he gave to his fallen teammate. Gathers was left-handed, and in honour of him, Kimble made his first free throw of every game with his left hand. He landed every shot. Kimble ended the season with an average of 35.3 points per game.
Where they are today
Unfortunately for Kimble, he didn't have much of a career in the NBA. He played for three seasons but saw his performance decline with each year. By the end of the 1992-93 season, he was released from his contract with the New York Knicks.
He went on to live an ordinary life, popping briefly into the headlines in 2011 after he decided to offer his support to the Fennville High School basketball team, who had also lost a player on the court.
Oscar Robertson
Oscar Robertson, aka "the Big O", joined the March college basketball tournament history books, for his fantastic feats during the 1959-60 national college association tournament. During this run, Robertson was able to achieve double digits in each of the four games he played, with a standout 43 points scored and 14 rebounds against Kansas. He also achieved an impressive 32 points and 14 rebounds against NYU, and 29 points and 9 rebounds against DePaul.
Where they are today
Even though Robertson was never able to reach a national college association final, he was an excellent performer throughout his college career, scoring 35.1, 32.1, and 33.7 between 1957 and 1960. His outstanding performance, during this time, led to a trophy being named in his honor. The Oscar Robertson Trophy has been awarded annually by the United States Basketball Writers Association since it was first awarded in 1959.
He went on to play basketball in the 1960 Olympics and had a long career in the NBA between 1960 and 1974. He also became a vocal labor activist, health advocate, and the owner of many small businesses.
Danny Manning
Manning had played for Kansas since 1984. But, it wasn't until the 1988 national college associations Tournament that Manning took the 6th seeded team on an amazing run. Thanks to his fantastic play during this tournament, his team earned the nickname "Manning and the Miracles". Manning was on fire and helped the team claim their first title in 36 years with 31 points, 18 rebounds, and five steals in the final match vs. Oklahoma.
Where they are today
Manning had a moderately successful career in the NBA, but could never reach the heights he achieved in the national college association, likely as a result of his multiple knee problems.
He retired in 2003 but has since gone on to coach at the college level. After spending several years as an assistant coach at Kansas, he went on to become the head coach at Tulsa. He spent two years coaching the Tulsa team before moving on to coach at Wake Forest, where he coaches to this day.
Christian Laettner
Laettner had a reputation for being one of the most disliked players on the court, and for good reason. In an interview with GQ, in 2015, Laettner's reply to the following question made it clear why this was the case:
You might be the most hated player in [national college association] history. Who did you hate?
"I hated everybody when I was playing. I needed to play with that overly competitive, fighting spirit to be the best player I could be. I'm not always the biggest or most athletic, so I need that extra competitive fire to propel me into playing really good basketball. So I hated everybody."
But regardless of whether you loved him or hated him, Laettner's history in the national college association is remarkable. His buzzer-beater against Kentucky has become an iconic part of the March College Basketball tournament, but he also holds a number of records, including:
Most points scored: 407
Most free throws made: 142
Most free throw attempts: 167
Most games won: 21
Most games played: 23
Where they are today
Despite his infamous reputation, Laettner pursued a career in business, with varying degrees of success. He failed to acquire a stake in the Memphis Grizzlies but did manage to become part of an ownership group for D.C. United. He runs the Christian Laettner Basketball Academy which hosts training camps for young players. He was also the subject of an ESPN documentary named "I Hate Christian Laettner".
The March college basketball tournament 2020 is here!
These people have demonstrated the amazing heights that the best March college basketball tournament players can achieve, but will the best college basketball players in this year's tournament achieve the same success? We'll just have to wait and see.
While you wait, why don't you get in on the March college basketball tournament sports betting action with BetMGM? BetMGM provides the odds on all the March college basketball tournament teams, so you can place well-informed bets. Once you've made up your mind, our easy to navigate site makes it easy to choose your picks.
To find out more about BetMGM, be sure to visit our website or get in touch with our customer support team today!