The game was in hand when Erik Kramer handed the ball to Barry Sanders on 2nd-and-10 in the fourth quarter of the Detroit Lions' playoff game against the Dallas Cowboys in January 1992. The Lions led 31-6 and were minutes away from their first playoff victory in 35 years.
Five yards into a run that began at the Cowboys' 47-yard line, Sanders was surrounded. The First-Team All-Pro was literally surrounded by four defenders: Robert Williams in front, Tony Tolbert behind, Kenneth Gant to the right, and Jack Del Rio to the left.
Sanders evaded all four and, seven yards later, juked Ken Norton Jr. to the moon en route to his 17th rushing touchdown of the season and a 38-6 victory. You only need to evade one defender to score a victory with BetMGM's new promotional game, 8-Bit Barry.
Pay homage to '90s retro video games and the Hall of Famer in a free-to-play game: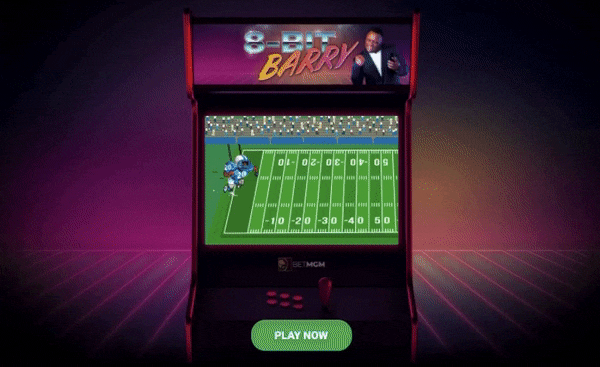 Playing as Barry Sanders on BetMGM.com or the BetMGM Sportsbook app, juke, stiff-arm, or spin your way into the end zone. If you get past the defender, you'll receive one of the following:
Bonus Bet
First Bet Offer Token
Parlay Boost Token
The prize(s) may be used on any sports betting odds and are not limited to NFL betting odds. You can play 8-Bit Barry each week of the 2021 NFL season for your chance to win.
Terms & Conditions

NO PURCHASE OR WAGER OF ANY KIND IS NECESSARY TO ENTER OR WIN THIS PROMOTION. A PURCHASE OR WAGER OF ANY KIND WILL NOT INCREASE YOUR CHANCES OF WINNING. VOID WHERE PROHIBITED BY LAW. AFFIDAVIT OF ELIGIBILITY / RELEASE OF LIABILITY / PRIZE ACCEPTANCE AGREEMENT MAY BE REQUIRED. ALL DISPUTES WILL BE RESOLVED SOLELY BY BINDING ARBITRATION AND ENTRANTS WAIVE THE ABILITY TO BRING CLAIMS IN A CLASS ACTION FORMAT.

Eligibility: The 8-Bit Barry Free To Play Game ("Promotion") is open only to individuals who are twenty-one (21) years of age or older at the time of entry (unless otherwise excluded by Sponsor in accordance with applicable law) and have an active, KYC verified BetMGM Sports account ("Sportsbook Account") in Arizona, Colorado, Indiana, Iowa, Michigan, New Jersey, Pennsylvania, Tennessee, Virginia, Washington D.C, West Virginia or Wyoming. Proof of residency and age may be required. Creating a Sportsbook Account at BetMGM.com is free. By submitting your information and creating a Sportsbook Account, however, you will be required to agree to Sponsor's Privacy Policy and Terms of Service. If you do not agree to Sponsor's Privacy Policy and Terms of Service, you cannot create a Sportsbook Account or participate in this Promotion. Employees, officers, directors, members and representatives of Promotion Entities (defined below), members of these persons immediate families (spouse, parents, siblings and children and each of their respective spouses, children and siblings), and persons living in the same households of each of the above (whether legally related or not) are ineligible to participate in this Promotion or receive a prize. Sponsor additionally reserves the right to refuse or otherwise restrict your eligibility to participate in the Promotion for any reason, in its sole discretion, including based on your wagering patterns or wagering history. "Promotion Entities," as referenced herein, shall include Sponsor and each of its parent, subsidiary, and affiliate companies, and administrative, advertising, and promotion agencies, gaming license partners, and any other entity involved in the development, administration, promotion, or implementation of the Promotion. Subject to all applicable federal, state and local laws and regulations. Promotion is void outside the United States and wherever prohibited or restricted by law.
Sponsor: The sponsor of the Promotion is BetMGM, LLC ("Sponsor"), 210 Hudson Street, Jersey City, NJ 07311.
Promotion Period: The Promotion will consist of individual weekly games (each a "Weekly Game") conducted between October 29th, 2021 and January 9, 2022 ("Promotion Period"). Each Weekly Game will begin at 12:00 AM ET on each Thursday during the Promotion Period and end at 11:59 AM ET on the Sunday during the Promotion Period (each such time period, a "Weekly Entry Period"). For example, the first Weekly Entry Period will begin at 12:00 AM ET on Thursday November 4th, 2021 and end at 11:59 AM ET on November 7th, 2021. Sponsor's computer is the official time-keeping device for the Promotion.
How to Participate: During the Entry Period, visit BetMGM.com or the BetMGM mobile application (collectively, the "Website"), log into your Sportsbook Account, and access the "8 BIT BARRY FREE TO PLAY GAME PROMOTION" entry page under the tab labeled "Promotions". Then, follow the provided instructions to complete and thereafter submit your contest entry ("Entry"), which includes choosing one of the three provided Offensive Maneuvers (defined below). Limit one (1) Entry per person/user per Weekly Game.

Entries must be received before the end of a Weekly Entry Period to be eligible for the corresponding Weekly Game. No purchase is necessary in order to submit an Entry. If you choose to submit an Entry via your web-enabled mobile device, data rates may apply. See your wireless service provider for details on rates and capabilities.

Entries generated by a script, computer programs, macro, programmed, robotic or other automated means are void and may be disqualified. Entries that are in excess of the stated limits, incomplete, illegible, corrupted, damaged, destroyed, forged, false, lost, late or misdirected, deceptive or otherwise not in compliance with these Official Rules may be disqualified from the Promotion at Sponsor's sole and absolute discretion. Entries submitted by entrants who do not meet the eligibility requirements (including all requirements with respect to age and residence) are void. All materials submitted by participants become the property of Sponsor and, unless otherwise indicated herein, will not be returned. For purposes of this Promotion, an online entry is "received" when Sponsor's Website's servers record the entry information, and a mail-in entry (if applicable) when such entry is physically received by Sponsor at the address provided herein. Proof of sending (such as an automated computer receipt confirming entry or "thanks for entering" message) does not constitute proof of actual receipt of an entry for purposes of this Promotion. The Website's database clock will be the official timekeeper for this Promotion. Those who do not follow all of the instructions, provide the required information in their entry form, or abide by these Official Rules or other instructions of Sponsor may be disqualified. All entrants submitting materials/content as part of the Promotion will be non-exclusively licensing (with the unlimited right to sublicense) to Promotion Entities the right to use such materials, and the images related thereto (including entrant's name, social media account username, and likeness), for any purpose (including any and all commercial purposes) with the right to modify the materials and make derivative works thereof.
Winner Determination and Notification: As part of his/her Entry in a Weekly Game, each entrant will be required to select one (1) of three (3) maneuvers ("Offensive Maneuvers") to be performed by virtual Barry Sanders in such Weekly Game ("Prediction"). Virtual Barry Sanders will then perform the selected Offensive Maneuver in the Weekly Game. If an eligible entrant's selected Prediction in a Weekly Game results in virtual Barry Sanders scoring a touchdown (a "Correct Prediction"), such entrant will be deemed a potential winner of such Weekly Game.

Whether a Prediction is deemed a Correct Prediction will be determined by Sponsor in its sole discretion. Each potential winner(s) will be notified via game notification or inbox message. Each potential winner(s) must continue to comply with all terms and conditions of these Official Rules and winning is contingent upon fulfilling all requirements.

PLEASE NOTE THAT EVEN IF YOU OR YOUR ENTRY IS IDENTIFIED AND/OR CONTACTED AS A POTENTIAL WINNER AT THE CLOSE OF THIS PROMOTION, YOU HAVE NOT YET WON A PRIZE. POTENTIAL WINNERS ARE SUBJECT TO VERIFICATION BY SPONSOR, AND MUST MEET ALL ELIGIBILITY REQUIREMENTS AND THE TERMS OF THESE OFFICIAL RULES BEFORE AN ENTRANT WILL BE CONFIRMED AS A WINNER AND A PRIZE WILL BE AWARDED.

The potential winner(s) may be required to sign and return an Affidavit of Eligibility, Liability, & Publicity Release ("Affidavit") and an IRS W-9 form to Sponsor. If required by Sponsor, these documents will be sent out to the potential winner(s) by email along with instructions on to how to return them to Sponsor. Sponsor reserves the right to modify the notification and Affidavit procedures in connection with the selection of any alternate potential winner. Sponsor may share potential winner's name and contact information with Promotion Entities and/or any prize provider, as applicable, if necessary. Upon completion and acceptance of the Affidavit and once the potential winner(s) provides the necessary proof of travel documents, then he or she will be declared the winner(s).

In Sponsor's sole discretion, a potential winner(s) may be disqualified (and may forfeit his/her prize) if such selected potential winner (i) is unreachable or does not timely respond to any communication from Sponsor (or its designee) (or if a winner notification is returned as undeliverable), (ii) declines or cannot accept, receive or use a prize for any reason, (iii) fails to sign and return the Affidavit within the required time period, and/or (iv) does not comply with these Official Rules. Forfeited prizes may not be awarded. In the event that a potential winner is disqualified and/or is unable to satisfy the requirements herein, Sponsor will use reasonable efforts to award the prize to an alternate potential winner (if necessary and time permitting) who successfully meets the requirements to receive a prize but reserves the right to not award the prize after multiple efforts to identify an alternate potential winner (if any) who accepts the prize.

Sponsor will have complete discretion over interpretation of these Official Rules, of administration of the Promotion, and of selection/determination of the potential winner(s). Sponsor's decisions in all matters related to the Promotion are final and binding. Each potential winner may, in Sponsor's sole discretion, be required to show a valid state issued driver's license, government-issued identification or other identification (subject to Sponsor's approval) as evidence of identity.
Prizing and Allocation: Each winner of a Weekly Game will be awarded one (1) prize, which will be awarded to each such winner at random. The prize awarded to a winner may consist of any of the following: $5 Free Bet, Risk-Free Token (up to $10), or Parlay Boost Token (15%). Prizes are subject to change.

For each Weekly Game, prize(s), if any, will be deposited into the Sportsbook Account(s) of the winner(s), if any, within seventy-two (72) hours of the conclusion of the Promotion, subject to verification of winner's eligibility and compliance with these Official Rules. In certain instances, such as those involving larger or non-monetary prizes, the prizes may be distributed in an alternative manner at Sponsor's sole discretion.

Actual retail value ("ARV") of prizes may vary. For any prize with an ARV of six hundred dollars ($600) or greater, Sponsor will furnish an Internal Revenue Service Form 1099 to winner for the ARV of prize for the year in which prize was won.

All details of prizes will be determined by Sponsor in its sole discretion. Prizes are subject to certain terms and conditions as specified by issuer. Restrictions may apply. Prizes are not redeemable for cash except in Sponsor's sole and absolute discretion. Prizes are non-transferable and no substitutions will be made except at the Sponsor's sole discretion. Sponsor reserves the right to substitute a prize (or any element of a prize) for one of equal or greater retail value. The value of prizes set forth above represents Sponsor's good faith determination of the prizes' ARV, and the actual fair market value of the prizes will be determined in Sponsor's sole discretion and will be final and binding and cannot be appealed. All federal, state, and local taxes (including income and withholding taxes) with acceptance and use of prizes not specified herein as being awarded are winner's sole responsibility.

PRIZES ARE AWARDED "AS IS" AND WITHOUT WARRANTY OF ANY KIND, EITHER EXPRESSED OR IMPLIED, INCLUDING, BUT NOT LIMITED TO, IMPLIED WARRANTIES OF FITNESS FOR A PARTICULAR PURPOSE. SOME JURISDICTIONS MAY NOT ALLOW (OR MAY LIMIT) DISCLAIMERS OF CERTAIN WARRANTIES, IN WHICH CASE THE FOREGOING DISCLAIMERS WILL BE ENFORCED TO THE MAXIMUM EXTENT PERMITTED BY LAW.

Free Bets: Free Bets expire seven (7) days after receipt. Winners, if any, must use their Free Bets within such seven (7) day expiration period, or Free Bet will be forfeited. Free Bet may be used on any sport, event or market. Additional terms and conditions may apply.

Risk-Free Token: Risk free tokens expire seven (7) days after receipt. Winners must use their Risk-Free Token within such seven (7) day expiration period, or the risk-free token will be forfeited. Risk-free token may be used on any sport, event, or market. Additional conditions may apply.

Parlay Boost Token: Parlay Boost token is set at a 15% profit boost which expires three (3) days after receipt. Winners must use their Parlay Boost Token within such three (3) day expiration period, or the parlay boost token will be forfeited. Parlay Boost token may only be used on any sport, event, or market that allow for parlay wagers. Additional conditions may apply.
Release and Limitation of Liability: By entering the Promotion, each entrant agrees for entrant and for entrant's heirs, executors, and administrators (a) to release and hold harmless Promotion Entities, and each of their respective officers, directors, and employees (collectively, "Released Parties") from any liability, illness, injury, death, loss, litigation, or damage that may occur, directly or indirectly, whether caused by negligence or not, from such entrant's participation in the Promotion and/or his/her acceptance, possession, use, or misuse of the prize(s) or any portion thereof (including any travel related thereto); (b) to defend and indemnify Released Parties from any and all claims or liability resulting or arising from the Promotion and to hereby acknowledge that Released Parties have neither made nor are in any manner responsible or liable for any warranty, representation, or guarantee, express or implied, in fact or in law, relative to the prize(s), including express warranties provided exclusively by prize provider that are sent along with the prize(s); (c) if selected as a Promotion winner, to the posting of such entrant's name on the Website and the use by Released Parties of such name, voice, image, and/or likeness for publicity, promotional, and advertising purposes in any and all media now or hereafter known, throughout the world in perpetuity, without additional compensation, notification, permission, or approval, and, upon request, to the giving of consent, in writing, to such use; and (d) to be bound by these Official Rules and to waive any right to claim any ambiguity or error therein or in the Promotion itself, and to be bound by all decisions of the Sponsor, which are binding and final. Failure to comply with these conditions may result in disqualification from the Promotion or forfeiture of the prize(s) at Sponsor's sole discretion.

Released Parties shall not be liable to any winner or any other person for failure to supply the prize or any part thereof, by reason of any acts of God, any action(s), regulation(s), order(s), or request(s) by any governmental or quasi-governmental entity (whether or not the action(s), regulations(s), order(s) or request(s) prove(s) to be invalid), equipment failure, terrorist acts, earthquake, war, fire, flood, explosion, epidemic, public health emergency, unusually severe weather, hurricane, embargo, labor dispute or strike (whether legal or illegal), labor or material shortage, transportation interruption of any kind, work slow-down, civil disturbance, insurrection, riot, or any other cause beyond Sponsor's sole control ("Force Majeure Event"). A Force Majeure Event expressly includes (i) an outbreak or resurgence of COVID-19 (as defined by the World Health Organization, which, together with any related strains, variants and mutations thereof and other similar infectious diseases, are collectively referred to herein as "COVID-19") or, (2) action, order, regulation or guidance taken or issued by a government authority in response to an actual or threatened outbreak or resurgence of COVID-19.

Released Parties are not responsible for and shall not be liable for: (i) any incorrect or inaccurate information, whether caused by entrants, printing errors or by any of the equipment or programming associated with or utilized in the Promotion; (ii) technical, hardware, software, or telephone failures of any kind, lost or unavailable network connections, or failed, incomplete, garbled, or delayed computer transmissions which may limit or interfere with a participant's ability to take part in the Promotion; (iii) unauthorized human intervention in any part of the entry process of the Promotion; (iv) technical or human error which may occur in the administration of the Promotion or the processing of entries; (v) late, lost, delayed, misdirected, incomplete, unreadable, inaccurate, undeliverable, damaged or stolen entries or notices (including winner notifications, if applicable); (vi) data corruption, theft, destruction, unauthorized access to or alternation of entry or other materials; (vii) any printing, typographical, human, administrative or technical errors or omissions in any material associated with the Promotion; and/or (viii) any injury, loss, costs, expenses or damages to persons or property (including, but not limited to, damage to any computer system or mobile device related to participation in, accessing or downloading information related to the Promotion) which may be caused, directly or indirectly, in whole or in part, from entrant's participation in the Promotion or any Promotion related activity; and/or (ix) any cancellations, delays, diversions or substitutions or any act or omissions whatsoever by any persons.
Publicity: Except where prohibited by law, by accepting a prize, each winner agrees and acknowledges that Sponsor and its designees may, without any limitation or further compensation, use his or her name, voice, biographical data and/or likeness in any and all media now known or hereinafter devised, throughout the universe and in perpetuity, for any commercial purpose including, but not limited to, advertising and promoting the Promotion or any other promotion, contest or Promotion sponsored by the Sponsor.
General Conditions: Sponsor reserves the right, in its sole discretion, to modify, cancel or suspend this Promotion (or any portion of the Promotion) at any time without prior notice or consent for any reason, including, without limitation, should an error, virus, bug, computer problem or other cause or issue corrupt, restrict, prevent or inhibit the administration, security or proper operation of the Promotion and, in such situation, to select the potential winner from the remaining eligible non-suspect entries received prior to and/or after such action or in such manner as deemed fair and appropriate by Sponsor in its sole discretion. Sponsor may prohibit an entrant from participating in the Promotion or winning a prize if, in its sole discretion, Sponsor determines entrant is attempting to undermine the legitimate operation of the Promotion by cheating, hacking, deception, or other unfair practices or intending to annoy, abuse, threaten or harass any other entrant or Sponsor's representatives. No more than the stated number of prizes will be awarded. ANY ATTEMPT BY AN ENTRANT OR ANY OTHER INDIVIDUAL TO DELIBERATELY DAMAGE ANY WEB SITE OR UNDERMINE THE LEGITIMATE OPERATION OF THE PROMOTION IS A VIOLATION OF CRIMINAL AND/OR CIVIL LAWS AND SHOULD SUCH AN ATTEMPT BE MADE, THE SPONSOR RESERVES THE RIGHT TO SEEK DAMAGES AND OTHER REMEDIES FROM ANY SUCH PERSON TO THE FULLEST EXTENT PERMITTED BY LAW.
Disputes: Except where prohibited, entrant agrees that: (i) any and all disputes, claims and causes of action arising out of or connected with this Promotion or any prize awarded shall be resolved individually, without resort to any form of class action (ii) any and all claims, judgments and awards against one or more of the Releasees shall be limited to actual out-of-pocket costs incurred, including costs associated with entering the Promotion, but in no event attorneys' fees (or other professionals' fees); and (iii) under no circumstances will entrant be permitted to obtain awards for, and entrant hereby waives all rights to claim and/or seek indirect, punitive, incidental, special and consequential damages and any other damages, other than for actual out-of-pocket expenses, and any all rights to have damages multiplied or otherwise increased.

Each entrant must be the rightful owner or have authorized use of the email account associated with the entrant's submitted email address (if provided). If a dispute arises about who submitted an entry, the entry will be deemed submitted by the authorized account holder of the BetMGM Sports account provided. The "authorized account holder" is deemed the natural person who is assigned to an email address by an Internet access provider, service provider, or other online organization that is responsible for assigning email addresses for the domain associated with the submitted email address. A potential winner may be requested to provide the Sponsor with proof that the potential winner is the authorized account holder of the email address associated with the winning entry and that all eligibility requirements are met. In the event a dispute regarding the identity of the individual who actually submitted an entry cannot be resolved to Sponsor's satisfaction, the affected entry will be deemed ineligible.
Choice of Law: All issues and questions concerning the construction, validity, interpretation and enforceability of these Official Rules, or the rights and obligations of entrant and Sponsor in connection with the Promotion, shall be governed by, and construed in accordance with, the substantive laws of the State of New Jersey, USA, without giving effect to any choice of law or conflict of law rules (whether of the State of New Jersey or any other jurisdiction), which would cause the application of the laws of any jurisdiction other than the State of New Jersey. By entering (or participating in any Promotion-related activity), entrants (and others) consent to the jurisdiction and venue of federal, state and local courts located in Hudson County, New Jersey.
Arbitration: Except where prohibited by law, as a condition of participating in this Promotion, entrant agrees that (1) any and all disputes and causes of action arising out of or connected with this Promotion, or prize awarded, shall be resolved individually, without resort to any form of class action, and exclusively by final and binding arbitration under the rules of the American Arbitration Association and held at the AAA regional office nearest the entrant; (2) the Federal Arbitration Act shall govern the interpretation, enforcement and all proceedings at such arbitration; and (3) judgment upon such arbitration award may be entered in any court having jurisdiction. Under no circumstances will entrant be permitted to obtain awards for, and entrant hereby waives all rights to claim, punitive, incidental or consequential damages, or any other damages, including attorneys' fees, other than entrant's actual out-of-pocket expenses (i.e., costs associated with participating in this Promotion), and entrant further waives all rights to have damages multiplied or increased.
Entrant's Personal Information: By filling out the entry form and submitting it, you acknowledge and agree that information collected from you is subject to Sponsor's privacy policy available here.
Winners List and Official Rules: For the name of the winner(s) or a copy of these rules, send a self-addressed, stamped envelope (Vermont residents need not affix return postage) to: BetMGM, LLC, Marketing attn.: 8-Bit Barry Free To Play Game, 210 Hudson Street, Jersey City, NJ 07311. All such requests must be received within three (3) months after the end of the Promotion.
This Promotion is in no way sponsored, endorsed, or administered by, or in association with any person or other entity, including any third party, other than BetMGM, LLC.
Miscellaneous: No waiver of any of the provisions of these Official Rules shall be deemed or shall constitute a waiver of any other provisions hereof, nor shall waiver constitute a continuing waiver unless otherwise expressly provided. If any provision of these Official Rules is found to be invalid or unenforceable by a court of competent jurisdiction, such provision shall be severed from the remainder of these Official Rules, which will otherwise remain in full force and effect.
RESPONSIBLE GAMING: Visit BetMGM.com for Terms and Conditions. 21 years of age or older to wager. AZ, CO, DC, IA, IN, MI, NJ, NV, PA, TN, VA, WV, or WY only. Excludes Michigan Disassociated Persons. Please gamble responsibly. Gambling problem? Call 1-800-NEXT-STEP (AZ), 1-800-522-4700 (CO, DC, NV, WY, VA), 1-800-270-7117 for confidential help (MI), 1-800-GAMBLER (NJ, PA & WV) or 1-800-BETS OFF (IA). Call or text the Tennessee REDLINE: 800-889-9789 (TN) or call 1-800-9-WITH-IT (IN).
Place Football Bets at BetMGM
Football betting never sleeps at the BetMGM sportsbook. Throughout the season, you can bet online with updated NFL spreads, college football lines, and more. Don't miss any sports betting opportunities at the best online sportsbook.