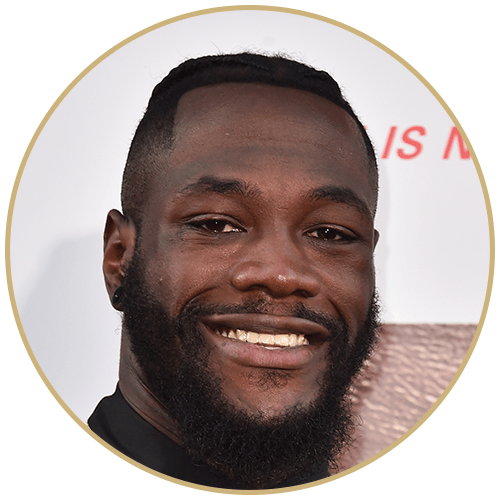 Deontay Wilder
June 10, 1985

2020 Earnings: $46.5 million ($46 million salary/prize winnings, $500,000 endorsements)
Networth: Estimated $30 million
Wilder may have looked like hed been throwing punches in the ring for decades when he made his debut, but he only started boxing at the age of 20.
He ended his time as an amateur boxer with a record of 30-5. As an Olympic boxer, he won 2 out of 3 fights. As a professional boxer, his record currently sits at 41 wins, 1 loss, 1 draw.
Wilder reportedly has a total of 33 tattoos. These include a number of religious icons including the Virgin Mary, praying hands, and Psalm 27. The boxing star believes hes spent more than 1000 hours getting inked, but that everything on him has meaning to it.
Despite the fact that he could earn more money from avoiding a third fight against Anthony Joshua, Wilder activated the third fight clause and is set to go against Fury again in early October, 2020.
Having grown up in Alabama, Wilder understands that rural kids dont always get the things they need to thrive. This is why Wilder hosted an Easter event in 2019 where people who are disadvantaged could come together for a day of celebration, and go home with groceries and other essentials they need. Hes also an ambassador for CHIVA Africa, an organization that helps HIV positive children and adolescents in Africa.
Back to Main Listing Page