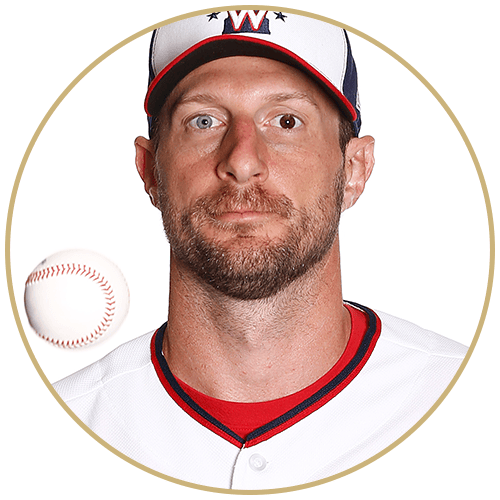 Max Scherzer
October 4, 1984

2020 Earnings: $15.3 million ($15 million salary/prize winnings, $300,000 endorsements)
Networth: Estimated $50 million
Max is a three time Cy Young award winner, winning the award in 2013, 2016, and 2017.
In 2015, Scherzer signed a 7 year contract with the Washington Nationals for $210 million. This was the biggest contract for a right-handed pitcher at the time.
Scherzer is only the sixth pitcher ever to throw two no-hitters in the same season. The first game was against the Pittsburgh Pirates in June 2015, with the Nationals winning 6-0. The second was only a few months later in October 2015 against the New York Mets. The Nationals won this game 2-0.
Max also pitched two immaculate innings. The first was against the Philadelphia Phillies in May 2017, while the second was against the Tampa Bay Rays just over a year later in June 2018.
Max and his wife Erica are big supporters of the Human Rescue Alliance "" an organization that aims to create a world that protects animals and people, and create a better environment for animals across the world.
Back to Main Listing Page