Had COVID-19 not forced the cancellation of the 2021 NCAA Tournament, Seton Hall would've made their fifth straight tourney appearance, setting the new program record for consecutive appearances. The Pirates lost Myles Powell and Quincy McKnight but returned Sandro Mamukelashvili, Jared Rhoden, and, most importantly, Kevin Willard despite another wave of interest in their longtime head coach, for another shot at a fifth straight appearance. Instead, Seton Hall will miss their first tournament since 2015.
Seton Hall debuted as an 8-seed in the first edition of Bracketology on Jan. 6 and spent the next two months floating on and off the bubble. After Friday's loss to Georgetown in the Big East Tournament, they're off the bubble for the first time since March 4. 
"Every team goes through their bad times," said Rhoden after the loss, their fifth in six games. "I felt like we hit our bad time at the wrong point in the season."
Good times came in early January when Seton Hall was 8-4 with a three-game winning streak and seven wins in nine games. At the time, they were 3-2 on the road, 3-2 in Quadrant 1 games, and third in non-conference SOS. Two months later, they're under .500 on the road (6-7), still sitting at three Quadrant 1 wins, and have plummeted to 53rd in non-conference SOS. While some of their metrics are still reflective of a typical tournament team, their entire résumé isn't.
Eleven key numbers for Seton Hall and four bubble teams currently in the First Four games: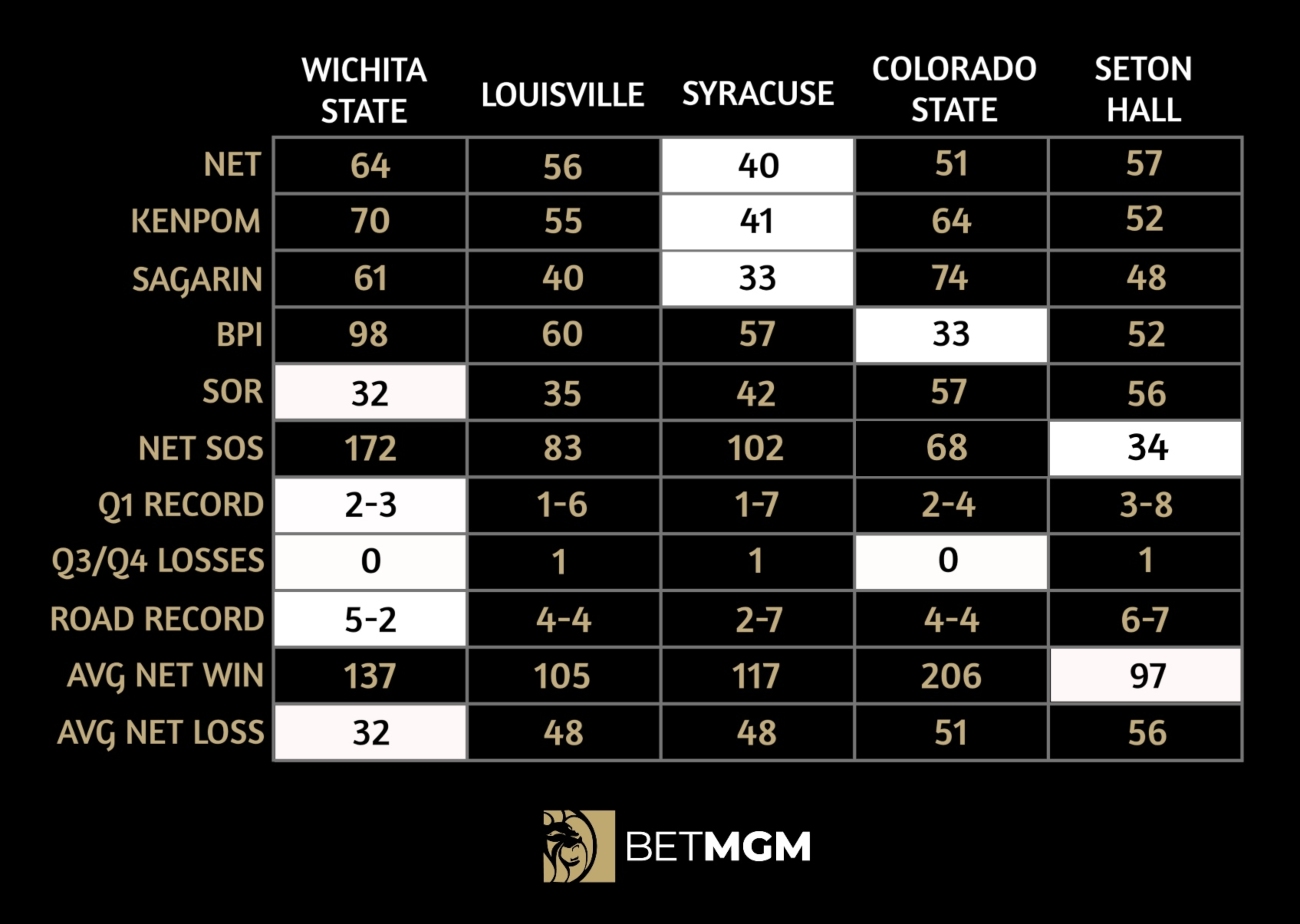 There's some good news for Seton Hall: Not one of the 11 numbers is terrible. They have the most consistent column of any team and lead in NET SOS and average NET win. However, history says consistency usually doesn't mean an at-large bid. Most often, the committee rewards teams with multiple strong numbers (e.g. road record, NET, Quadrant 1 wins, etc.). And judging from Kevin Willard's postgame comments, he knows the committee won't look favorably upon their numbers. 
"To get close to the NCAA Tournament, I'm proud of this team," Willard said after the loss. "I haven't put a whole lot of thought into [the NIT]. I'm not 100 percent sure that's going to be the best thing for this team."
If Seton Hall's season is done, they'll finish with a 14-13 record, posting their worst winning percentage (.519) since 2015.
Listen to High Motor by BetMGM for more news and analysis on college basketball, college football, and the NFL:
Place NCAA Tournament Wagers at BetMGM
At BetMGM, we have up-to-the-minute NCAA Tournament odds, lines, teasers, and tips to ensure the best college basketball betting experience for the 2021 NCAA Tournament. Don't miss an opportunity for online sports betting at BetMGM.
Andrew Doughty is a writer for BetMGM and host of High Motor by BetMGM, an NFL and college football podcast available on Apple Podcasts and everywhere else. He has written for Sports Illustrated, HERO Sports, Bleacher Report, and SB Nation. Follow him on Twitter: @DoughtyBetMGM