The nearly three-month-long Group stage concluded this week, and the knockout stage qualifiers have been established -- and on Monday (Dec. 14), the Round-of-16 draw will take place to determine the home-and-home matchups for February and March. 
Only Bayern Munich (Group A), Manchester City (Group C) and Chelsea (Group E) were able to win their groups without a blemish in the loss column, thrusting the three sides to the top of the Champions League odds. Bayern Munich also were tops in goal differential, dominating the competition to the tune of 18 goals scored to only five conceded, while Man City allowed only one goal in six group stage matches. Now, it gets much more daunting.
Who has qualified for the round of 16
Group A: Bayern Munich, Atletico Madrid
Group B: Real Madrid, Gladbach
Group C: Man. City, FC Porto
Group D: Liverpool, Atalanta
Group E: Chelsea, Sevilla
Group F: Dortmund, Lazio
Group G: Juventus, Barcelona
Group H: PSG, Leipzig
What happened this week?
Group A
Match Reports
Bayern 2, Lokomotiv Moscow 0: With top scoring threat Robert Lewandowski on the bench due to injury, it took 63 minutes for Bayern Munich to solve its opponent, as Niklas Sule broke the scoreless tie. But true to its form all through Group A play, Bayern put this final group stage match away, posting a clean sheet and finishing its dominance of this group.
Atletico Madrid 2, Salzburg 0: Atletico Madrid handled business at home to move on to the knockout stage, while Salzburg finished third in the group and will move on to the Europa League as Atletico capitalized on a set piece tally in the 39th minute by defender Mario Hermoso and a late goal by Yannick Carrasco to seal up its spot in the Round-of-16.
Who has qualified: Bayern Munich and Atletico Madrid have moved on to the Round-of-16 knockout stage. Salzburg heads to the Europa League.
Group B
Match Reports
Real Madrid 2, Borussia Mönchengladbach 0: Karim Benzema notched both goals in the first half, as Madrid emerged from the group stage a Champions League record 25 consecutive times. Both of Benzema's tallies came via headers.
Inter Milan 0, Shakhtar 0: One of the biggest storylines of this week was Inter being eliminated in Champions League group stage for the third straight season.
Who has qualified: Real Madrid and Gladbach moved on to the knockout stage and Shakhtar to Europa League.
Group C
Match Reports
Man City 3, Marseille 0: Manchester City had very little trouble disposing of Marseille, and usual backup goalkeeper (and American) Zach Steffen got the clean sheet in the net as City easily moved on to the knockout stage. Young Spanish star Ferran Torres scored, as did Argentine international Sergio Aguero, with the final tally coming via an own goal in stoppage time. Man City continues to be one of the sides expected to be a favorite when it comes to soccer betting odds.
Porto 2, Olympiacos 0: It was two South Americans who put Portuguese side FC Porto on the scoring sheet, as Brazilian Otavio and Colombian Mateus Uribe scored -- Otavio's coming early from the penalty spot, and Uribe's coming late.
Who has qualified: Man City, Porto move on to the knockout stage, and Olympiakos moves on to Europa League.
Group D
Match Reports
Liverpool 1, Midtjylland 1: Egyptian international Mohamed Salah needed only a minute to put Liverpool on the board, in the meantime becoming the club's all-time leading scorer in the Champions League. But their Danish counterparts equalized on a second- half penalty. Liverpool still clinched the group with the result.
Atalanta 1, Ajax 0: Colombian international Luis Muriel came through in the clutch for Atalanta with a late blast. That 85th-minute goal propelled the Italian side into the knockout stage, while Ajax lost its opportunity to continue in the Champions League and will now play in Europa League as the third-place group finisher.
Who has qualified: Liverpool and Atalanta move on to the knockout stage, while Ajax will head to Europa League.
Group E
Match Reports
Chelsea 1, Krasnodar 1: Chelsea clinched the group, and Russian side Krasnodar captured a spot in Europa League as these two clubs fought their way to a draw in the final group stage match. Frenchman Remy Cabella tallied first, notching only the second goal of the group stage against Chelsea, but less than five minutes later, Chelsea's Jorginho equalized from the penalty spot.
Sevilla 3, Rennes 1: Possession-wise, it was a 50/50 affair, but scoring- wise it wasn't even close as Jules Kounde tallied once for Sevilla and Moroccan international Youssef-En-Nesyri scored twice for the Spanish side.
Who has qualified: Chelsea and Sevilla move on to the knockout stage, while Krasnodar now heads to Europa League.
Group F
Match Reports
Dortmund 2, Zenit 1: After trailing for the better part of the match, Dortmund exploded for two goals in an 11-minute span late in the second half to secure its place atop Group F. Lukasz Piszczek, and Axel Witsel both scored for Dortmund.
Lazio 2, Brugge 2: Brugge came into the match with a chance to clinch a spot in the knockout round, but couldn't get past Lazio and will now settle for a spot in Europa League. The match was a back-and-forth affair that saw Hans Vanaken equalize in the 76th minute to elevate Brugge to the draw.
Who has qualified: Dortmund and Lazio move on to the knockout stage, while Brugge heads to Europa League.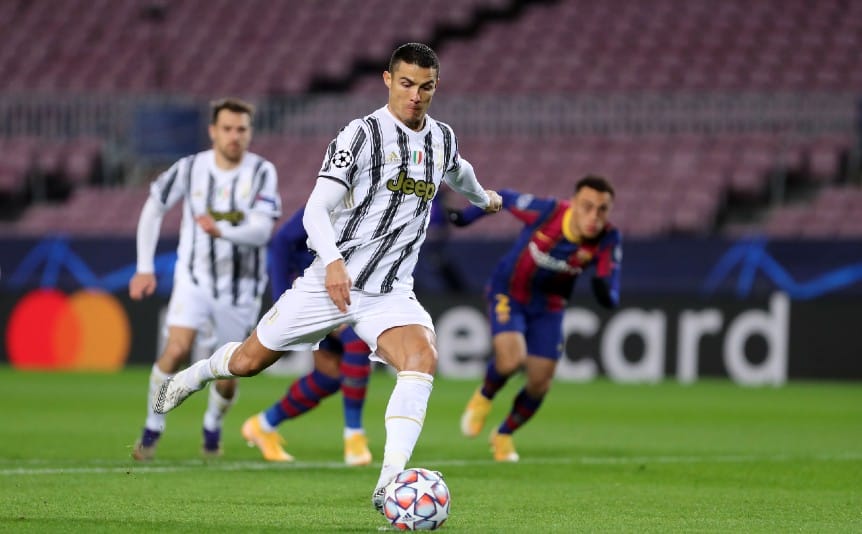 Group G
Match Reports
Juventus 3, Barcelona 0: Cristiano Ronaldo buried two penalty kicks, and 22-year old American Weston McKennie also tallied as Italian side Juventus buried a hapless FC Barcelona side, while holding international superstar Lionel Messi scoreless.
Dynamo Kiev 1, Ferencváros 0: Denys Popov headed home a Tomasz Kedziora cross, and Kiev ensured itself a spot in the Europa League, eliminating Hungarian side Ferencvarosi.
Who has qualified: Juventus and Barcelona move on to the knockout stage, while Dynamo Kiev heads to Europa League.
Group H
Match Reports
RB Leipzig 3, Manchester United 2: Leipzig scored twice in the first 13 minutes of the match, then Justin Kluivert tallied late to put the German side up 3-0 before Man U. stormed back with two goals of its own. But it wasn't enough as the once- proud English club was eliminated from the Champions League, prompting more questions about the future in Manchester.
PSG 5, İstanbul Başakşehir 1: Two international superstars shined brightly for PSG as Brazilian Neymar and French sensation Kylian Mbappe combined for all five goals, with Neymar's hat trick coming in a 29-minute span.The match had begun on Tuesday, only to be postponed a day when both teams walked off the field because of claims a match official had used a racial slur against one of Istanbul's assistant coaches. PSG continues to be one of the darlings of the soccer betting world.
Who has qualified: PSG and RB Leipzig move on to the knockout stage, while Manchester United heads to the Europa League.
When is the round of 16 draw?
Monday, 14th December (11 a.m. GMT/ 6 a.m. ET)
Place Soccer Wagers at BetMGM
At BetMGM, we have up-to-the-minute soccer betting odds, lines, and tips to ensure the best soccer betting experience. Don't miss an opportunity to bet on in-game lines, futures, and more at BetMGM.
Brian McLaughlin is a writer for BetMGM and co-host of BMac and Herd's FCS Podcast. He has written for The Sporting News, headed up the PARADE Magazine High School All American teams, covered the FCS for HERO Sports and wrote for so many newspapers he lost count. Follow BMac on Twitter @BrianMacWriter.