Pac-12 football has been a punchline for most of the last decade. 
A low-hanging punching bag stuffed with on-field mediocrity, poor recruiting, and financial missteps. Nonetheless, in canceling all non-conference games for the 2020 season, the conference dealt college football one of its most painful punches during a summer of hell.
Oregon was scheduled to host North Dakota State in Week 1 and Ohio State in Week 2 to open the 2020 season. The latter was eliminated on July 9, 2020, as the Big Ten canceled all non-conference games, while the former was wiped out a day later as the Pac-12 followed suit.
With the two announcements, we lost the two best novelty games of the 2020 college football season. Gone was Ohio State and Oregon's first meeting since the 2014 national championship, first on-campus meeting since 1987 in Columbus, and the first meeting in Eugene since 1967. And gone was the most intriguing FBS-FCS game ever: North Dakota State at Oregon.
What are the best novelty games of 2021? Ranking the top 10 (college football odds as of July 19):
Location: Pasadena, Calif.
Spread: LSU -4.5 
LSU and UCLA have played more than 2,200 combined football games. None of those came against each other. 
The first game of a home-and-home series that concludes in Baton Rouge in 2024 is also LSU's first trip to the Rose Bowl and first game in California since visiting USC in 1984. 
And this game would be a bigger novelty if LSU wasn't still rebuilding from the early-2020 mass exodus and UCLA wasn't nearing a century of mediocrity.
Location: Las Vegas, Nev.
Spread: BYU -11.5
On the field, there's nothing sexy about this matchup. One bad program with a new head coach in the ninth month of a multi-year rebuild, and one fringe top-50 Group of Five program replacing high-level NFL talent. And it's not a novelty game; Arizona and BYU met three years ago and have played five times in the last 15 years.
Opening a $2-billion NFL stadium is, however, a novelty of historic proportions. 
Allegiant Stadium opened last year, though there were no fans for Las Vegas Raiders' games and only 2,000 fans for two UNLV games. So, for all intents and purposes, Allegiant Stadium didn't truly open as a football stadium. And while the Raiders' Monday Night Football game against the Baltimore Ravens on September 13 will be touted as the stadium's debut, the Arizona-BYU game will be the first full-capacity game.
Sexy matchup or not, this is special for college football.
Location: Austin, Texas
Spread: Texas -9.5
Subjective college football trivia: Name the last time a Sun Belt team entered a road game against a top-25 opponent as the better squad.
Louisiana beat AP No. 23 Iowa State in last year's opener, though the Cyclones entered as the undisputed better team, as did No. 25 LSU in an eventual loss to Troy in 2017, and No. 8 Arkansas against Louisiana-Monroe in 2008. 
Texas will squeeze into the preseason top 25, and the Longhorns will be a worse team than Louisiana entering their Week 1 game in Austin, in my opinion.
Regardless of your opinion, this doesn't happen in college football. Sun Belt teams don't enter road games against top-25 Power Five teams on a level playing field.
Location: Ann Arbor, Mich.
Spread: Michigan -1.5
Non-conference cancellations last year also eliminated Michigan's first game against Washington since 2002 – and just their third regular-season meeting since 1984. As a result, what was scheduled as the second leg of a home-and-home series is now the first leg of a series that will conclude in Seattle in 2028.
Ironically, both programs are in similar positions entering the series as they were when scheduling it seven years ago. Washington was entering year one of the Chris Petersen era after Steve Sarkisian rebuilt a sewage plant into a two-bedroom bungalow, while Michigan was entering a potential hot-seat season for head coach Brady Hoke after years of missed expectations.
Jimmy Lake is entering his second season, though his first year included all of four games, while Jim Harbaugh is atop the college football hot seat. And both programs are rebuilding toward national relevance.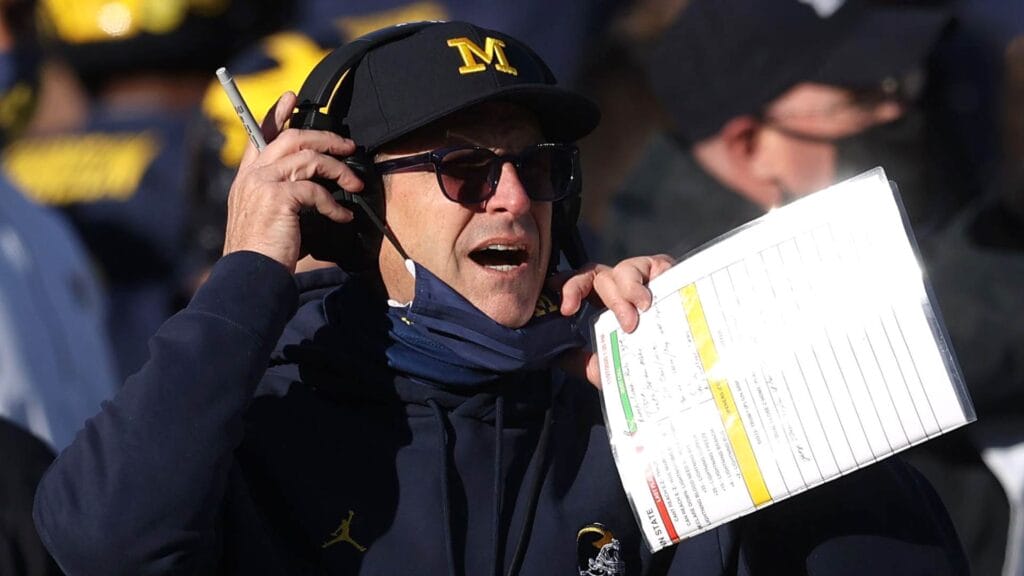 This isn't the blockbuster matchup we hoped for a few years ago, though it's still a highly intriguing game with loads of on- and off-the-field storylines.
Location: Atlanta, Ga.
Spread: Alabama -13
It's Miami's fault this game isn't higher. 
Last year was a step in the right direction, but the Canes haven't shown any high-level consistency under Manny Diaz to warrant confidence in a competitive showing against Alabama. That's a problem for everyone else in college football, too, though that doesn't make a likely blowout any more appealing, even if it is their first meeting in 28 years.
Another neutral-site opener for Alabama sucks – although it will be the last one for the foreseeable future – and Miami's weaknesses, namely on the offensive line, might prevent this from being a headliner game, but it's still an adequately entertaining and fresh matchup in a sea of Week 1 cupcake games.
Location: Charlotte, N.C.
Spread: Clemson -4
The biggest non-conference game of the season sits atop Week 1 College GameDay predictions.
A potential top-five matchup with playoff implications – and big-game implications for Kirby Smart – marks the renewal of a once-thriving rivalry for the programs separated by just 70 miles. And while it's an embarrassment this game isn't in Athens or Clemson, it remains a can't-miss blockbuster.
Because it's a rivalry renewal, it's not much of a novelty game; they played in 2013 and 2014 and 62 times over the previous century, including nearly every year throughout the 1960s, '70s, and '80s.
Location: Chicago. Ill.
Spread: Wisconsin -1.5
There's a place in college football hell for neutral-site games. 
Despite the absurd location, Notre Dame's first meeting with Wisconsin since 1964 will be beautiful. They played 16 times from 1900-64, including a 19-0 Irish win at six-year-old Soldier Field in 1929. 
This game was scheduled as the second game of a neutral-site series that would've begun at Lambeau Field last year. Instead, it's the first game of a series that will conclude in Green Bay in 2026.
Location: State College, Pa.
Spread: Penn State -7.5
The University of Chicago was in the Big Ten the last time Auburn played a road game against a Big Ten team. 
Auburn's trip to Penn State on Sept. 18 will be their first Big Ten road game since a 7-7 tie at Wisconsin in 1931. And it will be their first Big Ten road game as an SEC team – the Tigers joined the SEC in 1932.
Auburn doesn't go to Big Ten country, nor do most of their SEC brethren. Six SEC teams haven't played a Big Ten road game in the last 50 years. And another three haven't done so in the last 40 years.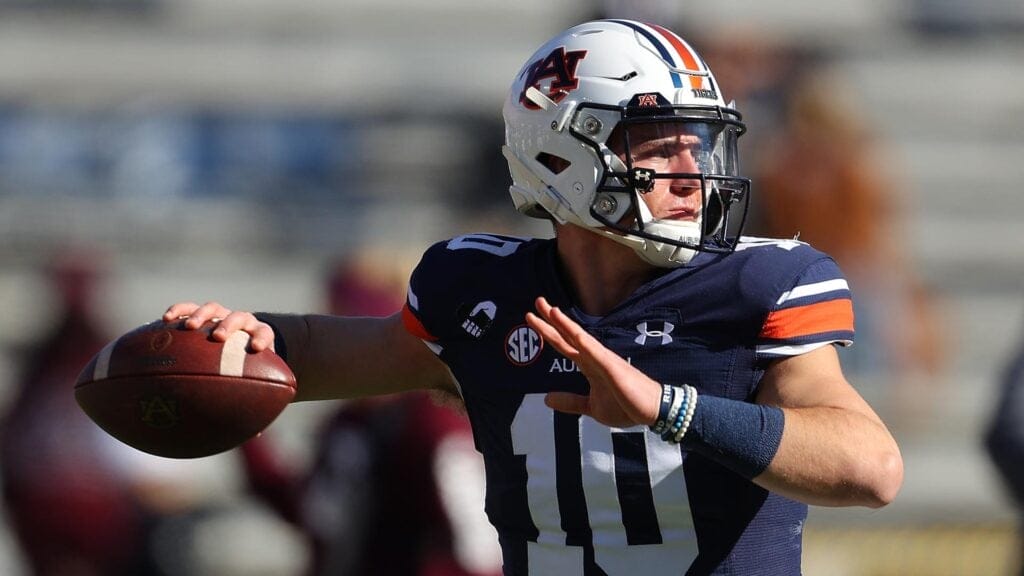 This game – Auburn and Penn State's first-ever regular-season meeting – won't be the top-10, playoff-impacting matchup we hoped for when the home-and-home series was scheduled in 2016, but it remains a high-value novelty game.
Location: South Bend, Ind.
Spread: Notre Dame -3.5
This is one of the most fascinating non-conference games in college football history.
It's a potential matchup of top-10 playoff contenders – in their second-ever meeting and first since 1900 – if Notre Dame opens with wins over Florida State, Toledo, Purdue, and Wisconsin, and Cincinnati opens with wins over Miami (OH), Murray State, and Indiana.
With an elite defense and Desmond Ridder back at quarterback, Cincinnati is the Group of Five's best preseason playoff contender ever. 
Location: Columbus, Ohio
Spread: Ohio State -10
I'll never get over Oregon's non-conference cancellations last year – and the 2020 game in Eugene won't be played until 2032 as the first half of a new home-and-home series that includes a 2033 game in Columbus – but a 2021 visit to Ohio State is an acceptable consolation.
The Ducks and Buckeyes played five times from 1958-68 and twice in the 1980s but haven't met in the regular season since; the 2010 Rose Bowl and 2014 national championship are their lone matchups in the last three decades. 
Among several storylines in Columbus come Week 2 will be Tim DeRuyter's first test as Oregon's new play-caller following the departure of Andy Avalos, new starting quarterbacks for both teams, and the potential of a high-level win for their respective playoff résumés.
The worst part: 12 p.m. ET kickoff. 
Listen to High Motor by BetMGM for more news and analysis on college football and the NFL:
Place College Football Wagers at BetMGM
At BetMGM, you can bet on college football with updated college football lines, parlays, college football live betting, and more. The best mobile sports betting and online sports betting experiences are at BetMGM throughout the season.