Georgia beat Kentucky last season to extend their winning streak over the Wildcats to 11 games, the longest in the history of an 82-game series that started in 1939. The 11-point win, 14-3, in Lexington, however, was the smallest margin of victory since 2011 and the second-smallest over the 11-game winning streak.
Can the Wildcats keep it close again in a game with a double-digit spread? And will it be another low-scoring game?
Chase Kiddy joined Chelsa Messinger and Michael Jenkins on The Daily Tip on Thursday to discuss the Kentucky-Georgia game and other notable college football betting opportunities in Week 7.
You can listen to the segment below, listen to The Daily Tip live on Audacy radio stations from 6-9 a.m. ET on weekdays, and check out the show as a podcast on Apple Podcasts and elsewhere.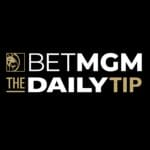 With early-morning sports betting tips to give you the edge, hosts Michael Jenkins and Chelsa Messinger break down the day's events with analysis, angles, and more on The Daily Tip.
Listen live from 6-9 a.m. ET on Audacy.com and your local radio stations. And listen to segments on the Audacy app, Apple Podcasts, and everywhere podcasts are available.