Breaking down which college football conferences are the most bet on
Big Ten is the #1 most bet conference, SEC is a close #2
Big South conference is the least bet on based on betting volume from last season
College football is right around the corner, which means there are plenty of fresh NCAAF odds and content right around the corner. More amusingly: it's time to stoke the coals of geographic superiority.
After all, no one can enjoy college football odds without a heaping side of conference rivalry.
As a writer for the BetMGM online sportsbook, I get to look at lots of insightful gambling data. 
One of the spreadsheets I looked at recently enumerated which Division 1 conferences have drawn the most betting action.
College Football: Which Conference is Bet the Most?
Based on BetMGM betting volume data from last season, the Big Ten conference was the most bet on across the country.
The 2nd most bet on conference was the SEC (11% less than the Big Ten), followed by the ACC at #3.
College Football: Which Conference is Bet the Least?
Looking at BetMGM bet data for the 2021 season, the Big South conference received the least amount of total bets of any NCAAF conference.
Most Bet on College Football Conferences:
1. Big Ten
2. SEC
3. ACC
4. Pac-12
5. Big 12
6. American
7. Mountain West
8. Independents
9. MAC
10. Sun Belt
11. Conference USA
12. Missouri Valley
13. Big Sky
14. SWAC
15. CAA
16. SoCon
17. WAC
18. Ivy
19. Patriot
20. A-Sun
21. OVC
22. MEAC
23. Pioneer
24. Southland
25. NEC
26. Big South
SEC Betting Is Disadvantaged by Where Betting Is Legal
You would think that the SEC would have drawn the most. After all, it just means more! 
Big Ten fans may want to take a victory lap on this. After all, those SEC chants are pretty obnoxious.
However, the reality is that the most bet on conferences data is likely correlated with the state-by-state legality of online sports betting. 
Check out this map of where betting is legal.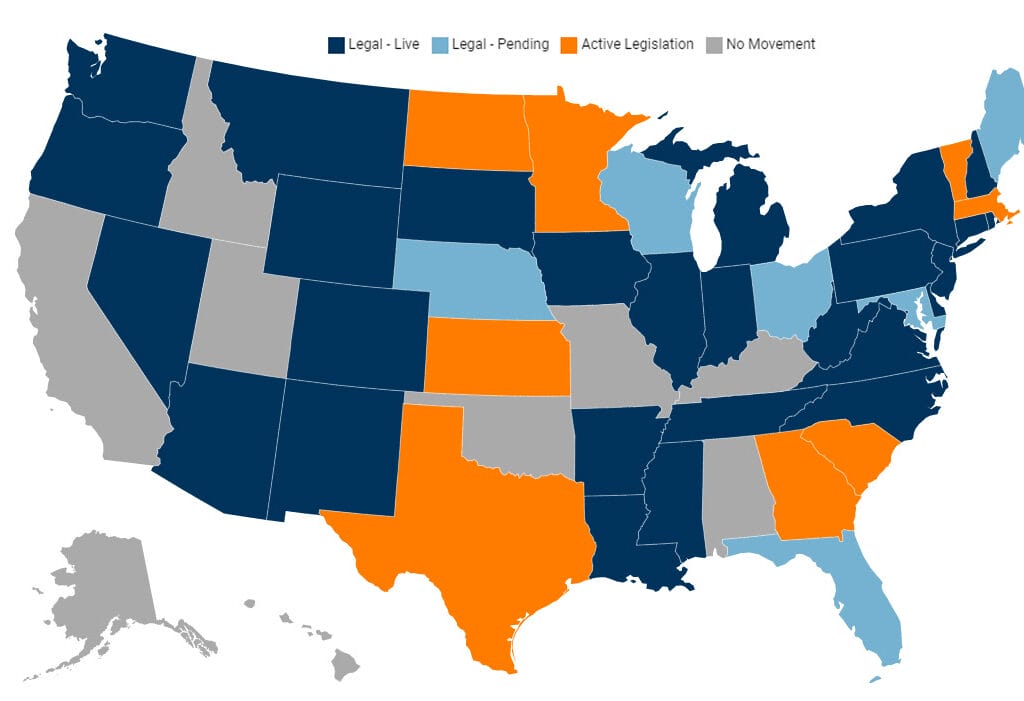 The Big Ten has 9 teams (Illinois, Purdue, Iowa, Rutgers, Michigan State, Indiana, Penn State, Northwestern, Michigan) that are located in legal betting states.

The SEC only has 6 teams (Tennessee, Arkansas, LSU, Ole Miss, Mississippi State, Vanderbilt) in legal betting states.
Will betting volume shift when Ohio and Florida become legal betting states?
Both Ohio and Florida are key states with very popular teams – I'm looking at Ohio State and Florida – where state betting legality is pending.
So, that should increase the volume by quite a bit.
It's true these numbers aren't geo-locked, meaning they represent all bets on Big Ten schools or SEC schools rather than just regional bets for one specific region.
However, we also know that most gamblers usually stick to what they know. 
There aren't a lot of bettors in Nashville hunting down lines for the Patriot League showdown between Colgate and Holy Cross. Likewise, very few Michiganders are searching for trends and stats on the Rio Grande Rivalry.
Everybody bets that late 10 p.m. game, though. But c'mon! That's just good form.
Live College Football Betting
If you're looking to take your college football betting experience to the next level, live betting is your ticket.
Available for hundreds of games each year, live sports betting allows you to place wagers on spreads, over/under totals, moneylines, and more during the game. Whether you're betting on Ohio State as they lead Penn State in the first quarter, Ole Miss at halftime of the Egg Bowl against Mississippi State, or Michigan State as they trail early against Wisconsin, there are options for everyone.
Visit the online sportsbook today to place your live bet online!