The Kansas City Chiefs opened the 2020 season with a 6-2 record against the spread. Since then, the Chiefs have covered in three of their last 17 games, by far the worst stretch in NFL betting over that time.
The Chiefs will try to snap a three-game ATS losing streak when they visit the Las Vegas Raiders in Week 10. And on The Daily Tip on Friday, Chelsa Messinger and Michael Jenkins explain why they're still fading Patrick Mahomes, Tyreek Hill, and Co. on Sunday.
Watch the segment above, listen to The Daily Tip live on Audacy radio stations from 6-9 a.m. ET each weekday, or listen to the podcast version on Apple Podcasts and elsewhere.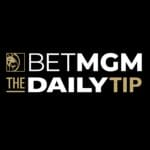 With early-morning sports betting tips to give you the edge, hosts Michael Jenkins and Chelsa Messinger break down the day's events with analysis, angles, and more on The Daily Tip.
Listen live from 6-9 a.m. ET on Audacy.com and your local radio stations. And listen to segments on the Audacy app, Apple Podcasts, and everywhere podcasts are available.