Which cities, states, and stadiums will host the most games in 2021?
Only one college football team has eight home games.
Approximately 2% of all games will be played at neutral sites.
Five hundred and thirty-nine games were played during the 2020 college football regular season. Nearly that same amount (506) will be played just east of the Mississippi River during the 2021 regular season.
Nebraska and Illinois are scheduled to open the season with a 12 p.m. CT kickoff on Saturday, Aug. 28, in Champaign, the first of 21 FBS games scheduled to be played in Illinois. One of 41 states slated to host an FBS game in 2021, Illinois ranks 13th for most games hosted and is one of 17 states with at least 20 games.
The Illini's Memorial Stadium is one of four different venues in the state – Northwestern's Ryan Field, Soldier Field, and Wrigley Field, the others – and one of 143 total venues in the country that will host at least one game.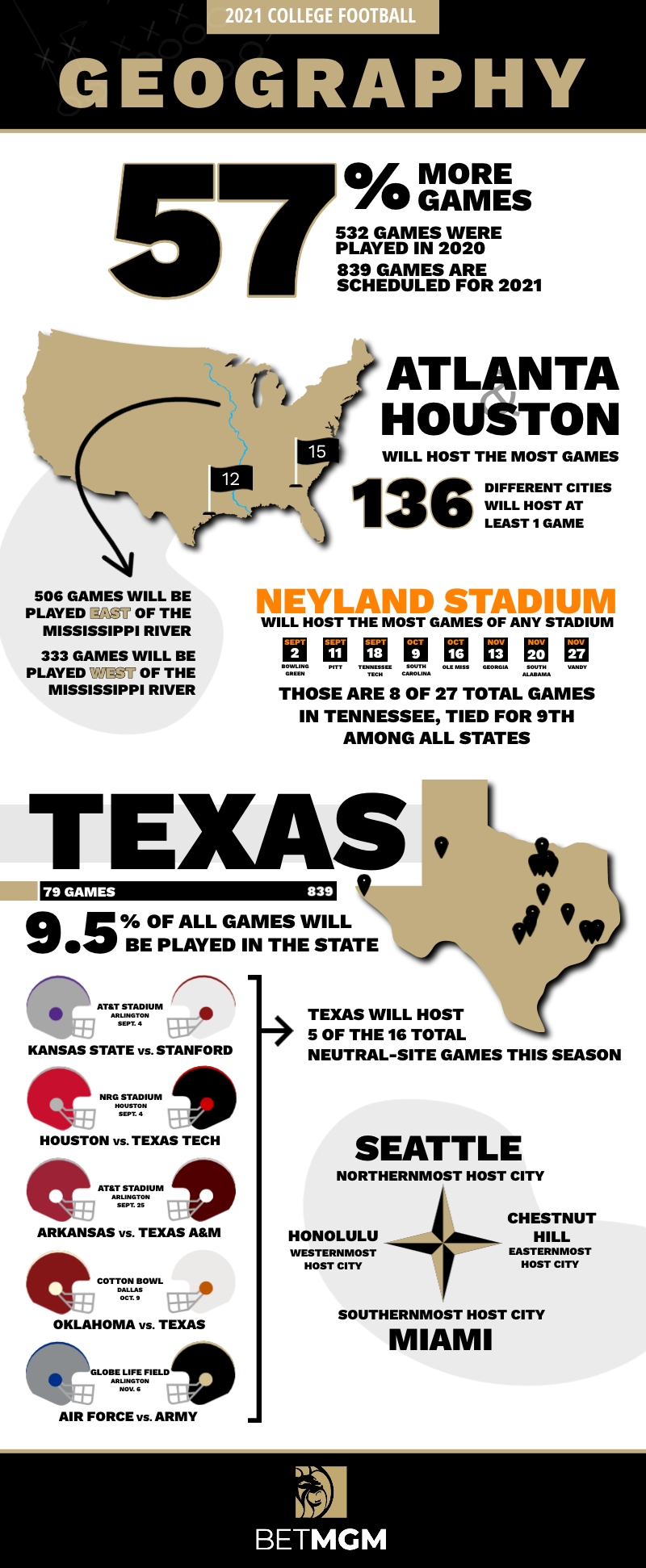 The 839 regular-season games will be played over 106 total days, starting with five games on Saturday, Aug. 28, and ending with one game – Army-Navy at MetLife Stadium in East Rutherford – on Saturday, Dec. 11. The Army-Navy Game will be the only game hosted by MetLife Stadium this year and the only non-Rutgers' home game played in the state of New Jersey.
New Jersey is one of 41 states that will host at least one game this college football season, the same number of states that are home to at least one FBS team. None of the nine states that don't have an FBS team, along with Washington, D.C., will host a game.
Arlington, Texas, home to AT&T Stadium, will host the most games among cities without an FBS team. While Arlington is home to one Division-I school (Texas-Arlington) and within 50 miles of three programs (North Texas, SMU, and TCU), it's not home to an FBS program.
Chicago is the only other non-FBS city scheduled to host multiple games; Wisconsin and Notre Dame will play at Soldier Field in Week 4, and Northwestern and Purdue will play a Big Ten game at Wrigley Field in Week 12. As of early August, Wisconsin is a slight favorite in college football betting lines.
Place College Football Wagers at BetMGM
At BetMGM, you can bet on college football with updated college football spreads, parlays, live betting , and more. The best mobile sports betting and online sports betting experiences are at the BetMGM sportsbook throughout the season.