No. 1 overall picks rarely win Offensive Rookie of the Year.
Forty-five of 54 winners were drafted by non-playoff teams.
A tight end or offensive lineman has never won.
Matthew Stafford was placed on injured reserve on Dec. 24, 2009, ending a rookie season filled with injuries, six missed games, and a million interceptions. Unsurprisingly, he didn't receive a single vote for NFL AP Offensive Rookie of the Year, becoming the 20th straight offensive player drafted No. 1 overall to whiff on the award.
One year later, Sam Bradford snapped the streak, earning 44 of 50 votes to become the first No. 1 pick to win Offensive Rookie of the Year since New Orleans Saints' running back George Rogers in 1982. Cam Newton accomplished the feat in 2011, as did Kyler Murray in 2019, but, entering the 2021 season, only six No. 1 picks have won Offensive Rookie of the Year.
Trevor Lawrence is a heavy favorite to become the seventh; he sits ahead of Najee Harris, Trey Lance, Justin Fields, and every other rookie in NFL odds.
And if the Jacksonville Jaguars' rookie joins Bradford, Murray, Newton, Rogers, Billy Sims, and Earl Campbell, he'd be the first Clemson player to win Offensive Rookie of the Year, 46th winner drafted by a non-playoff team, and, presumably, the seventh quarterback to win after starting Week 1.
Before placing your bets on NFL Rookie of the Year odds, here's a look at the 64-year history of the award: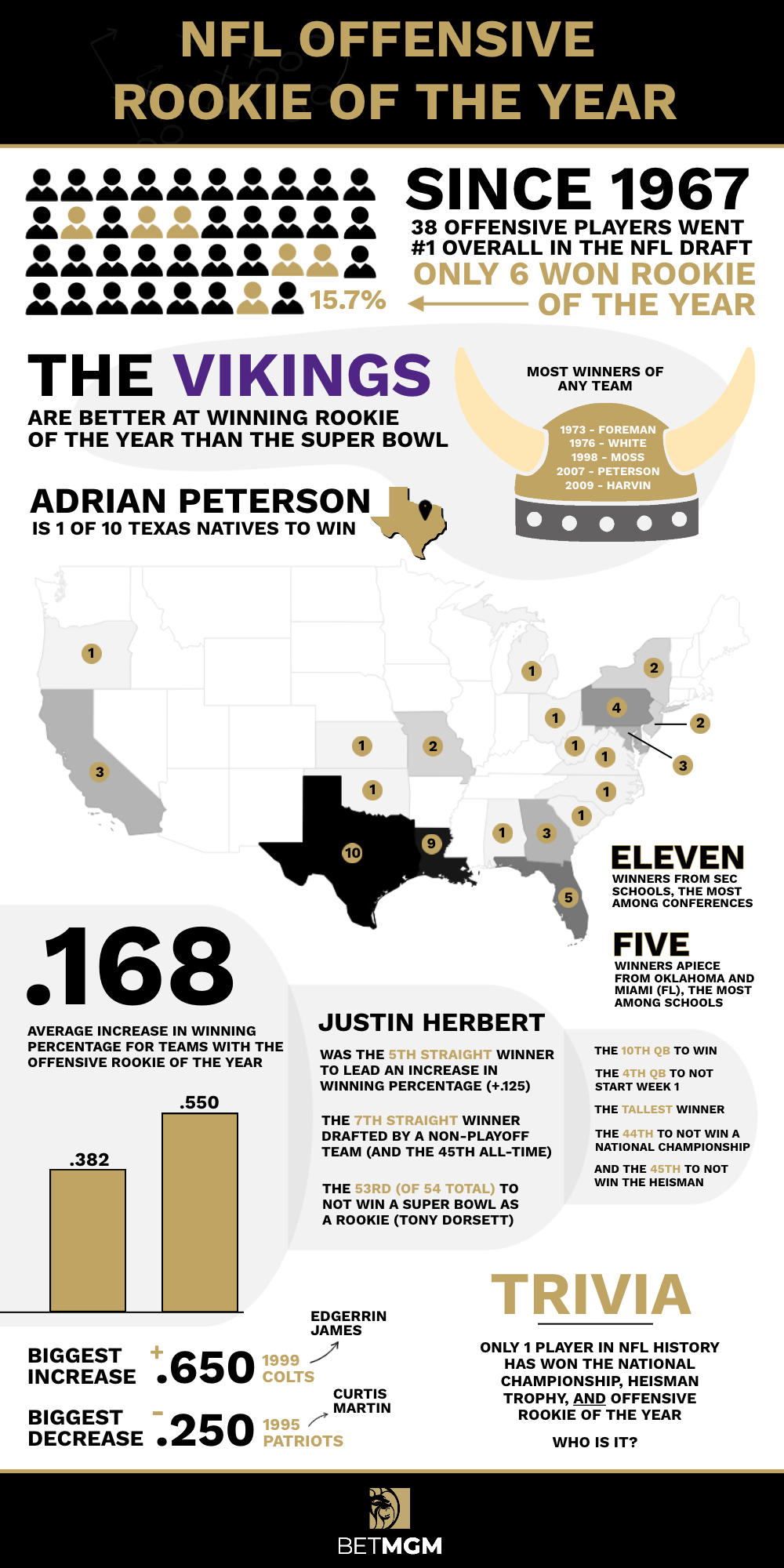 If Trevor Lawrence wins NFL Rookie of the Year while leading the Jaguars to more than one win, he would be the 41st winner to increase their team's winning percentage as a rookie. Only 14 winners played on a team whose winning percentage decreased from the previous year, most recently Eddie Lacy with the Green Bay Packers in 2014 (-157 points) and Odell Beckham Jr. with the New York Giants in 2014 (-63).
If Lawrence wins and leads the Jaguars to the playoffs, he'll join Alvin Kamara (2017), Dak Prescott (2016), and 13 other winners to take a non-playoff team (from the previous season) to the playoffs as a rookie. Prescott is one of four quarterbacks in that group, three of whom started as a rookie Week 1. Ben Roethlisberger is the only Offensive Rookie of the Year that didn't start in Week 1 for a non-playoff team and reached the playoffs.
And if Lawrence wins, he'll give the AFC back-to-back winners for the first time since the mid-1990s. Since Marshall Faulk, Curtis Martin, and Eddie George went back-to-back-to-back for AFC teams from 1994-96, only five AFC players have won.
You can view updated NFL Rookie of the Year odds and more NFL betting odds at the BetMGM sportsbook.