Jarius Wright was wide open. 
No defender picked up the flat route across the goal line, and Wright ran uncovered on 4th-and-goal from the 3-yard line as the Carolina Panthers trailed the Washington Redskins, 29-21, in the final seconds of their Week 13 game in 2019. Panthers' quarterback Kyle Allen never saw Wright before retreating to the 26-yard line and fumbling.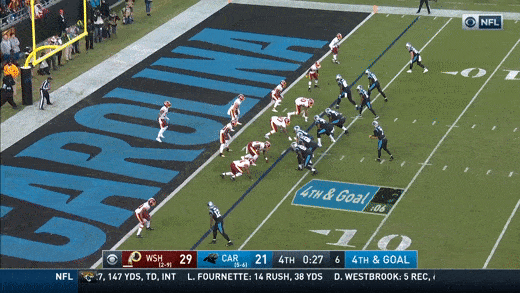 Washington interim coach Bill Callahan – who replaced Jay Gruden after five games – called it a "big win that was really huge for our team." In reality, it was a bad win that might've cost them the No. 1 pick in the 2020 NFL Draft and the right to select LSU quarterback Joe Burrow.
At the time, Washington – 3-9 after their second consecutive win – was two games behind the Cincinnati Bengals for the No. 1 pick. And when they finished 3-13, while the Bengals won the finale to finish 2-14, one more win cost them the top pick. (Washington would've owned the strength-of-schedule tiebreaker.)
Five months later, the Bengals selected Burrow at No. 1, and Washington selected Ohio State defensive end Chase Young, passing on a replacement – i.e., Alabama quarterback Tua Tagovailoa or Oregon quarterback Justin Herbert – for Dwayne Haskins, who led the NFL's 29th-ranked passing offense (DVOA) after his selection with the 15th overall pick one year earlier.
Haskins is long gone – cut in December 2020 after 2,804 yards, 12 touchdowns, and 14 interceptions in 16 appearances – and Washington has no future at quarterback as they watch the NFC Championship from home for the 30th consecutive season. The Bengals, meanwhile, are playing in the AFC Championship for the first time in 33 years thanks to Burrow's record-setting sophomore season, which ironically came one year after Burrow tore his ACL against Washington … whose backup quarterback was Allen.
To be fair: Even if Allen connected with Wright, the Panthers would've needed a 2-point conversion and an overtime win to hand Washington their 10th loss. And else would've needed to remain constant across the league to result in a different order atop the 2020 NFL Draft. 
Nonetheless, Allen's failure to find Wright across the goal line in a seemingly meaningless Week 13 game may have put Joe Burrow in Cincinnati and pushed Washington further into quarterback hell.