What defines a hero in March Madness? Is it the player who led the tournament in scoring? Or is it the more well-rounded star? One also has to consider those players who are clutch in the most challenging second-half nail-biters.
Whatever the criteria, it always seems to come back to an elite batch of names. Some of them went on to amazing professional careers, too. Some became all-time college legends and defied March Madness odds.
Take a look at the 10 biggest March Madness heroes and why they deserve the esteemed label.
The Heroes
Kareem Abdul-Jabbar, UCLA
Whether he dominated with the name Lew Alcindor - which he did in 1968 - or later using the name Kareem Abdul-Jabbar, this star was dominant in college and the professional ranks. He helped lead UCLA to three national titles in 1967, 1968, and 1969 - scoring 20, 34, and 37 points respectively in the three title games. 
Choose the tournament run you like best. Maybe it is when he went for 26.5 points and 15.5 rebounds per game in 1967, or 25.8 and 18.8 in 1968. Or maybe it was when he shared the load the most with his 23.8 and 16.0 effort in the 1969 run. You really can't go wrong with any of these choices.
Carmelo Anthony, Syracuse
Anthony may have been one-and-done at Syracuse, but he certainly left his mark on the Big Dance. When it mattered most, he exploded more. His 33-point, 14-rebound effort against the Texas Longhorns in the Final Four showed the promise that he would continue to display when he reached the NBA the next year. 
He proved he could do just about everything when he posted seven assists in the 2003 final against Kansas, along with 20 points and 14 boards. While many of the players mentioned here built their March Madness reputations over multiple years, Anthony only needed one season to make a point.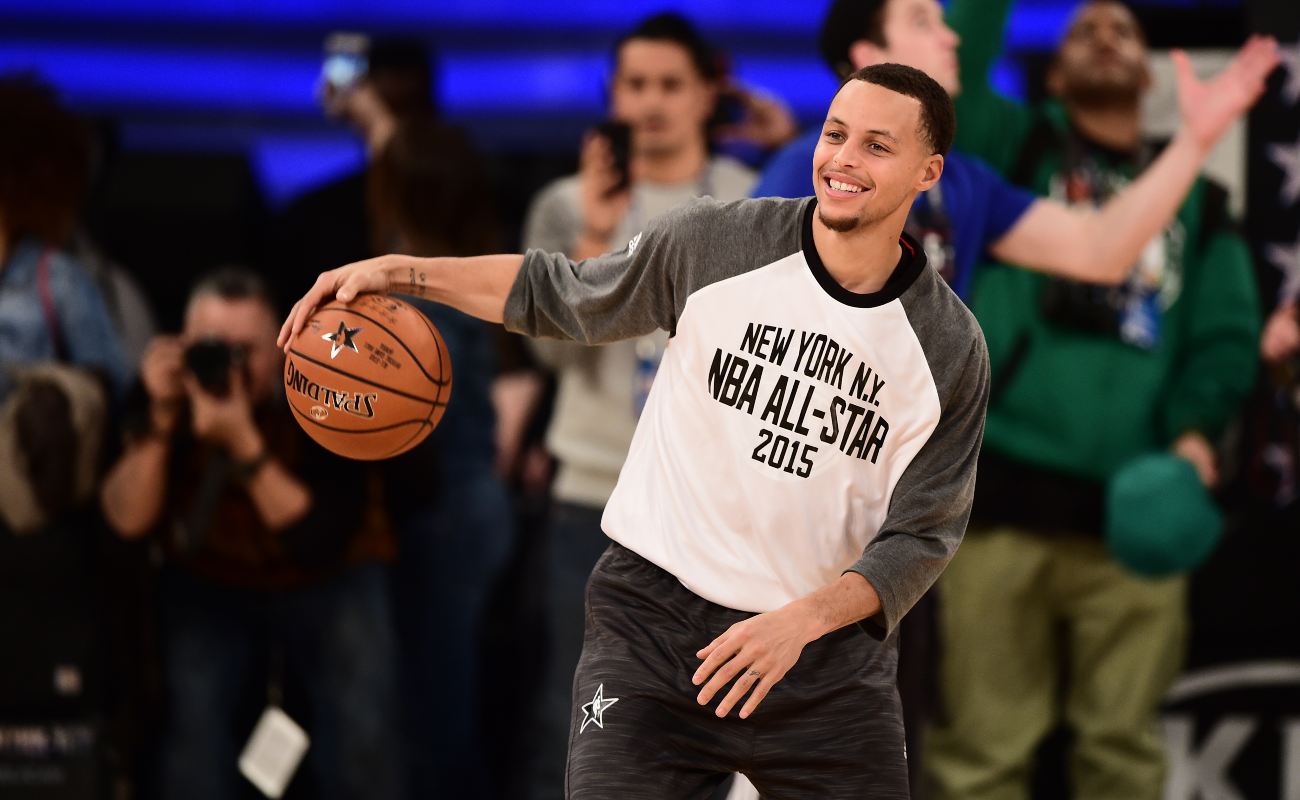 Stephen Curry, Davidson
A Davidson superstar? We must be talking about one of the Cinderella darlings that went to the Elite Eight under Lefty Driesell twice in the late 1960s, right? Well, not exactly. While those Davidson teams sure shocked the March Madness world back in those days, the Curry-led Wildcats teams that made 2008 so special might overshadow the 1960 teams. Curry - the son of Charlotte Hornets sharpshooting legend Dell Curry - was under-recruited coming out of high school. 
Curry became a giant-killer in college and has continued to play that role in the NBA. In 2008 he averaged 32 points per game in the tournament and poured in 40 points against a powerful Gonzaga team, then 30 more on Georgetown. It continued in the second weekend as Curry continued to play clutch against higher-seeded Wisconsin and Kansas. Davidson got within one shot of the Final Four.
Christian Laettner, Duke
Not only is Laettner one of the greatest players ever to compete in the NCAA tournament, he clearly owns the top one-game performance of all time. Duke was battling another college basketball blue blood when a rebuilding Kentucky program gave the Blue Devils all they wanted in the 1992 Elite Eight. 
Laettner was perfect in the Kentucky win, hitting 10-for-10 from the field and 10-for-10 from the charity stripe. That was good for 31 points, but the biggest memory was his buzzer-beating, tear-jerking shot to win the game on a 75-foot baseball pass assist from Grant Hill. All around the college basketball world, jaws dropped.
Laettner had quite the NCAA tournament career, playing in 23 career games and four straight NCAA Final Fours. He was a part of two national title teams in 1991 and 1992.
Magic Johnson, Michigan State
Everybody's heard about Magic and Bird. Whether it was in the NBA or their famous matchup in the 1979 March Madness matchup in college, these two brought out the best in each other and also the best in television ratings. Magic romped his way through the tourney, showing off his ability to dish the ball as well as anybody in history. 
Johnson posted impressive stats all through the Big Dance, and he also led Michigan State to the national title over Larry Bird's Indiana State team. Whatever the Spartans needed on a given night, Magic made it happen. Need a triple-double? No problem. Need to get your teammates more involved? Not an issue. Need some rebounding in a one-on-one mismatch? "Show me where to sign on the dotted line," he would likely say.
Danny Manning, Kansas
Talk about a light bulb coming on. Coming into the 1988 tournament, Kansas hadn't exactly lit up the college hoops universe. But the inner Kansas Jayhawk thing must have kicked in once the transition from regular season to postseason transpired. Manning was the poster boy for the transformation that occurred. Against Duke, he became a shot-blocking maniac when needed. 
Against Oklahoma in the title game — the same Sooners team that gave them fits in conference play all year — Manning collected 18 rebounds. Against Vanderbilt in the Sweet 16, he poured in 38 points. There was nothing Manning couldn't or wouldn't do to propel his Jayhawks to critical wins. Not too shabby for a No. 6 seed, eh? Manning was the biggest reason for the net-cutting ceremony immediately following the Oklahoma title-game revenge.
Glen Rice, Michigan
Rice was the king of the 3-point shot. It seemed like he couldn't miss in the 1988-89 season, and that hot hand continued through March Madness. The guy actually surpassed the 50 percent success rate beyond the arc. When it came to the 1989 tournament, he scored 184 points in Michigan's six-game title run. 
Check the record books for total points scored in one tournament. Now look at the top: Rice is still there, 32 years later. One can't forget his eight 3-pointers against North Carolinaor his habit of pumping in 30-plus points when his team needed them the most, including against Seton Hall in the final. 
Oscar Robertson, Cincinnati
Robertson averaged 29 points and 10 rebounds per game in the 1960 NCAA Tournament. And it is a travesty that assists weren't tracked in the college ranks in those days, as he became one of pro basketball's top dish artists, averaging 9.5 of them per game during his pro career. 
Can you imagine how many assists Robertson had in college? When Robertson played Kansas, he was good for 43 points and 14 rebounds, if that gives an idea of how all-around his game was. He did not help bring home a title trophy, but he was one of the best to ever play in the Big Dance.
Bill Russell, San Francisco
San Francisco basketball isn't anywhere near as well-known today as it was when Russell roamed the court for the program back in the 1950s. There are many reasons for that, but in 1955 and 1956, the Dons were dominant. 
Russell was the biggest reason. In the 1956 title game against Iowa, he had 27 rebounds and 26 points, and in the title win over LaSalle in 1955? How about 25 rebounds, 23 points? Obviously, he became one of the greatest Boston Celtics of all time and averaged 22.5 rebounds in his 963-game pro career.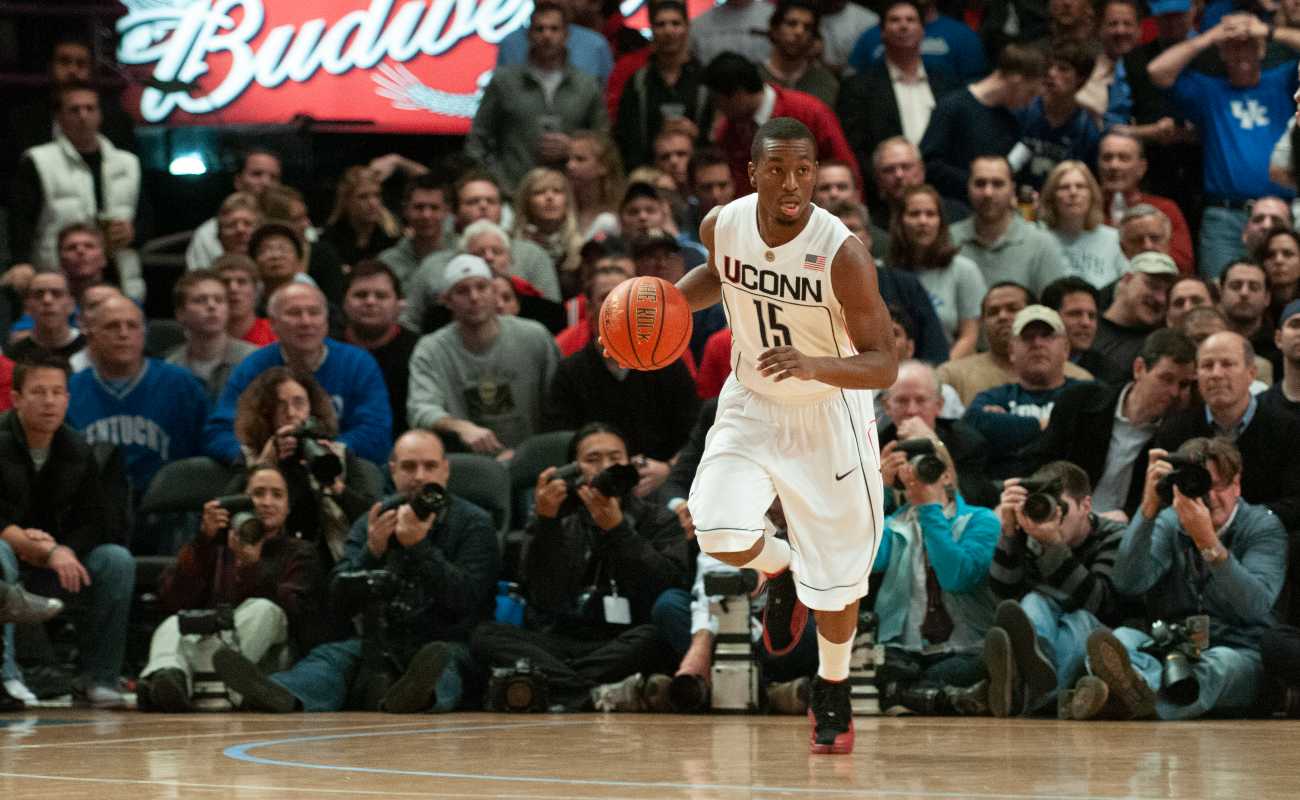 Kemba Walker, UConn
UConn may not have dominated the Big East during the regular season, but when the postseason began, the Huskies and Walker found an extra gear. Perhaps no program has ever defied March Madness pre-tournament odds and won it all in quite the same fashion. After finishing the regular season losing four of their final five games, the program rattled off 11 wins in a row in the postseason. 
Walker was the primary reason. In the NCAA Tournament, the guy never took a break, coming just short of averaging 40 minutes per game and playing every minute in three of the six games. He averaged 23.5 points per game in the tourney.
Bill Walton, UCLA
In UCLA's 1973 national title tournament run, he made 76.3 percent of his shots from the field. We'll let that benchmark for consistency sink in a bit to help explain why he made this list. Walton won two national titles with the Bruins, scoring 44 points against Memphis in the 1973 title game as an exclamation point to his performances. 
Everybody who knows college hoops knows he was a big-time rebounder, and he could certainly score. But get this: He also averaged 4.8 assists per game in the 1973 tourney. That's not too shabby for a big man (6-foot-11).
Place College Basketball Bets at BetMGM
At BetMGM, we have up-to-the-minute college basketball betting lines and tips to ensure the best basketball betting experience. Don't miss an opportunity to bet on game lines, futures, and more at BetMGM.
Brian McLaughlin is a writer for BetMGM and co-host of BMac and Herd's FCS Podcast. He has written for The Sporting News, headed up the PARADE Magazine High School All American teams, covered FCS college football for HERO Sports ... and two NCAA Men's Basketball Tournaments (2009 and 2010). Follow BMac on Twitter @BrianMacWriter.