Matchday 21 is upon us after a frantic midweek fixture list in the English Premier League. We have a new league leader after this round of games, with Manchester City taking top spot, as Manchester United failed to overcome bottom of the league Sheffield United.
A draw between Everton and Leicester saw them share the spoils, which moved The Foxes into third place. Tottenham and Liverpool battled it out for much-needed points, with the Reds taking all three to move them up into fourth spot.
The top of the table is certainly looking congested and teams are bound to start making mistakes. Who is going to slip up and who is going to charge ahead of the pack? Let's take a look at the matches affecting the top teams this weekend and the EPL betting odds for Matchday 21.
Saturday, January 30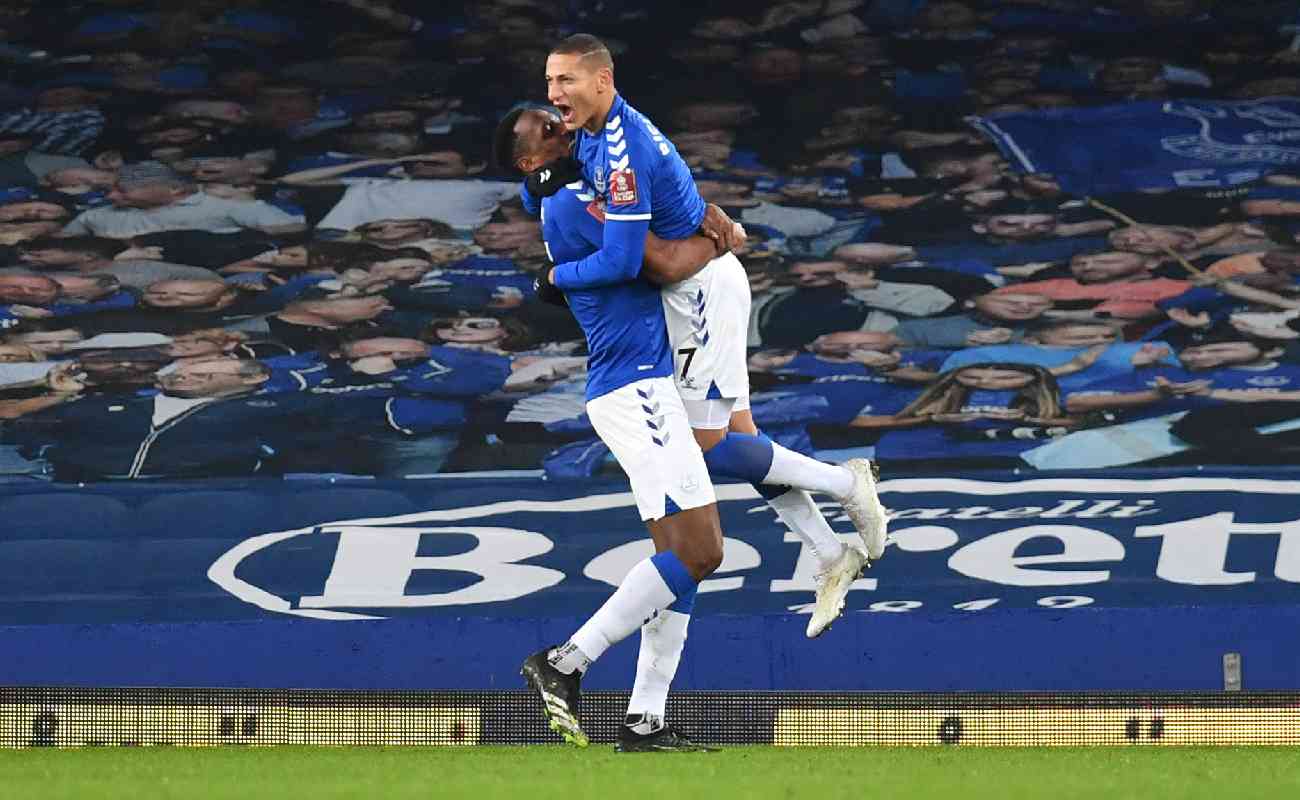 Everton vs. Newcastle
Betting odds: Everton: -200 Tie: +333 Newcastle: +550
James Rodríguez opened the scoring for Everton when they faced in-form Leicester City on Matchday 20, but his goal was cancelled out by Tielemans just before the 70 minute mark. This means that The Toffees sit in 7th place on the table, but keep in mind that they have two games in hand. Should Carlo Ancelotti's team win these games, they will be in the coveted fourth spot. Ancelotti has transformed this struggling Everton team into a genuine contender for the Champions League spots and we can't imagine that they will be too worried about the impending game against struggling Newcastle.
Steve Bruce has got a lot on his plate at the moment, with the misfiring Magpies just two places above the relegation zone and having lost all five of their last Premier League games. It's hard to choose which part of Bruce's side are struggling more between the defense and the strikers, but the fact of the matter is that he either needs to dip into the transfer market or somehow get his team playing decent soccer again.
This should be a fairly straightforward match for Everton to win at Goodison Park and continue to close the gap on their rivals at the top of the table.
Manchester City vs. Sheffield United
Betting odds: Man City: -700 Tie: +700 Sheffield: +1850
Manchester City recently claimed back the number 1 spot in the Premier League thanks to their 5-0 demolition over West Brom. The Citizens had a relatively inconsistent start to the season and they saw a number of their matches postponed due to COVID 19 outbreaks. They seem to be running on all cylinders at just the right time and Pep Guardiola will have been elated to see how his team tore apart West Brom without talismanic midfielder Kevin de Bruyne, who will be sidelined with an injury for over a month. Of course, their opponents this week helped to open up their gap in top spot in a shock win against title-hopefuls Manchester United.

Chris Wilder's Sheffield team have been just a shadow of the side we saw last season. Their unrelenting spirit seems to have been lost somewhere along the way and they currently sit in 20th, with only two wins the whole season. However, the win against The Red Devils on Wednesday is sure to give his team the boost they needed and they saw out the game with resilient defending and exciting attacking soccer. The Blades' last two wins have come in the space of three games and this could be a sign of improved confidence and form for the rest of the season.
On paper, Sheffield shouldn't beat Man City at the Etihad, however, we've already seen them take all three points from City's neighbors. If Sheffield turn up for this game in the same manner, then it might not be as comfortable as Guardiola would like it to be.
Arsenal vs. Manchester United
Betting odds: Arsenal: +190 Tie: +225 Man United: +150
Arsenal found themselves just above the relegation zone a couple of weeks ago and Mikel Arteta must have been concerned about his job. However, the crisis seems to have been averted and The Gunners now find themselves within the top 10 and fighting to climb their way up to the Champions League places. They have now won four of their last five games and are brimming with confidence. They haven't lost in the EPL since they beat Chelsea on Boxing Day; Pierre-Emerick Aubameyang and youngster Bukayo Saka are looking particularly lethal in front of goal. If anyone is going to get in behind United's defense, it's these two.
Manchester United have been in their best form since Sir Alex Ferguson retired in 2013. Ole Gunnar Solskjær seems to have found the right formula at The Red Devils, with Bruno Fernandes and Paul Pogba being the stars of the side in midfield. After their FA Cup win over Liverpool, it looked as if there was no way but up for United, but as United like to do, they stumbled at the most inopportune time. The shock loss to bottom of the table Sheffield United will certainly have opened the door for some doubt to creep in and it's only a matter of time before we see whether United can really handle the pressure of a title challenge.
The odds are slightly in United's favor and they will be hoping that their away form is enough to see off The Gunners, but expect a tight game that could go either way.
Sunday, January 31
Leicester City vs. Leeds United
Betting odds: Leicester: -120 Tie: +300 Leeds: +290
Brendan Rogers' team find themselves up in 3rd place on the table as we come into Matchday 21 and The Foxes are certainly looking like they are up for the title challenge this season. Leicester City haven't lost a game in their last five league games and they are just one point behind Manchester United in 2nd. Their form has been largely driven by the dynamic and driven midfield exploits of James Maddison, who is turning into a world-class player. Jamie Vardy underwent a minor hernia operation and probably won't feature against Leeds, but that shouldn't be too much of a concern for Rogers with the wealth of talent that he can call upon in his team.
Leeds United continue to play in manager Marcelo Bielsa's preferred style of high intensity attacking soccer. This, of course, means that there is normally a glut of goals in their games, but their style puts their defensive line at great risk and they tend to let in a huge amount of goals in the games that they don't win against bigger teams. They conceded six against Man United, three against Tottenham and four against Leicester City last time out. If Leeds are to stand a chance against The Foxes, they are going to have to provide some protection at the back, while trying to hit them on the counter.
Bielsa doesn't seem to change his system much, however, and we expect to see Leicester City take all three points at King Power Stadium. Expect goals for both sides in this one though.
West Ham vs. Liverpool
Betting odds: West Ham: +325 Tie: +280 Liverpool: -125
It's unlikely that Hammers fans themselves would have thought that their team would be in 5th spot going into Matchday 21. Yet, here we are. David Moyes seems to have breathed life into this West Ham team and they are having their best season in recent memory. Michail Antonio, Declan Rice, and Tomáš Souček are just some of the players that are turning up for the badge game after game. It's going to be really interesting to see how far The Hammers can go this season and they will be in the right frame of mind to be up against an inconsistent Liverpool.
Liverpool have had a woeful time of late and found themselves out of the top four when they traveled to Tottenham on Thursday night. They desperately needed a win and that's exactly what they got. The three points against Spurs will surely lift the mood in the dressing room, but Klopp now also has an injury to Joel Matip to add to the list of his defensive woes. The calls for a defensive signing this window are only increasing.
There really isn't a better time for West Ham to host the Reds and if they play to their strengths, this could be an incredibly uncomfortable game for Klopp's men.
Brighton vs. Tottenham
Betting odds: Brighton: +240 Tie: +260 Tottenham: +110
Brighton might be just a place above the relegation places, but as a newly promoted side, they have had a fairly solid run of it. The Seagulls have only lost twice in their last five league games—to Arsenal and Man City and were involved in a thrilling six goal draw with a spirited Wolves side. Graham Potter won't be too concerned about the soccer his side are currently playing and will be looking to turn a few more draws into wins to get his side further off the bottom three. They are, of course, coming up against a inconsistent but incredibly talented Tottenham team managed by José Mourinho.
Mourinho's team haven't had an excellent start to 2021 either, winning just two of the last five league games. Spurs suffered defeat at the hands of a mis-firing Liverpool side and failed to take advantage of Klopp's defensive crisis. While favorites to take all three points in this game, it all depends on if the players decide to pitch up for Spurs, as their inconsistency is letting them down more often than not.
Brighton won't take this game lying down and will throw everything that they have at Spurs. This is not going to be a walk in the park for Tottenham, by any stretch.
What's happening in the rest of the league?
Of course, these aren't the only games that are happening in the EPL this weekend and online sports betting fans can also look at the following soccer betting odds for matchday 21:
Get the best EPL odds with BetMGM
At BetMGM sportsbook casino, we have up-to-the-minute soccer betting odds for the Premier League, Champions League, Europa League, La Liga, Serie A, and most other soccer leagues in between. Register today and don't miss a minute of hard-hitting soccer action.