Representing Michigan State University and sitting in 4th position in the Big Ten conference, is the Michigan State Spartans men's
basketball
team. The Spartans are hoping to put a third National Championship behind their name this year in the March
college basketball tournament
, but there is work to do if they hope to secure the automatic bid coming out of the post-season tournament. The Michigan State Spartans have the third longest-running streak of consecutive National tournament appearances (behind Kansas and Duke) in college basketball with 22, and they don't want to end the streak there. Their regular season has been a bit rough so far, but Michigan State basketball fans don't have to worry – the Spartans' motivation to keep the streak going, and maybe secure a third National championship title, should be enough to pull them through.
Past Performances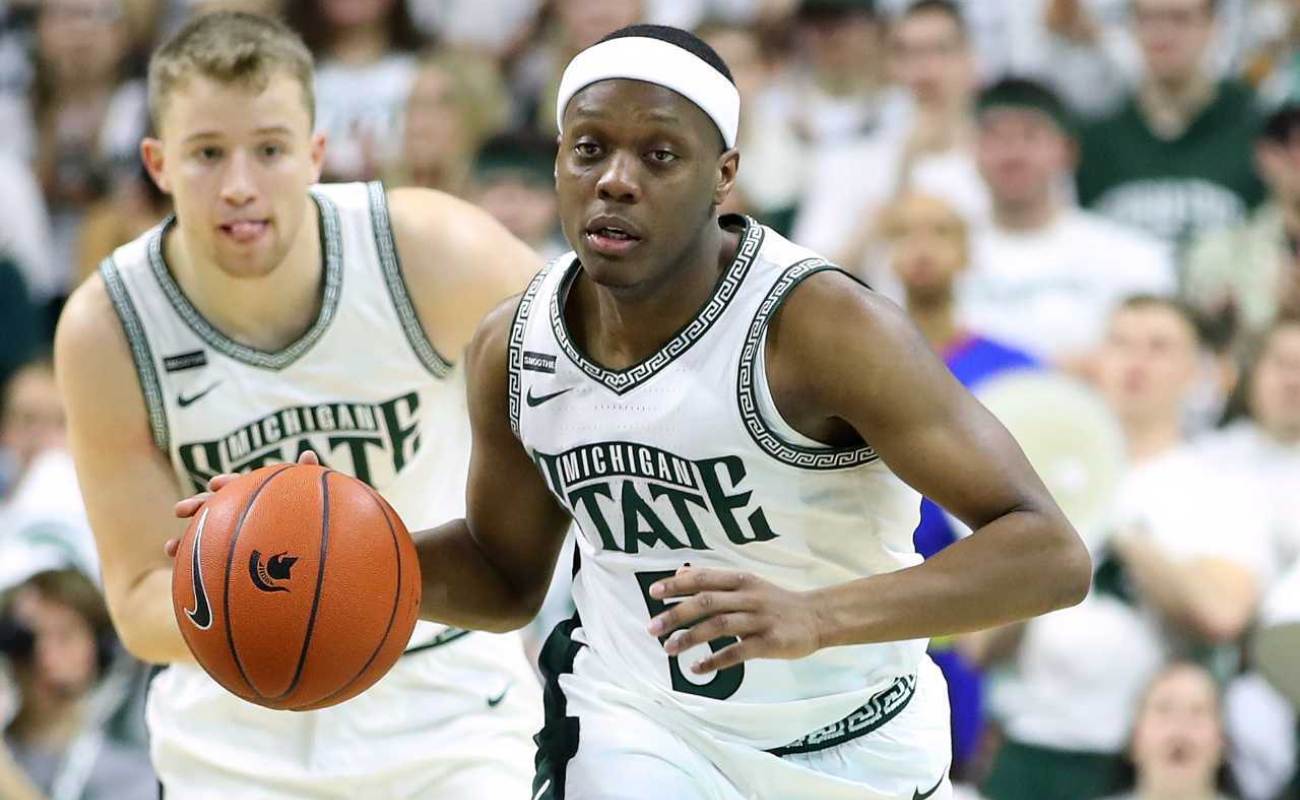 Since 1995, Tom Izzo has been coaching Michigan State basketball and has been the driving force behind putting the Spartans and the Michigan State basketball program back on the map. Now in his 25th season, he hopes to take them back to the March college basketball tournament with the hopes of bringing back another championship title. The Michigan State Spartans have managed to secure wins in 2 National tournament championships; the first one came in the 1979 tournament, and the second came in 2000. The 1979 championship game was the most-watched college basketball game in history, with over 35 million people tuning in to watch the Spartans bring it home. The Spartans have appeared in 33 National tournaments in the past and have the 6th most all-time last four teams appearances with 10. They have made it to the last eight teams 14 times, and to the last sixteen teams 20 times – so they are no stranger to the tournament and what the competition entails. The Michigan State basketball program is also 9th all-time in the National winning percentage with .677. The Spartans have managed to secure 15 Big Ten regular-season championships and 6 Big Ten tournament championships. If the seeding for the March college basketball tournament is anything to go by, then Michigan State basketball is going to be an interesting one to watch (and to have in your bracket). The Spartans have been ranked as high as No. 1 seed 5 times in the tournament, and their average speed in the tournament is 4.8, though they have been ranked as low as 10th seed 3 times before in the tournament. They have reached the last four teams 3 times as a No. 1 seed, 3 times as a No. 2 seed, 2 times as a No. 5 seed and once as a No.7 seed. So it seems despite their ranking going into the tournament, they have proven that they can play from any position on the bracket and put up a good run – sports betting fans should keep an eye out for the Michigan State Spartans to cause a few upsets this year, and potentially take their run all the way to the championship game.
Meet the Players and Know Who to Watch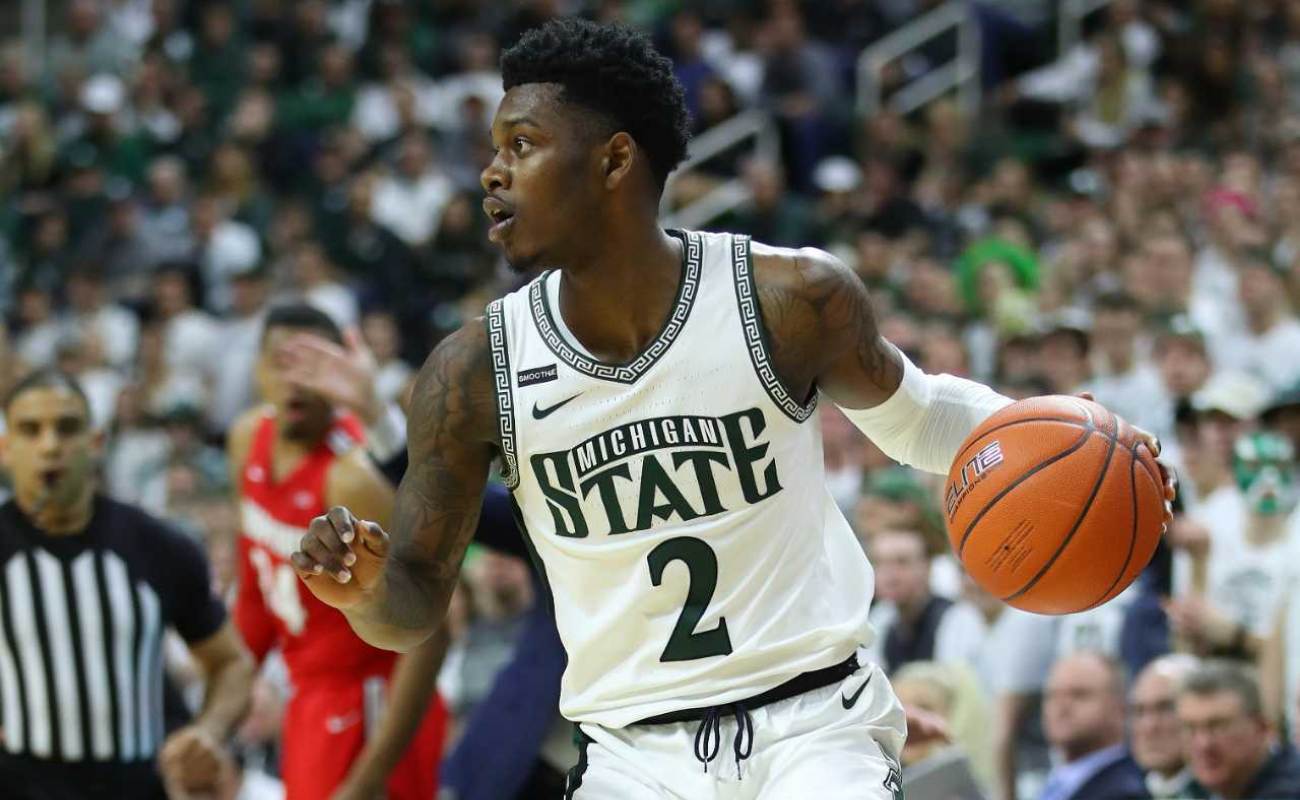 The Michigan State basketball roster, and the Spartans who will be representing Michigan State University, going forward into the pre-season and on to March college basketball tournament this year are: 0 Kyle Ahrens – G 1 Joshua Langford – G 2 Mark "Rocket" Watts – G 3 Foster Loyer – G 5 Cassius Winston – G 11 Aaron Henry – F 13 Steve Izzo – G 14 Brock Washington – G 15 Thomas Kithier – F 20 Joey Hauser – F 23 Xavier Tillman – F 25 Malik Hall – F 30 Marcus Bingham – F 34 Julius Marble – F 40 Braden Burke – C 41 Conner George – G 44 Gabe Brown – F Cassius Winston currently leads the team in points per game, with an average of 18.5. He also leads the team in the assists and steals stats, averaging 5.8 assists per game and 1.2 steals. Keep your eyes on Winston (team captain) to lead the charge and put up big numbers in the postseason tournament and March college basketball tournament this year. Next up on the list of Spartans with impressive stats this season is Xavier Tillman. Key to the defensive prowess of the Spartans, Tillman has put up the highest average rebounds per game with an impressive 10.2 and also leads the team in average blocks per game at 2.1. Tillman will likely be key to the success of the Spartans in the National tournament because of the single-elimination format meaning that one poor defensive performance on the day could mean a ticket home. A key player in the offence department for this Michigan State basketball roster could be sophomore Gabe Brown. With his impressive shooting accuracy from the free-throw line at 94.7%, if he is sinking shots then the Spartans are stacking points. The March college basketball tournament is a time for everyone on the roster to pull together as a team, as veteran coach Tom Izzo knows. Izzo will be looking to motivate and support all the Spartan players to perform above their potential at this year's postseason tournament and at the National Division I men's basketball tournament this year, if they hope to bring home a third championship title.
Recent and Upcoming Games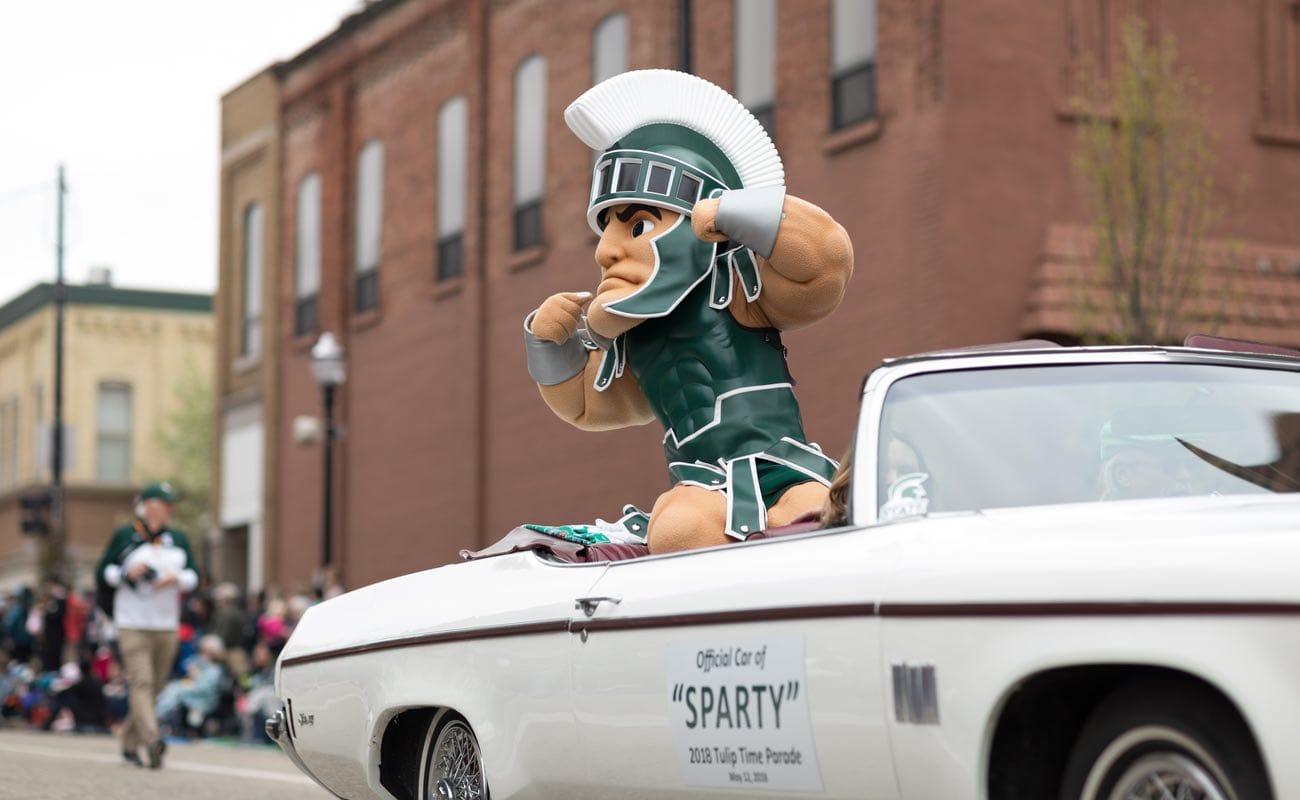 This season has been a little bit rocky for the Michigan State Spartans currently sitting at a 20-9 overall record, and 12-6 in conference play. While they have managed to secure some absolute stomps in their wins, they have also suffered some close defeats along the way. One of the massive wins they put up this year was against the Binghamton Bearcats, where they had an extremely convincing win with a final score of 100-47. They managed the same impressive score difference in their win over Eastern Michigan a month later, beating them 101-48. After their 3rd loss of the season, this one coming from the Duke Blue Devils where they went 75-87, the mid-season picked up slightly for the Spartans and they went on an 8-game win streak. During this streak, they managed to beat a rival team the Michigan Wolverines with a solid 87-69 score, but the streak ended when the Spartans went up against the Purdue Boilermakers and lost 71-42. The season slumped a bit after this loss and Michigan State would go on to lose 5 more games in the next 8 – with the Wolverines picking up against them going 77-68. Michigan State basketball fans shouldn't be worried though, as the momentum has picked back up for the Spartans and they have managed to take the last 3 games against Nebraska, Iowa, and Maryland. Next up on the Michigan State basketball schedule is Penn State and Ohio State to round off the regular season. Having already lost to Penn State earlier in the regular season, expect the Spartans to be hungry for a win in the upcoming game, and for that momentum to hopefully carry on into the postseason and March College Basketball Tournament.
A Few Numbers to Sum Up
When you are selecting teams for your March college basketball tournament bracket, or if you are a
sports betting fan
looking forward to betting on individual games, then you might want to take a look at some of these stats for the Michigan State Spartans.
Post-Season:
· National Championships: 2 (1979, 2000) · Last Four Teams Appearances: 10 · Last Sixteen Teams Appearances: 20 · National Tournament Appearances: 33 · National Tournament Overall Record: 69-32 · NIT Appearances: 5 · NIT Overall Record: 6-6 · Helms Foundation National Championships: 1
Conference Titles (Big Ten):
· Big Ten Regular Season Championships: 15 · Big Ten Tournament Championships: 6 Filling out your March college basketball tournament bracket can be difficult when you aren't filling in your favorite team to win. So all of these stats and information about past performances can really help to make your March College Basketball Season picks more informed, and more likely to bring you points. Sports betting fans will know the importance of having as much information to go on as possible and will also know when to spot a potential Cinderella team early on. If you are looking forward to seeing the Michigan State Spartans in the National Division I men's basketball tournament, and want to play along and bet online, then why not play with us at BetMGM? We give you access to sports betting on all the biggest and best major sporting events of the year, including the March College Basketball Tournament. Join us today!