Tennessee Titans head coach Mike Vrabel should be the 2021 NFL Coach of the Year, and it's not even close.
Postseason success or failure notwithstanding, Green Bay's Matt LaFleur has been brilliant in three seasons with the Packers and had the No. 1 team in the NFC. Cincinnati's Zac Taylor led the Bengals to their first AFC North division title in six years and first playoff win in three decades. And Bill Belichick took New England to the postseason with a rookie quarterback.
But none of those coaches did the job Vrabel has for the Titans. None of those coaches lost their team MVP and best player midway through the season. None set the record for most active players used in a single NFL season (91). And none transformed a defense with the league's worst pass rush in 2020 into one of the best units in 2021.  
Most importantly, none of those coaches posted the best record in the AFC.
Vrabel, along with sixth-year general manager Jon Robinson, has built a powerful and cohesive culture in Nashville. An identity so glued together to overcome adversity and to finesse their way into a second-straight AFC South title and first-round bye.
Before breaking his foot in Week 8 against the Indianapolis Colts, Derrick Henry was running toward a third-straight rushing title and potential MVP award; he led the league in offensive touches, yards from scrimmage, and touchdowns by wide margins at the time of the injury. And with A.J. Brown and Julio Jones missing a combined 10 games with injuries, the Titans lost 18 combined games from their three best offensive players.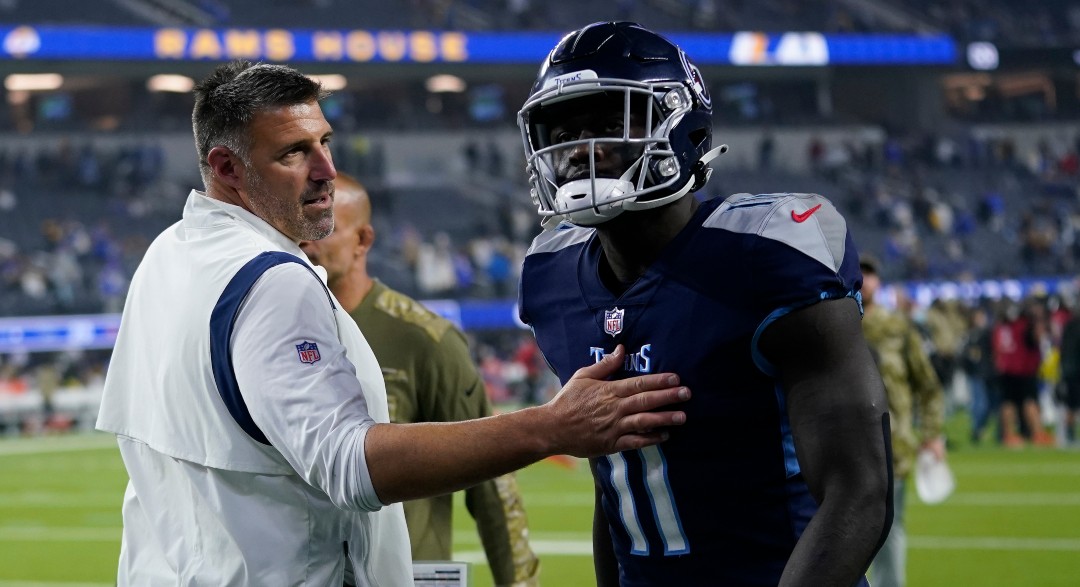 Yet, the Titans won a second-straight division crown for the first time since 1962 (as the Houston Oilers) and held off the Kansas City Chiefs for the No. 1 seed. 
Vrabel's offense ranked third in the NFL in total rushing and 15th in scoring, while the defense was third against the run, sixth in scoring, top 10 in pressuring the quarterback, top 10 in third-down defense, and top 10 in red-zone defense.
Further, Tennessee went 7-1 this year against teams that made the playoffs a year ago. They beat good teams all season long.
This is Mike Vrabel's best coaching job yet, a remarkable feat given the accomplishments in his first three seasons. He now has four winning seasons, three playoff appearances, two division titles, a 2,000-yard rusher, and a run to the AFC Championship that began by ending Tom Brady's career in New England. 
Making a team better, winning games, and overcoming adversity is the literal definition of the head coach's job. No one in the NFL did it better in 2021 than Mike Vrabel.
Place NFL Wagers at BetMGM
At BetMGM, you can bet online with updated NFL betting odds. And with live sports betting, the best online sports betting and mobile sports betting (with the BetMGM Sportsbook app) experiences are at BetMGM.
Check out the sportsbook today to place your NFL wagers!