Winthrop will win their second-ever NCAA Tournament game, Alabama will reach the first Final Four in program history, Michigan won't record a fourth straight Sweet 16 appearance, and Illinois' ascension under Brad Underwood will culminate with a national championship.
Illinois entered the college basketball season buried in national championship odds after wading through mediocrity and futility for the last 15 years. And while the Illini climbed the odds board with an early win over Duke and 5-1 start in Big Ten play, they were still buried behind programs that didn't miss 10 of the last 13 tournaments. But since a mid-January loss to Ohio State, Underwood's team has steadily climbed the board and enters March Madness with the fourth-best odds. At +700, they're only behind Gonzaga (+275), Baylor (+500), and Michigan (+700).
"I dream big," Underwood said at his introductory press conference in 2017. "It's a cliché, but I do. I dream big. Winning a national championship is something that can happen here."
If Illinois emerges from the Midwest Region, as predicted below, it will be their first Final Four appearance since 2005 and second since 1952. They're projected to defeat Drexel, Georgia Tech, Oklahoma State, and West Virginia in doing so. And if they beat Baylor and Alabama in their final two games, Underwood will get his national championship.
Nate Oats, atop the college basketball coach of the year rankings entering the tournament, is seeking his first-ever Sweet 16 berth (after two Second Round appearances with Buffalo) and Alabama's first Final Four run. The Crimson Tide haven't reached the Sweet 16 since 2004, a run that ended with their lone Elite Eight appearance. It would be the second straight tournament with an SEC team in the Final Four (and seventh of the last 10 tournaments).
Elsewhere: Winthrop has an attractive matchup against short-handed Villanova in the 5-12 game and will seek to become the 51st 12-seed to win a First Round game since the field expanded in 1985. Michigan will face a hot LSU team in the Second Round, Colorado won't be a 12-5 victim, two 2-seeds won't reach the Elite Eight, and Arkansas will fall one game shy of their first Final Four since 1995. Utah State will prevent another Final Four run from Texas Tech, Creighton will shake off the Georgetown beatdown, and Michigan State won't make a run.
Full NCAA Tournament predictions (and don't forget to enter BetMGM's free $2 Million Bracket Challenge):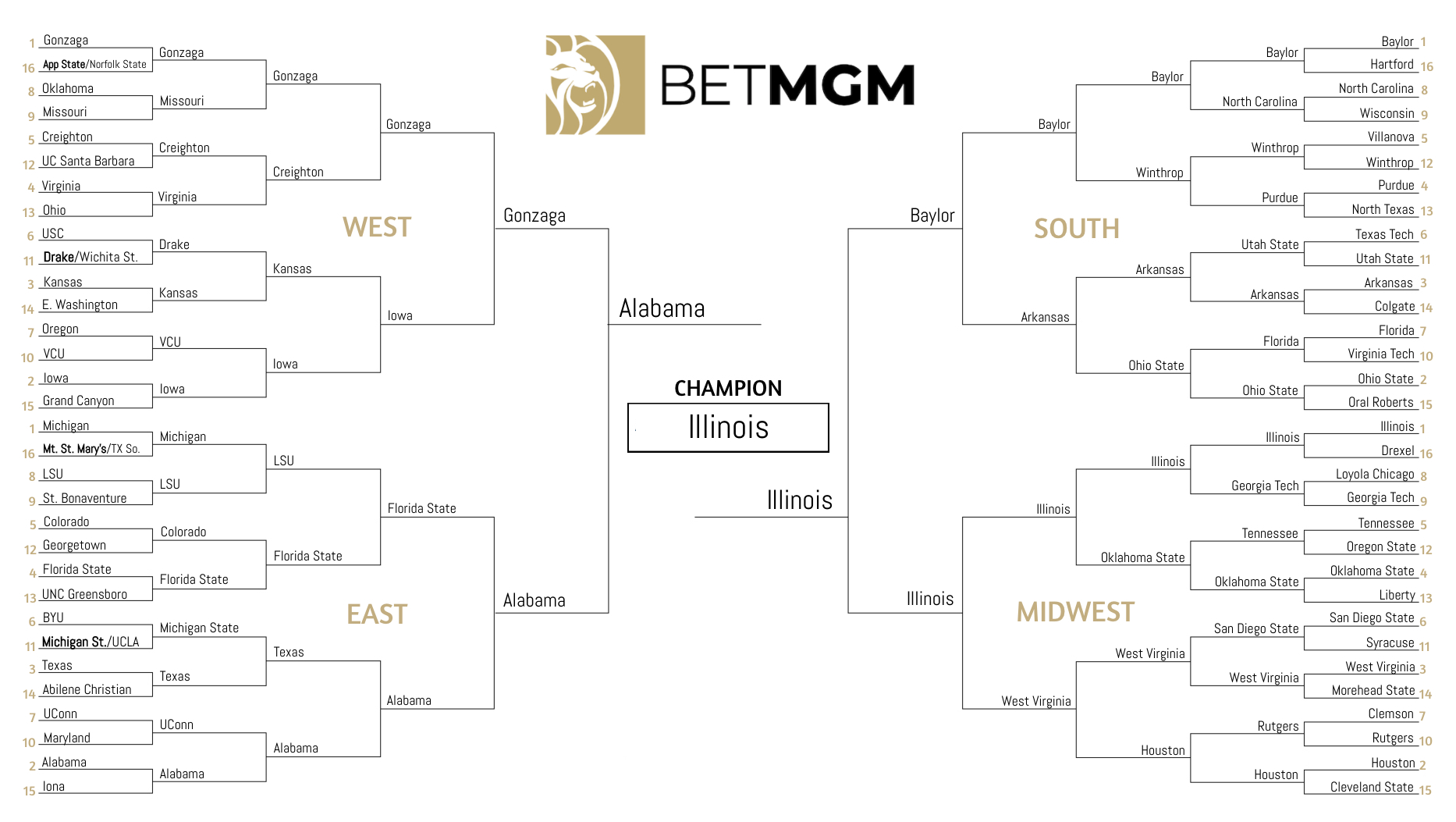 Listen to High Motor by BetMGM for more news and analysis on college basketball, college football, and the NFL:
Place NCAA Tournament Wagers at BetMGM
At BetMGM, we have up-to-the-minute NCAA Tournament odds, teasers, lines, and tips to ensure the best college basketball betting experience during the 2021 NCAA Tournament. Don't miss an opportunity for online sports betting at BetMGM.
Andrew Doughty is a writer for BetMGM and host of High Motor by BetMGM, an NFL and college football podcast available on Apple Podcasts and everywhere else. He has written for Sports Illustrated, HERO Sports, Bleacher Report, and SB Nation. Follow him on Twitter: @DoughtyBetMGM