The Green Bay Packers were 1-point underdogs against the Kansas City Chiefs in Week 9 prior to the announcement of Aaron Rodgers' positive COVID-19 test. After the sportsbook removed the odds and reposted about an hour later, the Packers were 7-point underdogs.
How do oddsmakers handle injuries for NFL betting lines?
Chelsa Messinger and Michael Jenkins were joined by Dave Sharapan to break down how the availability of quarterbacks – and only quarterbacks – can affect line movement in the NFL, and why it is only quarterbacks. Watch the segment above, listen to The Daily Tip live on Audacy radio stations from 6-9 a.m. ET each weekday, or listen to the podcast version on Apple Podcasts and elsewhere.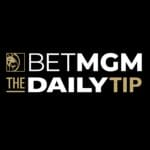 With early-morning sports betting tips to give you the edge, hosts Michael Jenkins and Chelsa Messinger break down the day's events with analysis, angles, and more on The Daily Tip.
Listen live from 6-9 a.m. ET on Audacy.com and your local radio stations. And listen to segments on the Audacy app, Apple Podcasts, and everywhere podcasts are available.