With all the drama of MLB 2019 in the past and Opening Day of March 26, 2020, around the corner, we take a swing at the season ahead with our top seven predictions for 2020 and how they're likely to impact this year's sports betting odds. Wild pitch or sweet spot? You be the judge.
1. Chicago Cubs Kris Bryant heads to New York
Kris Bryant has been a standout ever since he helped the Cubs to victory in the 2016 season and was named the National League's (NL) Most Valued Player (MVP). Fast forward three years. The Cubs haven't lived up to the promise of 2016 and reports are that the third baseman has lost his service time grievance case with the Cubs. Now pre-season rumors have the Cubs looking to trade Bryant. As one of the best players in the NL there are only a handful of teams with the firepower and trade capital to pull off a deal for Bryant.
The latest MLB news has named the Yankees as one of the most credible trade partners if Chicago does decide to move him. The Yankees need a durable answer at third base and Bryant's five-year stats would make the 28-year-old a sure bet upgrade over Gio Urshela.
The New York Mets could also afford to bankroll a Kris Bryant acquisition but space at third base is at a premium with Jed Lowrie coming back from injury and both JD Davis and Jeff McNeil also battling it out for the position at third base.
2. Chicago White Sox set to do some damage this year
We're betting the Chicago White Sox continue a growth trajectory that will see them do some damage during a season that's set to be their most exciting in a decade. Recent years have of course not been kind to the Sox with a losing record over seven consecutive seasons and 10 of the last 13 campaigns. So how have they gone from all that to chasing their first winning record in seven years and first division title in 12 years?
General Manager Rick Hahn has been growing the White Sox into a team on the up and up with an impressive lineup, improved starting rotation, and a talented bullpen for 2020 thanks to some decent scouting, and solid trades and free-agent signings.
This includes bringing in third baseman Yoan Monada and the pitcher prospect Michael Kopech and outfielder Luis Alexander Basabe from Boston in exchange for All-Star pitcher Chris Sale. Let's not forget Hahn's acquisition of ace pitcher Lucas Giolito and quality hurler Reynaldo Lopez from Washington, traded for outfielder Adam Eaton. Then there are the other moves he's made of players to Chicago – Eloy Jimenez (outfielder) and Dylan Cease (a pitcher) from the Cubs for starting left-hander Jose Quintana, and Nomar Mazara (right fielder), and closer Alex Colome.
All clever moves to build outstanding talent to take the White Sox places in the standings they haven't been in close on a decade.
3. Will Cleveland Indians Francisco Lindor stay or will he go?
If you're an Indians fan then this is the top of mind question in 2020. Lindor and Cleveland have entered a tricky phase with the superstar shortstop going into arbitration for a second year and expected to haul $16.7 million next season. With Lindor two years away from free agency, 2020's probably the best season to maximize a return for the 25-year-old.
Whether Lindor is retained or traded will depend largely on whether Cleveland are willing to disrupt their current roster that's still in prime position to compete for a playoff spot in the American League. For all those online sports betting fans out there, Cleveland's last season average run differential was +0.69. This puts them in fifth position in the AL, although they split to sixth based on win percentage. Sports betting odds for Cleveland to win the World Series based on a 2.1% probability puts them at 14 in the league - not a good bet.
4. Detroit Tigers Miguel Cabrera will reach his 500 home run milestone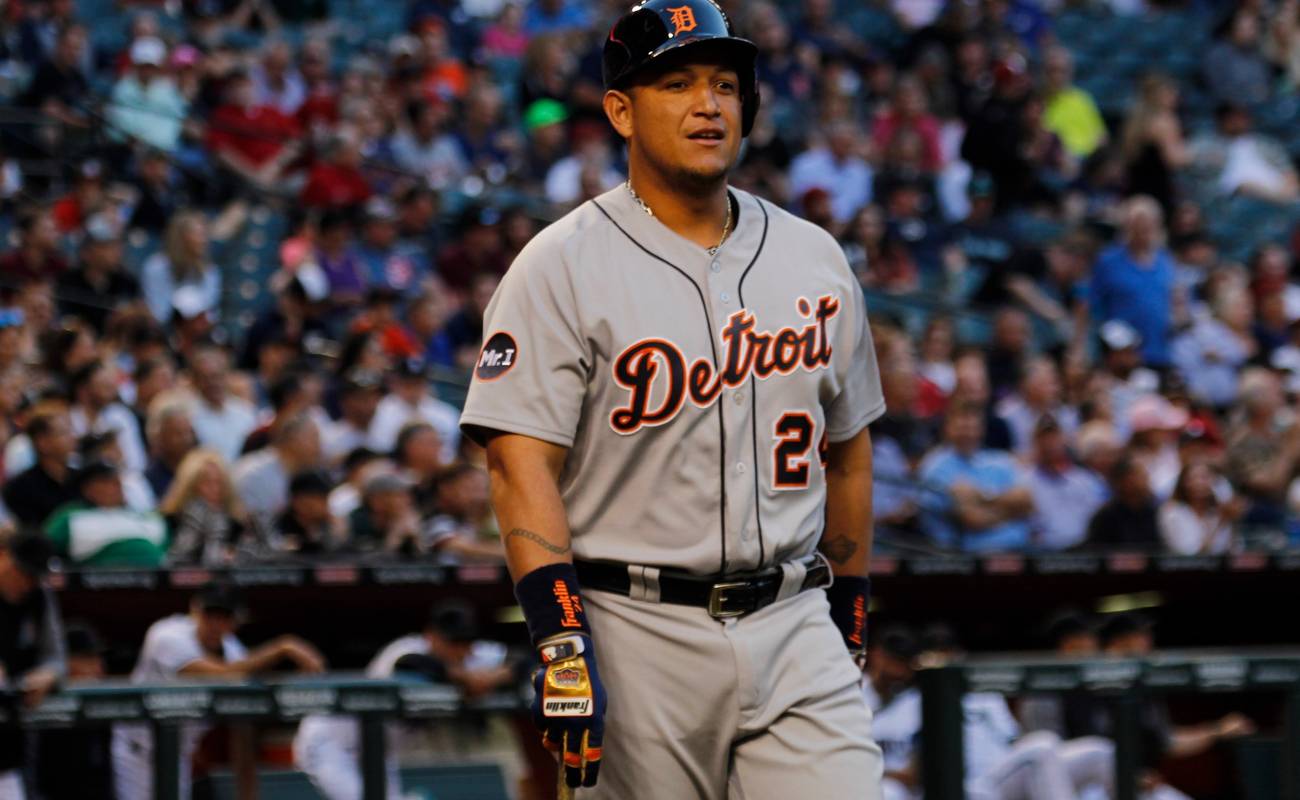 "Miggy" Cabrera's .316 career batting average puts him top of the heap of active players, and he's second for both home runs and RBIs. The 11-time All-Star has clocked up seven Silver Slugger trophies, two MVP awards, the AL Triple Crown in 2012 (the first player since 1967 to win the batting Triple Crown), and he topped his previous year's batting performance with a career-high .348 batting average.
The first baseman has hit 30 or more home runs in ten separate seasons, slugged more than 100 runs in 12 separate seasons, had a career .315 batting average through 2019, and achieved the 33rd highest career slugging percentage of all baseball players last season.
The last three years have seen him struggle with a series of injuries – lower back stiffness and two herniated discs in 2017, hamstring strain and a ruptured bicep tendon in 2018, then knee issues in 2019.
Still, Cabrera has found a spot on the Top 30 all-time lists for doubles (24th with 577), home runs (30th with 477) and RBIs (29th with 1,694), and starts the 2020 season ranked 51st on the all-time hits list with 2,815.
Sports betting odds may not be in his favor, but our favorite feel-good prediction for 2020 is that the 37-year-old will have a comeback year and manage to hit the 500 home run milestone!
5. New York Mets offense sees them right
With an 86 win regular season behind them, the Mets enter 2020 with a healthy offense – the only real area of play that could give them an edge in the NL this season. Following a number of missteps over the years, the Mets' core offensive talent comes in under age 30, which means they're mostly free from the odd playing time restrictions once imposed on the club's previous bunch of veterans players. With Brandon Nimmo returning from injury, Jake Marisnick will likely get plenty of time in center. He's also a capable fourth outfielder.
Coming off the 2019 season, Robinson Canó is stacking up as one of the Met's weaker players. He batted a career-low .256 with 13 home runs and lowest 39 RBIs. The 37-year-old second baseman also clocked the slowest sprint speed of all major league second basemen, at 24.7 feet per second. With a question mark hanging over Jed Lowrie, there isn't an obvious replacement at the moment.
If you're looking for sports betting odds for the Mets, they start the season with +2000 odds to win the 2020 World Series.
6. New York Yankees Aaron Judge will win the AL MVP
Aaron Judge is one of the most prolific players in the MLB when he manages to get through a full season injury-free. In the last two seasons, he's missed 110 games due to health concerns. Despite his tendency to swing-and-miss, the right fielder has a lot going for him. An impressive sprint speed ranking in the top 79th percentile among major leaguers for one thing, and his 94th percentile above average rank for outs. In 2017 he hit 52 home runs then thumped 27 dingers each in 2018 and 2019.
So it's not a big stretch to predict that Judge wins the AL MVP and helps the Yankees to their 28th World Series championship in 2020.
7. Philadelphia Phillies will exceed 84 wins this season

No doubt about it, the Phillies underperformed in 2019, blighted by injury and several players who underachieved. The improvement from 80 wins in 2018 to 81 in 2019 is largely down to the additions of number two starter Zack Wheeler, shortstop Didi Gregorius, as well as new manager Joe Girardi, pitching coach Bryan Price, and hitting coach Joe Dillon. Point is, they're due for a bit of luck this season when it comes to injuries, and we expect Bryce Harper to still be a run producer for the Phillies. They also want to sign elite defensive catcher J.T. Realmuto to an extension before he hits free agency.
On the sports betting side, the Phillies' World Series odds are the sixth-shortest odds to win it all at +1800. But we do predict that they'll record at least 84 wins this season.
Looking for sports betting odds or after in-depth American and National League betting trends? BetMGM can help you make smart wagers whether you're an online sports betting novice or an MLB picks pro. We're one of the best legal online sports betting sites out there to give you great handicapping tools to help you make smart predictions.