The highly sought-after John R. Wooden Award has been given to outstanding players in college basketball since 1977, and as the end of the 2019-20 national college basketball season nears, fans might be wondering who will receive this prestigious trophy? Join us as we take a look at the award's history, and who might take it home in 2020.
The history of the John R. Wooden Award
Who is John R. Wooden?
The official Coach Wooden site describes how John R Wooden was born on October 14th, 1910, and spent much of his childhood on a small farm in Centerton, Indiana. However, in 1924, financially difficult times saw the family leave the farm behind and move to Martinsville. It was at Martinsville High School that Wooden would begin to pursue his love of basketball.
High School Career
He joined the local high school team, the Artesians, and helped them secure the Indiana State High School Championship in 1927. He went on to become the captain of the team in the following year, but unfortunately lost the tournament to rival team, Muncie Central, by one point.
College Career
1928 was also the year that Wooden enrolled at Purdue University. He joined the college team and was coached by Ward "Piggy" Lambert, a man Wooden states was the "greatest influence on me both from the standpoint of playing and a coach." Wooden achieved a great deal of success during his time at Purdue:
He helped his team reach the 1932 National Championship, as well as the Big Ten Championships in 1930 and 1932
He was captain of the team in 1931 and 1932
He received the All-American honor three times by consensus
Named to the All-Big Ten
Received the Big Ten medal for Scholarship and Prowess
Named 1932 College Player of the Year
Gained a reputation as "The Indiana Rubber Man" due to his fearless dives on the court
Coach Wooden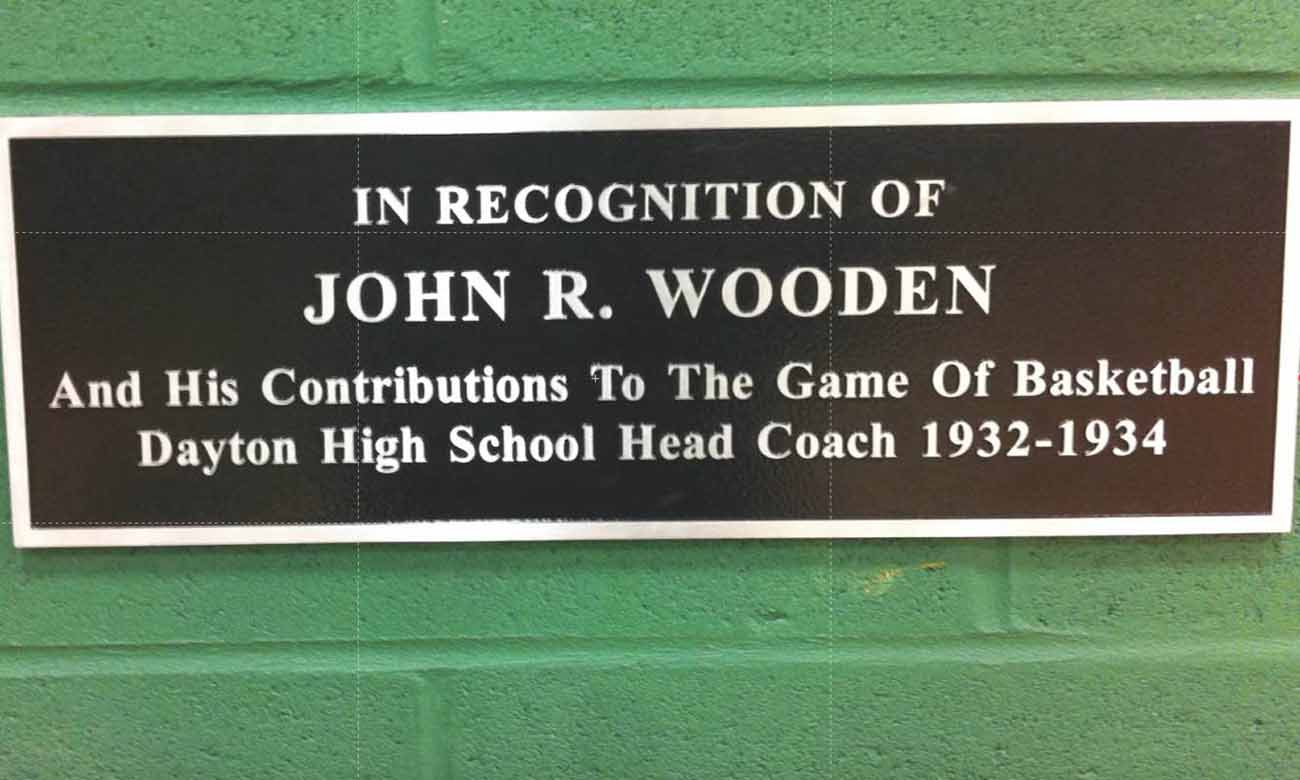 At the end of his college career, Wooden became a highly regarded high school basketball coach, ending his high school coaching career with 218 wins and only 42 losses. It's unsurprising that many refer to this stellar record as a sign of things to come. To try and unpack every success of Wooden's decades long college coaching career would take several articles, if not books, dedicated to the subject. Instead, here are some highlights that demonstrate why he was one of the greatest basketball coaches ever:
Named the national association's College Basketball Coach of the Year six times (1964, 1967, 1969–70, 1972–73)
Received the Henry Iba Award 7 times (1964, 1967, 1969–1973), with the next most highly recognized coach Tony Bennet, only having received the award 3 times
Achieved a record 620 wins and 147 losses as UCLA coach (a .808 percentage)
Two record-winning streaks with 88 wins over four seasons, and 38 national association tournament games
Achieved a record 885 wins and 203 losses across his entire coaching career (a .813 percentage)
Shared Sports Illustrated's 1972 Sportsman of the Year Award with Billie Jean King
Was one of only two people to enter the Hall of Fame as both a player (enshrined in 1960), and later a coach (enshrined in 1973)
Coach John Wooden surprisingly decided to retire in 1975, but his legacy continues to influence the game of basketball, even past his eventual death in 2010.
The John Wooden Award
One of the critical parts of his legacy is the John Wooden Award. The Wooden Award website describes how the idea for the award came to life thanks to Richard "Duke" Llewellyn, a close friend of Wooden's. The award aimed to recognize the five key skills (defense, dribbling, passing, rebounding, and shooting) that Coach John Wooden believed made up the "total basketball player". The trophy itself was designed with five figures, each representing one of these key skills. These figures were supposed to be modelled upon photos of real players in action, but they couldn't find good quality images of players getting rebounds or taking shots. Instead, two Los Angeles Athletic Club members were asked to pose for reference photos. After the references were gathered, Don Winton, a former athlete and sculptor who had created many other trophies, was hired to bring the design to life. After a few minor changes based upon suggestions from Wooden and Duke, Robert Graves was brought on to create the molds for the trophy. Graves was known for his work on the Emmy and Grammy Awards, and went on to produce the iconic 25 pound trophy. The first player to hold this trophy high was Marques Johnson in 1977, but today this annual award is given to both the greatest male and female college basketball players. The candidates are chosen using the following criteria:
Candidates must be full-time students in an accredited college or university.
Consideration should be given to scholastic achievement and aspirations. All candidates must have a cumulative 2.00 grade point average since enrolling in their current university.
Candidates must exhibit strength of character, both on and off the court.
Candidates should be those who contribute to team effort.
Candidates must excel in both offense and defense.
Candidates should be considered on their performance over the course of the entire season (pre-conference, conference and tournament play).
Boards of different sizes choose the candidates for each category, with hundreds of sportscasters and writers across the US casting their votes for their preferred players.
Who might win the men's category for The John Wooden Award?
The Wooden Award has recently announced the late-season watch list for the men's category. There have been a few changes since the midseason list, with the introduction of Jarod Butler from Baylor University, as well as Daniel Oturu from the University of Minnesota. Jaylen Smith of Maryland also makes a return to the list after being absent during the midseason. But with 25 shifting candidates on this list, you might be wondering who will take home the John Wooden award?
Potential candidates
Unfortunately there is no clear stand out player yet, with many of the nominees performing extremely well, and shifts in expectations taking place week by week. However, many analysts still have their opinion on the top performers:
In the middle of January, USA Today thought that Vernon Carey Jr., Tre Jones, Devon Dotson, Udoka Azubuike, Ashton Hagans, and Tyrese Maxey are all within reach of the Wooden Award, if they manage to create a lead over their competition towards the end of the season. They also gave a nod to pre-season nominee Cassius Winston, who could also make a comeback to take the top spot.
Nate Rhoades of Fansided also believed that Cassius Winston will prove that he is the number one candidate for the Wooden Award by delivering an exceptional performance in a key game between Michigan and Iowa.
However, a few days earlier, The Athletic reported that they believed Winston is a long shot for the Wooden Award.
According to ESPN, two players you cannot ignore are Luke Garza and Obi Toppin. Other players who are also high up their rankings include Markus Howard, Devin Dotson, Myles Powell, Vernon Casey Jr., Malachi Flynn, and Udoka Azubuike.
Wendy's Wooden Watch on ESPN also gave their nods to Obi Toppin and Vernon Carey Jr.
While there are a few names that come up repeatedly, fans are going to need to keep an eye on weekly developments to see who manages to take the lead, as it looks like this year's Wooden Award winner is going to come down to the wire.
The March College Basketball Tournament is here!
Sports betting
fans don't only need to keep an eye on player performances for The Wooden Award, as the March College Basketball Tournament is just around the corner. If you've researched the March College Basketball Tournament odds, March College Basketball Tournament picks, and March College Basketball Tournament teams and are ready to get in on the action, be sure to place your bets at BetMGM. BetMGM is an online service run by the prestigious MGM Resorts International, a company that has been offering entertainment and gaming services for over three decades. To find out more about the service we offer, be sure to visit our site or get in touch with us today.