Coming off an impressive run in their regular season and sitting at the top of the rankings in the Southeastern Conference, the Kentucky Wildcats are looking ready to take home some wins in the post-season leading up to the National tournament. The Wildcats have a long list of impressive accomplishments that they will be looking to add to this year.
Past Performances
The Kentucky Wildcats are one of the most successful basketball programs in the country. Kentucky leads schools in total appearances in the National tournament with 59, total wins with 131, total games played with 184, total last sixteen teams appearances with 45, total final eight appearances with 38, total post-season tournament appearances with 68, and conference regular-season champions with 51. Not impressive enough for you? Don't worry, there's more. They boast the highest all-time winning percentage with .765 and also have the highest all-time wins with 2,319 in Division I men's college basketball. On top of those impressive records, the Kentucky Wildcats have been to 17 National last four teams and 12 championship games – of which they have won 8 of them, putting them second behind UCLA's 11 wins. Kentucky has also won the National Invitation Tournament twice in 1946 and 1976, making them the only school to have won multiple NIT and National championships ever. Kentucky also leads all schools with 63 20-win seasons, 16 30-win seasons and 6 35-win seasons. Kentucky basketball fans can be proud to support such a dominant and successful team, and sports betting fans would do well to keep an eye on them going into the post-season. The Kentucky Wildcats have always been an absolute powerhouse in men's college basketball and have always put up incredible performances in the past. Looking forward to the conference tournament and the Division I men's college basketball tournament, they are coming in strong and off of a great season having gone 24-5 overall and 14-2 in the Southeastern Conference. Expect big things from Kentucky as they look poised to take the automatic bid to the big tournament and do what they do best – win.
Meet the Players and Know Who to Watch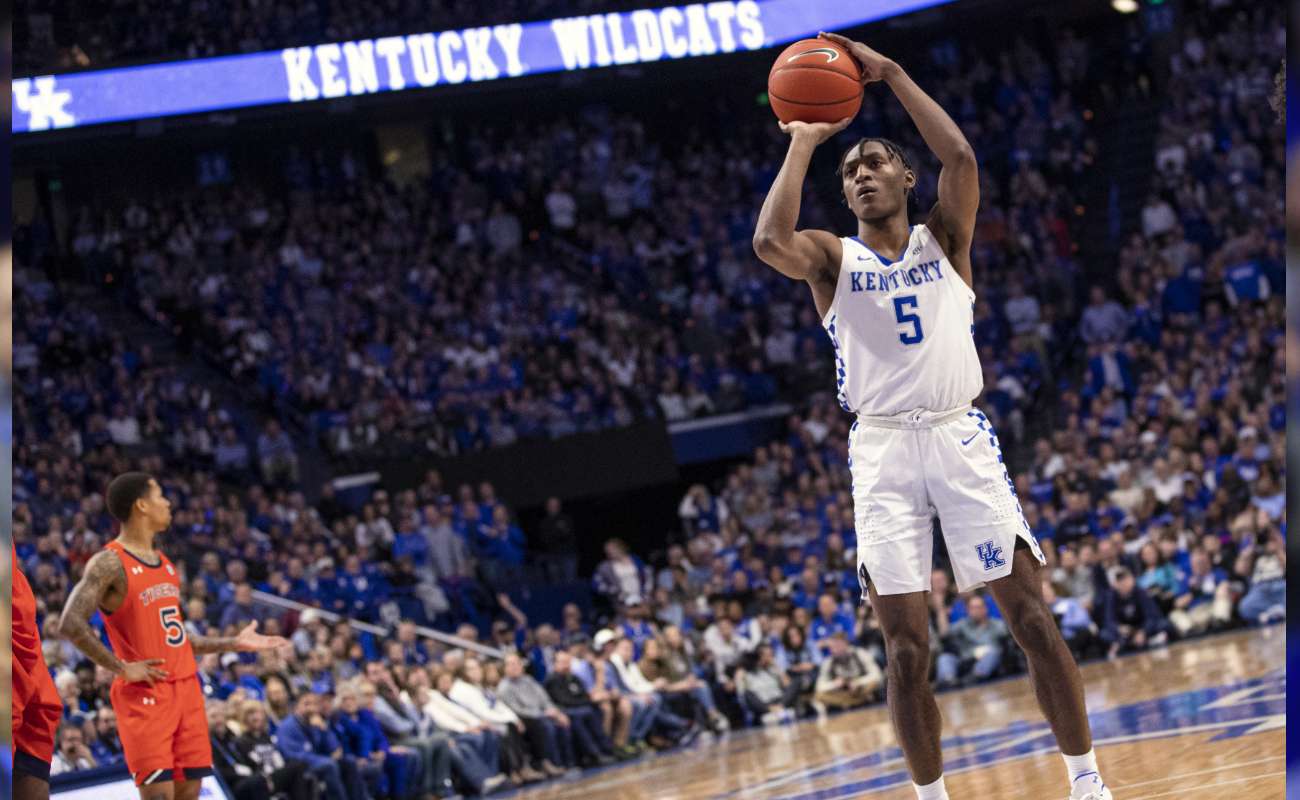 The roster for this year's Kentucky Wildcats going forward into the post-season and the National tournament as it currently stands is:
0
Ashton Hagans – G
1
Nate Sestina – F
3
Tyrese Maxey – G
4
Nick Richards – F
5
Immanuel Quickley – G
10
Johnny Juzang – G
11
Dontaie Allen – G
12
Keion Brooks Jr. – F
13
Riley Welch – G
14
Brennan Canada – F
21
Zan Payne – F
23
Ej Montgomery – F
33
Ben Jordan – F When a roster as successful as this comes forward and you have to pick who to watch it can be tough not to mention everyone, but there are some players in this Wildcats lineup that have been putting up amazing stats. Leading the team in points-per-game is Immanuel Quickley who, so far in the regular season, has put up an average of 16.3 ppg. With 92.2% free throws made and 42% 3-point field goals made, it is no wonder why Quickley is one of the star players of this Kentucky basketball roster. Immanuel also puts up great rebound and turnover stats, so be sure to keep your eyes on him. Next up on the list of impressive stats collectors is Nick Richards. Leading the team stats in rebounds with 7.8 per game and blocks with an average of 2.2 per game, Richards is another massive impact player on the court for Kentucky basketball. Keep an eye on him for the upcoming game against Tennessee as he tries to keep his 100% field goal percentage record perfect. Richards seems to have fantastic games against Tennessee with an 82% free throw accuracy and 15 points per game average. Number 0 Ashton Hagans is also a danger man for the Wildcats, leading his team in assists with 6.4 per game and in steals with 2 per game on average. Hagans has seen a massive improvement since his first season with the Wildcats last year and he is constantly looking to improve his stats. With 11.5 points per game, 4 rebounds, 3.4 turnovers and 92.2% free throw accuracy, be sure to keep an eye on this player as he looks to show more of his potential this year at the National tournament.
Recent and Upcoming Games
This season for the Kentucky Wildcats has been as dominant as any before, with a 24-5 overall record and 14-2 in SEC play. Their performance in the SEC has made any team except the top 3 look like free wins, and even the second and third place teams seem to be struggling to hold a candle to the performance that the Wildcats have been putting up. There are still some rough edges to iron out with some losses coming in from teams down the middle of the rankings in the conference. Kentucky basketball fans don't have to worry though, as their consistency in performing well should hold up and their habit of winning shouldn't be affected. Second place team Auburn managed to snatch a win away from the Wildcats earlier in the season by beating Kentucky 75-66, though recently the Wildcats managed to get their own back as they secured the win in their last encounter with Auburn beating them 73-66. South Carolina, Utah and Ohio State all managed to sneak wins out from under Kentucky as well, but the Wildcats' momentum hasn't given up at all and they are currently on an 8-game win streak going into the upcoming games against Tennessee and Florida. The Kentucky/Tennessee rivalry is one that the Wildcats have dominated this year beating Tennessee 77-64 away. Next on the Kentucky basketball schedule is Tennessee at home, and fans will be pouring into the stands to cheer on the Wildcats as they look to stomp Tennessee once again.
Some Numbers to Sum Up
The Kentucky Wildcats have got some of the most impressive achievements and the longest list of accolades in college basketball, so this is a long list of numbers. These are all important to keep in mind when you are lining up your picks for your bracket in the March college basketball tournament and for any
sports betting fans
looking for a few easy wins in the coming tournaments. Here are some of the Wildcats' cumulative all-time stats: · All-time wins: 2293 (Rank 1) · All-time winning percentage: .765 (Rank 1) · Total post-season tournament appearances: 63 (Rank 1) · NBA draft picks: 110 (Rank 1) · All-Americans: 57 (Rank 1) · All-American total selections: 87 (Rank 1) · AP Poll No.1 weeks ranked all-time: 120 (Rank 3) · AP Poll Top-5 weeks ranked all-time: 441 (Rank 1) · Final AP Poll No.1 finishes: 10 (Rank 1) · All-time winning percentage against AP-Ranked opponents: .615 (Rank 1) · Total 20-win seasons: 59 (Rank 1) · Total 25-win seasons: 33 (Rank 2) · Total 30-win seasons: 14 (Rank 1) · Total 35-win seasons: 6 (Rank 1) · Total winning seasons: 95 (Rank 2) · Total undefeated seasons: 2 (Rank 2) · Conference regular season championships: 48 (Rank 2) · Conference tournament championships: 29 (Rank 1) · National Attendance Titles: 25 (Rank 1) · No.1 seed in the National tournament: 12 · Official overall No.1 seed at the National tournament: 4 As you can tell the Kentucky Wildcats' odds for winning any tournament they participate in are very high. They hold some of the most impressive records across the entirety of Division I men's college basketball, and they are considered one of the most elite National basketball teams in the tournament. If you are a sports betting fan then you might want to keep tabs on the Wildcats and the games that they will be playing – they could be netting you some easy wins and racking up some easy points on your bracket sheet for the March college basketball tournament . If you are a Kentucky basketball fan, or a sports betting fan, and you're gearing up for an exciting March College Basketball Season and want to play along, then why not play online at BetMGM? With us you can place bets on the biggest and most exciting sports events of the year, including the March college basketball tournament .