College basketball fans are getting up for this thrilling part of the National Collegiate season. With the largest tournament about to take place, we take a look at three of their highest scoring matches of all time.
The Top Scoring Games
No. 3 – UNLV vs Loyola Marymount 1990
Total points scored: 232
Round: Quarterfinals
In this article, Mike Lopresti captures one of the most iconic tournaments to ever take place in young men's basketball:
Twenty-five years ago, the 1990 tournament gave us seven genuine buzzer beaters, five overtime games, seven one-point finishes, and 23 games decided by a single possession. It gave us 10 major upsets – if the measure is the winner being seeded at least five spots lower than the loser.
It gave us a No. 16 seed taking a No. 1 into overtime. A clock mistake that might have cost a renowned coach his last trip to the [last four teams]. A player shooting free throws with the wrong hand, to honor a teammate he had just helped bury. A team scoring 115 points – and losing by 34.
It gave us a tour de force of offense, in an age of scoring.
He continues:
And in the end, it gave us an historic rout, by a mighty champion whose title transcended the game, and spread into the differences of our society at large. UNLV 103, Duke 73. A quarter-century later, the score still astounds.
One tournament did all that? Yes.
It was during this tournament that our third entry on this list took place. This game saw the 1st seeded University of Nevada, Las Vegas (UNLV) and the 11th seeded Loyola Marymount team come face-to-face in the quarter finals.
A New York Times article described the atmosphere around this match as one of good guys (Loyola Marymount) versus bad guys (UNLV), white knights versus black knights, or more comically, mustaches versus peach fuzz.
UNLV had gained this less stellar reputation due to their "rough" attitude, having gotten into scuffles with other teams in the past, including Ball State and Loyola Maryland.
Despite the tone of this match, and the efforts of Loyola Maryland to honor their recently deceased teammate Hank Gathers, it was not to be for the "good guys" in this college basketball story.
In their coverage of the match, The LA Times described how Loyola Marymount was unable to match UNLV player Stacey Augmon. Augmon was either too tall for players who matched his speed, or too quick for players who matched his height, giving him the room to quickly score 33 points. This resulted in a 20 point lead that allowed them to ultimately leave the court victorious. UNLV ended the game with 131 points to Loyola Marymount's 101.
No. 2 – Loyola Marymount vs Wyoming 1988
Total points scored: 234
Round: First round
A record 234 was once the highest points scored during the National Collegiate tournament in 1988, during a match that again featured Loyola Marymount. In this match, the 10th seeded Loyola Marymount team were up against the 7th seeded Wyoming team.
The Sun Sentinel described how this score surpassed the previous record of 227 that was set in 1970 by Iowa and Notre Dame. Despite Loyola Marymount falling behind at the start of the game, a flurry of points at the end of the first half allowed them to take the lead, scoring 63 to Wyoming's 52.
Paul Westhead, the coach at the time, had this to say about the critical turnaround:
"I don't know if that's as well as we've ever played," said Loyola coach Paul Westhead, former coach of the Los Angeles Lakers, "but those points were as important as we ever needed."
While desperation could have easily overwhelmed the team, two clear motivations helped them clinch the victory and the record. The first thing to keep them going was one simple idea, highlighted by Mike Yoest, the senior guard:
"Our inspiration," Yoest said, "was we knew we were tired. But we knew they were three or four times more tired."
The second piece of motivation was the low seeding they'd received, despite being a regular-season and tournament champion.
When asked about his performance, Fennis Dembo, a Wyoming forward, stated:
"I've never played in a game like that," said Wyoming standout Fennis Dembo, who was held to 14 points, six below his average, and fouled out with 3 minutes, 10 seconds left. "At least in playground ball you can sit on the side and say, 'Take my place.' Here, we were locked in."
No. 1 – Loyola Marymount vs Michigan State 1990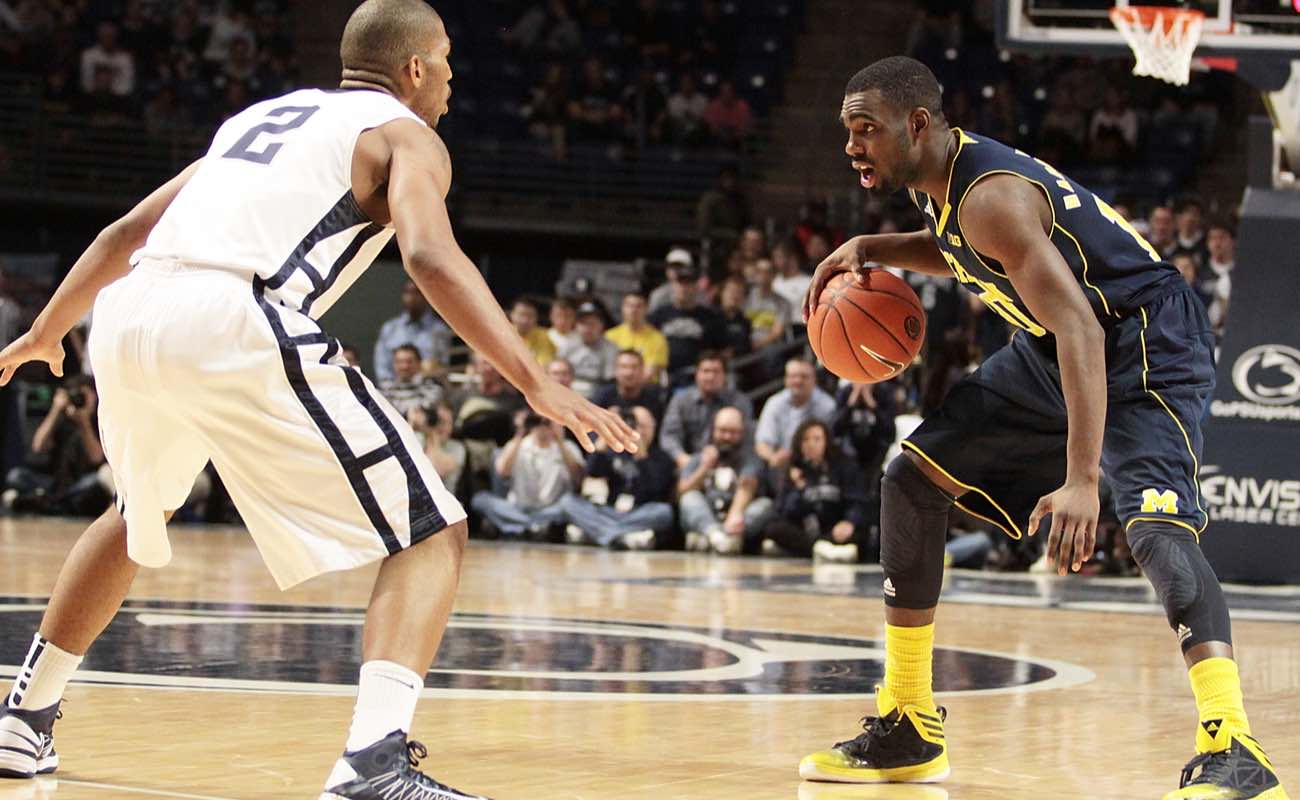 Total points scored: 264
Round: Second round
The highest scoring match of all time took place during the same iconic 90s tournament we discussed earlier. Almost 3 decades ago, before being knocked out by UNLV, Loyola Marymount went against Michigan State, the 3rd seeded team. Loyola Marymount overcame expectations and claimed victory by scoring 149 points against Michigan's 115, for a total score of 264 points.
In 2019, Daniel Wilco took a look back on this iconic match. He set the scene, describing how coach Steve Fisher had only recently taken over as coach of Michigan after his predecessor, Bill Frieder, was fired.
Their opposition, Loyola Marymount, as we described earlier, had suffered the loss of Hank Gathers. However, this wasn't enough to hold the Lions back in their match against Michigan.
Wilco highlights some the key takeaways of this match in his review:
Loyola Marymount averaged 122 points per game this season. Michigan, 86. It was clear that this would become a battle of tempo, but Michigan decided to play to Loyola Marymount's speed, wanting to unleash their star players (four returning starters from the 1989 championship team) instead of slowing down the pace. This is exactly what LMU wanted, and it doomed Michigan, who ran out of gas in the second half.
Michigan was actually fairly adept at breaking LMU's full-court press, but once they broke it, they tried to capitalize on the chaos of the break, taking quick shots instead of pulling back and running a halfcourt set.
Loyola Marymount could not be stopped from behind the arc. The Lions were 21-40 from 3-point land, while Michigan was 4-13. That's pretty impossible to overcome, regardless of pace.
11 players scored double figures in the game, led by Jeff Fryer with 41, and Bo Kimble at 37. Fryer stretched the defense with 11 3-pointers (an National Collegiate tournament record), while Kimble sliced up the inside. Together, those two scored more points (78) than 22 of the 32 teams in the second round of the 1990 National Collegiate tournament. Good luck against that.
Don't just sit on the sidelines! Join in on the sports betting action!
This journey down memory lane has undoubtedly highlighted how exciting college basketball can be, but there's no doubt that it's even better to be part of the action. No, we don't mean you need to dust off your old sneakers and try out for your old college basketball team. You can get in on the excitement by placing a wager on your favorite teams! But before you do, you need the right sportsbook.
BetMGM, formerly known as PlayMGM, is an online gambling platform that is operated by ROAR, a joint venture between GVC Holdings and MGM Resorts International. It offers sports betting fans a choice between match, futures, and special bets, depending on their favorite sport and how they want to play.
Be sure to visit our website to find out more on how you can join in on the fun today!