Ten days before the 2021 NFL season opens, Chelsa Messinger and Michael Jenkins played Fact or Fiction on The Daily Tip, discussing, among other things, Josh Allen's MVP odds in NFL betting.
As of Aug. 30, Allen is tied with Tom Brady for the third-best NFL MVP odds, sitting behind only Patrick Mahomes (+600) and Aaron Rodgers (+1100). Is there good value in betting on Allen? Also on The Daily Tip on Monday, Messinger and Jenkins discussed the Kansas City Chiefs' rebuilt offensive line, and what the Gardner Minshew means, if anything, for the Philadelphia Eagles' confidence in Jalen Hurts.
You can listen below, listen to The Daily Tip live on Audacy radio stations from 6-9 a.m. ET on weekdays, and check out the show as a podcast on Apple Podcasts and elsewhere.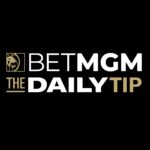 With early-morning sports betting tips to give you the edge, hosts Michael Jenkins and Chelsa Messinger break down the day's events with analysis, angles, and more on The Daily Tip.
Listen live from 6-9 a.m. ET on Audacy.com and your local radio stations. And listen to segments on the Audacy app, Apple Podcasts, and everywhere podcasts are available.