Intro
: The last few weeks have been all chatter about the upcoming Division I men's basketball tournament in March, and who they think will take the top seeds. While everyone wants to see their team go the whole way and take the championship game, there are some teams that you simply can't deny who will make a good showing at the tournament.
Projections for Top 4 Seeds
As far as most people are concerned, the conversation isn't about who will make a top seed position in each region. Rather, in which order Baylor University, the University of Kansas, Gonzaga and San Diego State University would be placed. Each of these teams are looking primed to take their top seed spot for their regions. What it comes down to is where they will rank overall, relative to each other. The top spots aren't secured yet, with San Diego having recently dropped a game to Utah State in the Mountain West tournament final. This left them vulnerable to losing the top seed spot to the University of Dayton. Suffering a massive defeat against UNLV, San Diego had a bit of a rough rounding off of their regular season. They also only managed to scrape together single-digit wins against Colorado State and UNR. On the other hand, Kansas has a fairly secure hold of their top seed slot and the overall No. 1 seed for the tournament - at the moment. The only thing that could jeopardize their chances of being No. 1 at this point, is a massive upset in the quarterfinals of the Big 12 tournament – which seems unlikely, but not impossible. Either way these teams have been outclassing the competition in their regions and have ended up as top prospects for the top seed slots. Let's take a closer look at what each team has been displaying and why they are projected to be on top (in March).
Kansas
As it stands, the selection committee for the
March Division I men's college basketball tournament
have an easy decision to make. Put the University of Kansas as the No. 1 overall seed position and send them off to Omaha, Nebraska – Bill Self and the boys have earned it. Self's 2019-20 roster have come together this year and put up a stunning performance in their regular season and in conference play. They finished off the regular season with a record of 28-3, after taking down Texas Tech University, on the road. Therefore, extending their win streak to 16 games undefeated. In conference play, the University of Kansas put up a 17-1 record this season, with the only loss coming from a game at home against Baylor – who are also in line for a top 4 seed going into the March tournament. Kansas proved that they are ready for the opposition in the coming tourney. In non-conference play, they managed to beat Dayton, BYU and CU Boulder, who have all secured their spot in the field of 68 - going to the tournament. The only losses for Kansas, outside of conference play, were against Duke and Villanova University, who are also top teams in their conferences. The point is that it takes the best to mess with the best, and Kansas haven't dropped games against teams that are not worthy of taking a game off them. Kansas has had strong and impressive victories. Sometimes by massive and morale-destroying margins, and no bad defeats so far. If they manage to bear Baylor in the Big 12 tournament final, they will look even stronger going into the tournament and be sure to secure that overall No. 1 seed spot. Going into the tournament, Kansas has the double-double machine, Udoka Azubuike, who will be patrolling the paint, with Marcus Garrett and Devon Dotson leading a strong backcourt. With no upsets thus far in the 2019-20 season and postseason, Kansas is looking like a safe pick to go through to the round of four, and quite likely all the way to the championship game.
Baylor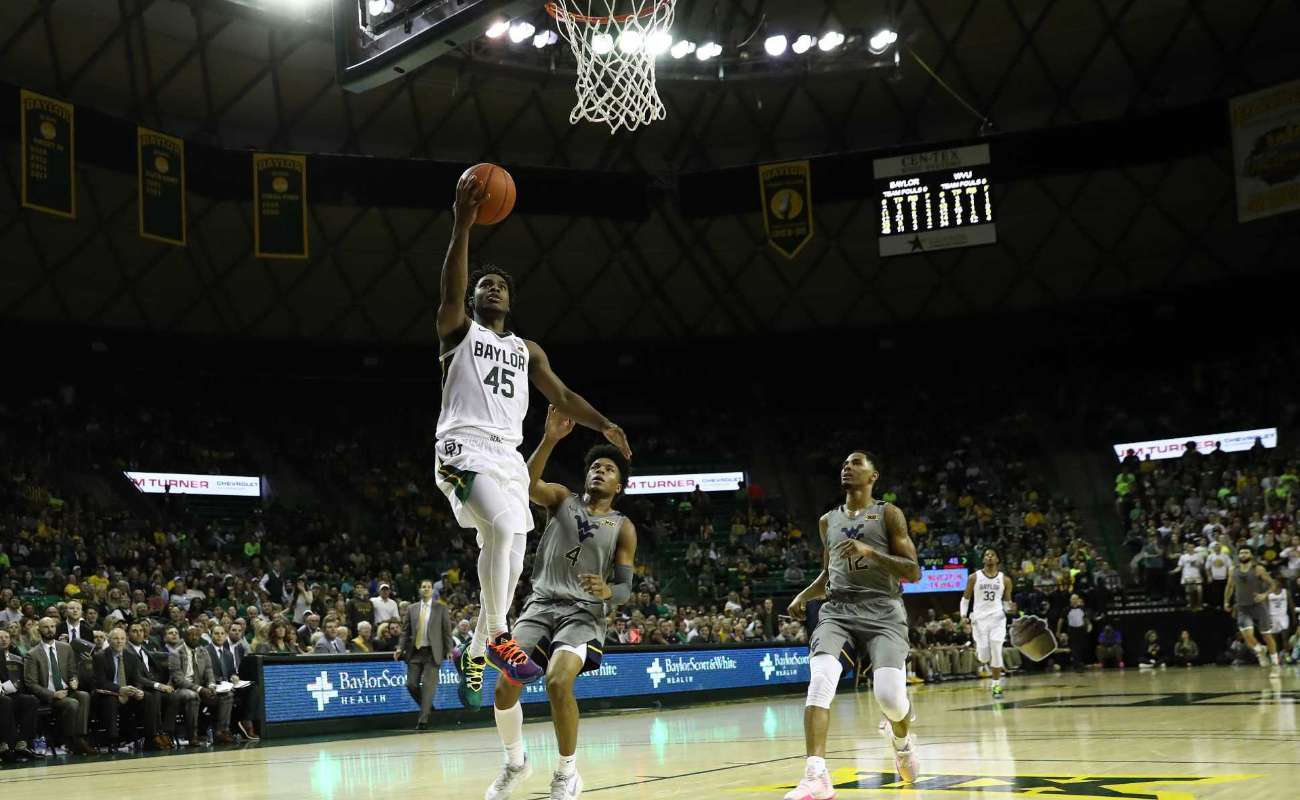 Baylor had been looking really strong leading up to the end of the season. Then our belief that they were one of the safest teams to pick for your bracket to go deep started to waver. In recent weeks, Baylor has suffered losses to TCU and West Virginia University. The loss to TCU stung the most since Texas Christian University has only won 2 of their last 8 games, going as far back as February 1st. The loss to West Virginia on the road is slightly more understandable, though it still doesn't look good for Baylor, because Bob Huggins' WVU team is currently 14-2 on their home court. Scott Drew and his Baylor team will likely have a shot at revenge soon, as they are meeting TCU again in the upcoming quarterfinal. They might face off against West Virginia in the semifinals. As long as Baylor doesn't drop the ball again and make it to the finals game, they will have secured their spot in the top 4 seeds, probably in the 2nd or 3rd position – depending on what happens on game day for the other teams. Losing to Kansas again wouldn't do any harm to Baylor University's resume, and a win won't even push them enough to potentially earn the No. 1 seed spot – thanks to Kansas' near-perfect season. It looks like Baylor will be getting slotted into the South region for the tournament, which means that with 2 wins they will remain in Texas to play the round of 16 and the round of 8 in Houston. Baylor was 14-1 on their home court this season, so a home-court advantage at the Toyota Center could make all the difference.
Gonzaga
The important thing for Gonzaga is that there is a good bit of separation between them and San Diego State University. This is important because it means that if Gonzaga gets to the top seed spot in the West region, they will remain local for the first few rounds of the tournament. The first two rounds would be played just around the corner from their campus in Spokane, Washington, before heading to LA for the second weekend. Before Gonzaga can get too hyped about this, they have to secure it with some wins at the West Coast Conference tournament in Vegas. Mark Few and his Gonzaga team are lined up to face the University of San Francisco in the upcoming semifinal game. Depending on what happens in the other semifinal game, they will face either BYU or Saint Mary's College of California in the championship game on Tuesday. A chance for Gonzaga to get some revenge on BYU, on neutral territory, would give their resume a decent boost. If they fail in the final, their resume should still be enough to get them seeded above San Diego State.
San Diego State
There is going to be a lot of talk surrounding the top seed picks for the East region, and San Diego State University have put themselves in quite a vulnerable position by not securing the Mountain West's automatic bid to the Division I men's college basketball tournament this year. SDSU do, however, have enough on their resume to stay above Dayton and grab the top spot in the seeding. Brian Dutcher and his San Diego State team have managed to beat Creighton University, the University of Iowa and BYU in non-conference play. Dayton lost to Kansas and the University of Colorado Boulder in non-conference play, and all but one of their non-conference victories came from college basketball programs that aren't even projected to make the field of 68. If Obi Toppin can get Dayton to take the Atlantic 10 Championship, then perhaps the debate will become more heated, and SDSU might be in a bit of trouble. As it stands, San Diego State University still has the upper hand and are looking most likely to secure the top spot in the East. If you are looking forward to the madness of the Division I men's basketball tournament this March, then pay close attention to these teams, when you are filling in your bracket. Looking forward to a bit of sport betting during the tournament? Why not play along with us online at BetMGM? We offer you access to
sports betting
on all the biggest and best sporting events, so you never have to miss out on any of the action.