Straight out of Chapel Hill, North Carolina comes the North Carolina men's basketball team. Over the years, the UNC team has enjoyed a long run of success as one of the top basketball teams in the country. But with the
March College Basketball Tournament
being a single-elimination tournament, where anything can happen on the night, will their legacy be enough? Schools from 32 conferences, all over the country, will compete for their spot in the Division I men's basketball tournament. It is going to take more than motivation and a ball of stats to get UNC through the post-season, and onto the field for the March College Basketball Tournament. If their current showing in their regular season is anything to go by, there could be some issues cropping up for the team going forward – sitting at 15th in the ACC and suffering a recent 7 game loss streak, there is work to be done if they want to see their 7th National Championships win anytime soon.
Past Performances
The North Carolina college team has been putting up impressive stats since they played their first season in 1910-11. All in all, the program has amassed a .739 all-time winning percentage (which is the second highest of all-time), winning 2,261 games with only 799 losses posted over 109 seasons. To add to that record, UNC have the most consecutive 20-win seasons with a staggering 31 seasons going back as far as 1970-71 up until the 2000-2001 season. As far as the Division I Men's Basketball Tournament is concerned, UNC basketball has put up some impressive numbers in their previous appearances – having won the tournament 6 times (third overall behind Kentucky and UCLA) in 1957, 1982, 1993, 2005, 2009, and as recently as 2017. Besides the impressive record of wins, UNC has appeared in 160 games overall in this tournament. They've made the championship game 11 times and hold the record for making it to the last four teams 20 times. They're no stranger to the March College Basketball Tournament and what it takes to get in and go on an impressive run. But have they done enough, this time around, to secure their bid in the 2020 tournament? After an impressive 29-7 record in their 2018-19 season, the 2019-20 season seems to have been a bit rougher on the North Carolina team. With only a few games left before the conference tournament, and an 11-17 record overall in the regular season, something needs to happen to turn the game around for UNC. Still on the UNC schedule to beat this season are Duke, who are currently sitting at 3rd place in the conference with a 23-5 record overall. This is the kind of game you want to watch to see what kind of performance UNC can put up under pressure. Although, heading up to the conference tournament with a bit of slump, in the regular season, can promote motivation and push players to perform. You can never count UNC out, as long as there is something to play for, and this team has proven in the past that they are hungry for wins, and they'll do what it takes to clutch up and secure them.
Meet the Players and Know Who to Watch
The roster for UNC men's basketball this year, leading up to the March College Basketball Tournament, features some familiar faces and some returning faces. Coach Roy Williams hopes these players will play a role in picking the team up, from a poor season, and put them in a position to take home some wins in the conference tournament. The roster and positions for the 2019-20 North Carolina team: 0 Anthony Harris – SG 1 Leaky Black – PG 2 Cole Anthony – PG 3 Andrew Platek – SG 4 Brandon Robinson – SG 5 Armando Bacot – C 11 Shea Rush – SF 13 Jeremiah Francis – PG 15 Garrison Brooks – PF 21 Sterling Manley – PF 22 Walker Miller – PF 25 Caleb Ellis – SG 30 K.J. Smith – PG 32 Justin Pierce – SG 34 Robbie O'Han – PG 35 Ryan McAdoo – SF 42 Brandon Huffman – PF 55 Christian Keeling – SG When looking at a team like this, picking out the team leaders, in terms of stats and veterancy, can be important when casting predictions on how they will perform. Here are some of the players, off this roster, that you should be keeping an eye on, going forward. Leading the team stats in points is returning UNC star Cole Anthony. He was out for a spell in the season with an injury, during the time of his absence, his team went 4-7. With the return of Anthony to the lineup, the middle of the ACC league looks a little bit softer, and UNC might stand a better chance at making it to the tournament. Not far behind Anthony in points and leading the stats sheet in rebounds and free throws made is Garrison Brooks. Brooks has been putting up solid numbers for the UNC team for 3 seasons, and is getting more and more hungry for flashy dunks and jumping 3s. Also putting up decent numbers in the assists and steals department is sophomore Leaky Black. Despite the season not going so well for UNC, last year's numbers were some of the best off the lineup, with a little focus and the return of Cole Anthony, we could see Black's stats rising back to his full potential in the conference tournament.
Recent and Upcoming Games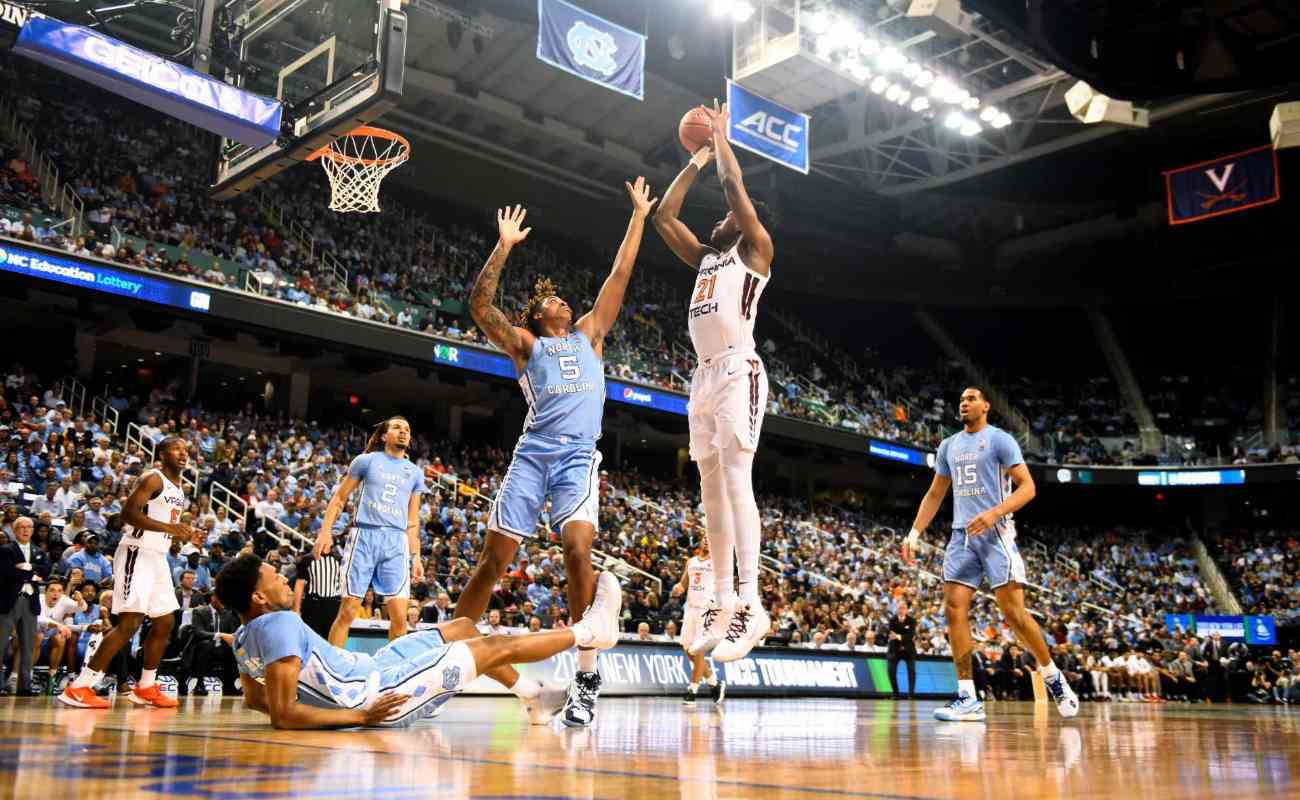 The recent run for UNC has been anything but spectacular, and the slump in the regular season, has caused concern for UNC's chances of securing their bid for the March College Basketball Tournament. Although the Atlantic Coast Conference lacks the depth it used to have, and the middle of the field looks soft enough for UNC to bounce back in the postseason, it's hard to ignore the 7-game loss streak that they just broke. Troubling score lines, like the recent game against Wake Forest when UNC lost 57-74, and against Louisville when they lost 55-72, only a few weeks ago, might give Roy Williams and the boys a few things to think about. A bit of hope and the chance to turn things around finally came when UNC clutched a win against North Carolina State 85-79. Upcoming games against Syracuse, provides a chance for redemption against Wake Forest, and finally a tussle with 3rd position Duke means that UNC will have to put in some serious work, if they want to have momentum going into the postseason with a couple of wins. Don't let these recent performances keep UNC off your bracket sheet though. They have a record of 14 wins against number 1 ranked teams and have been in the Top 25 in the AP Poll for a record 908 weeks, total. They might be down, but they're never out, and you can expect a turnaround performance in the upcoming conference tournament, and the March College Basketball Tournament if they manage a bid. With a history of pulling off upsets and knocking out top seed teams,
sports betting
fans might want to keep an eye out for specific matchups and potential upsets when UNC are on the field.
A Couple Numbers to Sum Up
Here is a list of numbers to consider when you are doing some sports betting or filling out your brackets this March College Basketball Tournament: · All time wins – 2,261 · All time winning percentage - .739 · National Championships – 6 · Nationaltournament runner-up – 5 · All American – 49 players chosen 78 times · ACC regular season titles – 31 · ACC tournament titles – 18 · National Championship games – 11 · National Last Four Teams – 20 · National tournament appearances – 48 · National tournament wins – 123 · #1 Seeds in the National tournament – 16 Whether you are supporting UNC basketball, or you are thinking about picking them up in your March College Basketball Season bracket, just remember that you can never count out a team with such a successful legacy. If you are excited for the March College Basketball Tournament, and want to do a little sports betting, then why not play with us at BetMGM? With us, you can bet on the biggest sporting events of the year, including the March College Basketball Season.