Tom Brady completed five of six pass attempts on the New England Patriots' first overtime possession in Super LI. Brady is the only player in NFL history with an overtime pass completion in Super Bowl and the only quarterback with an overtime Super Bowl victory. Four years and one day after the Patriots' 34-28 win over the Atlanta Falcons, some Super Bowl prop bettors believe Brady could improve his Super Bowl overtime record to 2-0.
Super Bowl LI was Brady's eighth Super Bowl appearance but his first Super Bowl overtime appearance because it was the first-ever overtime in Super Bowl history. And because none of the last three games went into overtime, Brady enters his 10th appearance alone on every overtime leaderboard. If he reaches 2-0 with another overtime win, some bettors will cash tickets for "Method of Victory" on BetMGM.com.
One of four "Method of Victory" options, "Buccaneers in overtime" carries +2000 odds, the worst of the four options. "Chiefs in regulation" leads at -155, followed by "Buccaneers in regulation" at +150, and "Chiefs in overtime" at +1600. As of Friday morning, it's the 15th-most popular Super Bowl prop bet.
"We're projecting to have eight-figures in handle on the Super Bowl this year. With more than 1,000 props being available on BetMGM for this year's game, we're seeing a lot of that action being driven by prop bets," said Darren Darby, sports trader for BetMGM.
The 25 most popular Super Bowl prop bets (by ticket share):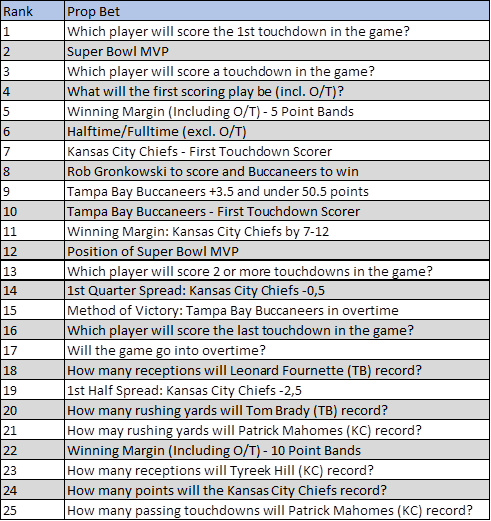 Listen to High Motor by BetMGM for more Super Bowl betting insights and breakdowns:
Place NFL Wagers at BetMGM
At BetMGM, we have up-to-the-minute NFL lines and tips to ensure the best online sports betting experience. Don't miss an opportunity to bet on in-game lines, futures, and more at BetMGM.
Andrew Doughty is a writer for BetMGM and host of High Motor by BetMGM, an NFL and college football podcast available on Apple Podcasts and everywhere else. He has written for Sports Illustrated, HERO Sports, Bleacher Report, and SB Nation. Follow him on Twitter: @DoughtyBetMGM.