The Atlanta Falcons could've used a Cash Out feature in Super LI, as could have the Utah Jazz in Game 6 of the 1998 NBA Finals, the New York Yankees in the 2004 ALCS, and Jean van de Velde in the 1998 Open Championship.
At BetMGM, you can cash out a bet early as insurance to a potentially devastating collapse or as consolation to cut your losses.
What is Cash Out?
The Cash Out promotion offers you a buyout opportunity before your bet is settled, i.e., before the final outcome of one or multiple events on which you placed a wager.
Available for some single and parlay bets, Cash Out pays you a portion of your potential winnings based on the live betting action at a particular moment. With a single bet, that moment might be at halftime or in the third quarter of an NFL game. For a three-leg parlay bet, that moment might be after two games hit but before the third game is played.
For example, in Super Bowl betting, you placed a $100 wager on the Atlanta Falcons' money line (+135) ahead of Super Bowl LI. If the Falcons won, your payout would be $235, including stake. And when Matt Ryan and Tevin Coleman connected on a six-yard touchdown to increase the Falcons' lead to 28-3 with 8:31 remaining in the third quarter, it appeared $235 was coming your way.
Ninety minutes and Tom Brady's fifth Lombardi Trophy later, nothing was coming your way as the Falcons sat on the losing end of one of the most remarkable comebacks in sports history.
Perhaps, after Coleman's touchdown, the Cash Out feature was available for your bet. You could've received $200 back, guaranteeing a $100 profit, if you settled the bet before the Falcons' won or lost. Or, perhaps, the Cash Out offer was $170 after James White's touchdown trimmed the deficit to 19 points in the final minutes of the third quarter.
Cash Out allows you to guarantee winnings ahead of the final result, minimize losses, and/or increase your account balance immediately without deposit. In this case, Cash Out would've allowed you to do all three things: Guarantee a profit from the initial money line wager, minimize a loss if the Falcons cratered, and increase your account balance for use on Super Bowl live betting or other sports betting at the sportsbook.
When is Cash Out Available?
It's easy to see when Cash Out is available for your bet(s).
From your mobile device (on the BetMGM sportsbook app) or desktop browser, the option is offered in two places: If the event has started, Cash Out is displayed in the My Bets section of the bet slip. If the event hasn't started, Cash Out is displayed in the Cash Out section.
You also have the option of activating Auto Cash Out if the Cash Out value reaches a certain number.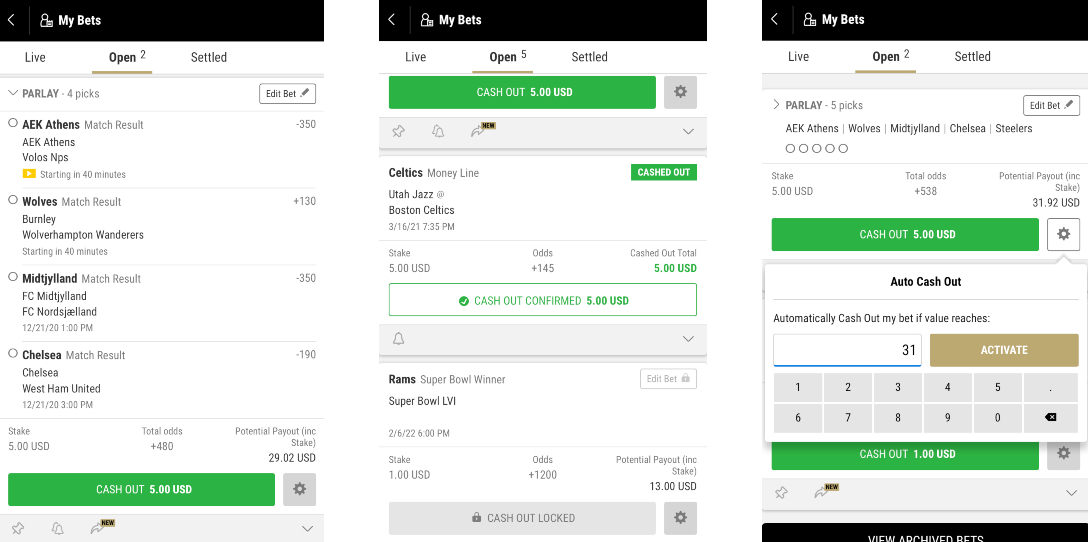 Cash Out isn't guaranteed at all times.
After clicking the Cash Out button, the system checks the availability of the respective bet. If the bet is frozen, already closed, or the respective odds have changed, Cash Out can be rejected. Odds changes can be accepted in advance by activating the respective option in Settings.
Edit My Bet
Edit My Bet is another way to take more control of your sports betting after you place a bet online.
Available for any straight or parlay bet with Cash Out available, Edit My Bet allows you to add a selection, remove a selection, swap a selection, and/or increase your stake. To see if a bet is eligible for edit, visit the My Bets section of your account and click Edit Bet on the bet card you wish to edit.
Your bet will now be placed in Edit Mode, which triggers certain edit features. If you don't wish to edit your bet after reviewing the options, you can always cancel edits before saving the changes. You must save your edits if you wish to make the changes.
BetMGM is the best online sportsbook for sports betting flexibility. Whether you're browsing NFL betting lines, college football odds, or futures, there are a variety of promotions and options to give you a comfortable and exciting online sports betting experience.