The King of Sportsbooks is taking online sports betting to the next level with a fresh redesign ahead of the 2022 football season.
BetMGM incorporated customer feedback to improve the accessibility, quality, and speed of the BetMGM Sportsbook app. It's never been easier, faster, and more exciting to browse spreads and prop bets, build a parlay, or place a futures bet.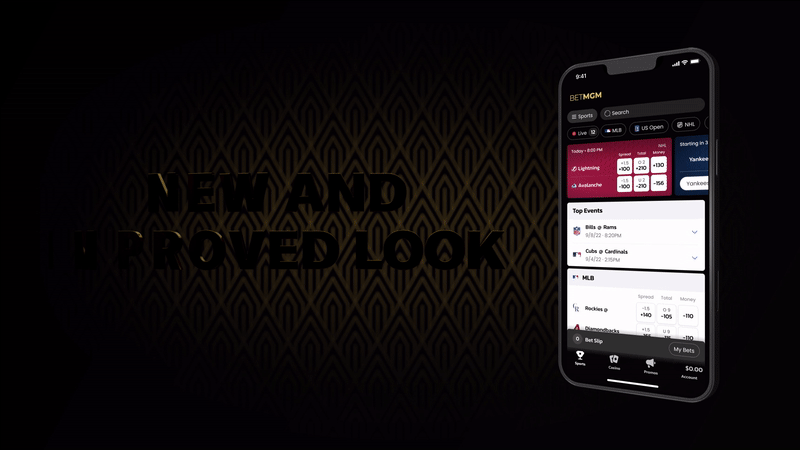 With improved navigation, users can now view local events, sort college football odds by ranked teams and conferences, and organize bet slips with quick access to straight bets, parlays, and round robins.
Perhaps, for example, you live in Philadelphia and want quick access to the three in-state FBS teams. Instead of scrolling through dozens of games to find odds for Penn State, Pittsburgh, and Temple – or visiting three separate conference pages – you can select "Local" from the college football betting page.
With new upgrades to account settings, including promotions, active bets, and live betting pages, users have access to non-stop entertainment. Whether you're tracking your parlays from your couch at home, checking your account balance and bonuses during a lunch break, or betting on prop bets from the front row of an Arizona Cardinals game at State Farm Stadium, there's never a break in the action.
The redesign, currently available in several states and eventually coming to all BetMGM users this football season, is the foundation for a host of future innovations. 
As BetMGM continues to expand its sports betting platforms into new markets, responsible gaming education remains a key focus. BetMGM is proud to provide resources to help customers play responsibly. The BetMGM Sportsbook app is available for download on both iOS and Android, and is accessible via desktop at http://www.betmgm.com. For more information, follow @BetMGM on Twitter.