When it comes to online sports betting, one of the most fun football bets to make is the over for total points. That way, you can root for both teams when they have the ball and just cheer for every score.
With that said, few things are more frustrating than watching a struggling offense in a game where you took the over. A bad offensive game in the NFL looks something like less than 200 total yards and less than 10 points.
But those types of games are nothing compared to the offensive showings we're about to dive into here.
Behold, the worst performances by an offense in NFL history.
T10. 1955 Chicago Cardinals — 49 yards
The Chicago Cardinals, now known as the Arizona Cardinals, had a rough showing against Philadelphia in a 27-3 loss. The Cardinals ran for 61 yards and threw for 48 yards but lost 60 yards on seven allowed sacks.
T10. 1971 Buffalo Bills — 49 yards
In a 43-0 loss against the Baltimore Colts, Buffalo managed to throw for 121 yards. The running attack gained just four yards on 11 attempts. Pass protection was an issue, to say the least. The Bills allowed nine sacks for 76 lost yards.
9. 2002 Houston Texans — 47 yards
Somehow, someway, the Texans defeated Pittsburgh 24-6 in this game. Pittsburgh ran 95 plays to Houston's 40, had a 422-47 total yards advantage, passed for 294 yards to Houston's 10, and ran for 128 yards to Houston's 37.
But the Steelers coughed up five turnovers, three of which were returned for touchdowns. Kenny Wright scored on a 40-yard fumble return, and Aaron Glenn had two pick-sixes of 70 yards and 65 yards. The lone offensive score for the Texans was a Kris Brown 43-yard field goal.
8. 1976 Atlanta Falcons — 44 yards
The Falcons lost 15-0 to San Francisco in this game, passing for 46 yards and rushing for 83 yards. Atlanta allowed an astounding 85 yards in sacks.
7. 1999 Cleveland Browns — 40 yards
In a 43-0 loss to Pittsburgh, Cleveland ran for only nine yards on nine attempts. The passing game totaled 52 yards, with nine yards allowed in sacks.
6. 1976 Green Bay Packers — 36 yards
Green Bay allowed 80 yards in sacks in this 28-7 loss to Cincinnati. The offense ran for only 71 yards while Green Bay passed for 45 yards.
T4. 1966 Denver Broncos — 26
Denver quarterbacks really struggled in this one. Mickey Slaughter went 0-for-7 passing while John McCormick went 2-of-13 for -1 yards. The Broncos ran for just 33 yards in this 45-7 loss to the Houston Oilers while giving up six yards in sacks.
T4. 2004 Cleveland Browns — 26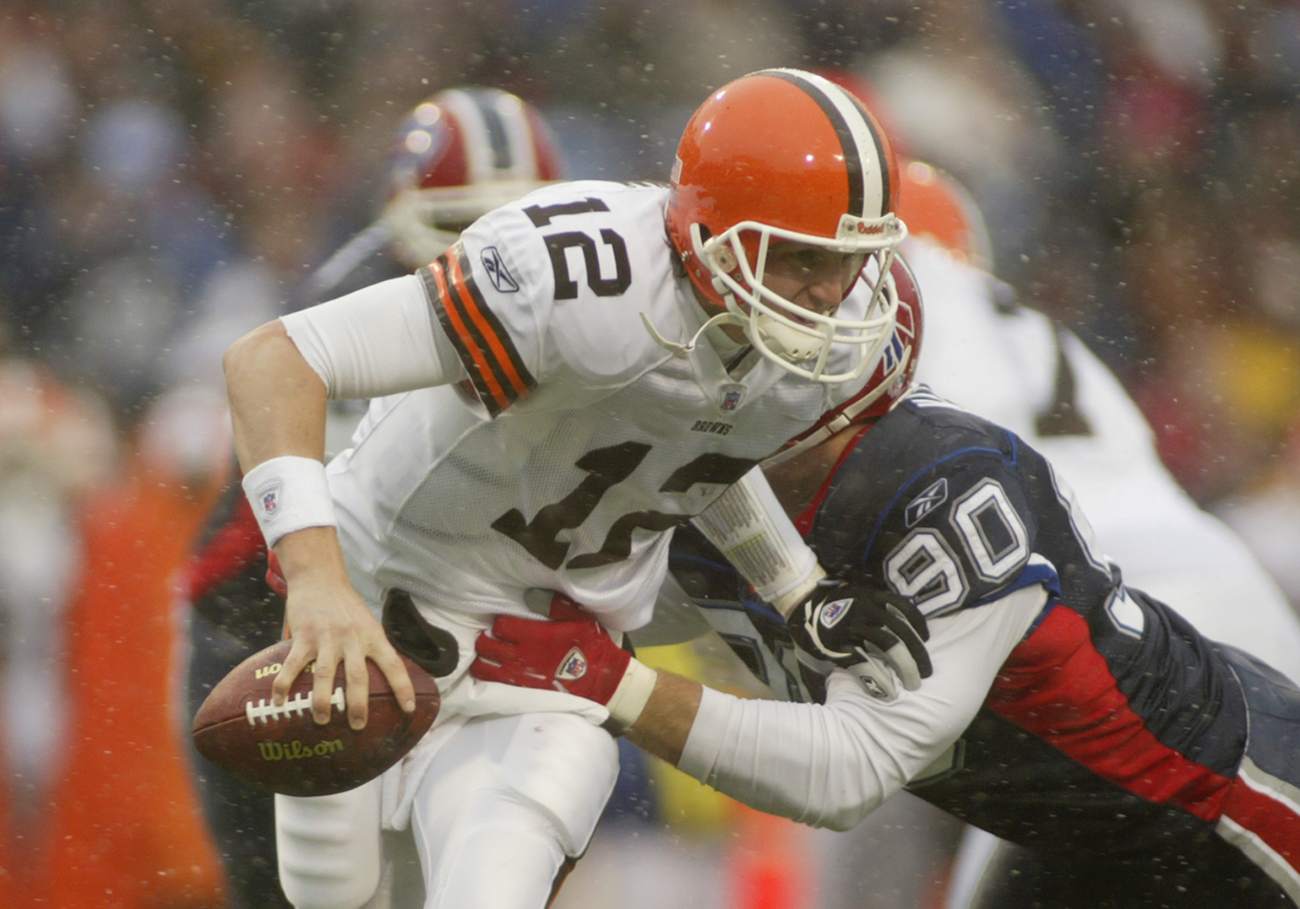 In a 37-7 loss to Buffalo, Cleveland quarterbacks Luke McCown and Jeff Garcia went a combined 9-for-21 for 67 yards while losing 70 yards in sacks. The Browns mustered just 29 yards rushing.
3. 1981 Chicago Bears — 24
The Bears ran for 44 yards and threw for 71 yards in this 23-7 loss to Detroit. Chicago lost 61 yards in sacks.
2. 1967 Denver Broncos — -5
Yes, that's a negative sign before that 5. In a 51-0 loss to Oakland, the Broncos completed two passes for 17 yards. The backfield managed only 48 yards rushing, and the offensive line gave up 70 yards in sacks.
1. 1979 Seattle Seahawks — -7
"Thank you," said the 1967 Broncos after the 1979 Seahawks had a minus-7-yard offensive performance in a 24-0 loss to the Los Angeles Rams. Seattle threw for 25 yards and rushed for 23 yards but lost 55 yards in sacks.
Place NFL Wagers at BetMGM
BetMGM is the best online sportsbook for up-to-the-minute NFL betting odds, lines, and tips to ensure the best NFL betting experience. Don't miss an opportunity to bet on in-game lines, futures, and more at BetMGM.
Sam Herder is a writer for BetMGM and HERO Sports. A North Dakota State journalism grad, he spent several years in the print media industry before writing for online outlets. Sam has covered sports at all levels — high school, college, and professional — since 2011.