"I should've bet more on the Kansas City Chiefs to cover the spread against the Buffalo Bills in the AFC Championship …"
We've all been there. If only you could increase your stake after placing the bet, swap a team in an NFL parlay after inactives are released 90 minutes before kickoff, add a money line bet to your NBA parlay at halftime of the West Coast games, or completely remove a bet that's headed toward disaster.
With BetMGM's Edit My Bet, you can do all that.
What is Edit My Bet?
Edit My Bet is a unique opportunity to retain control of your bets after clicking "Place Bet." You have four options when editing a bet:
Add Selection: Did you forget to add the Green Bay Packers to an NFL parlay? Or did you love the Dallas Cowboys' opening drive? You can still add them to your bet.
Swap Selection: If Matthew Stafford is unexpectedly inactive for the Los Angeles Rams' game, and you have no confidence in John Wolford to beat the Seattle Seahawks, you can swap out the Rams' money line bet for the Seahawks or another team in another game.
Remove Selection: If the Los Angeles Lakers started slowly against the Golden State Warriors, you could remove the Lakers (-4) from your four-leg NBA parlay in hopes of avoiding a loss.
Increase Stake: With Jacob de Grom dominating the New York Yankees' lineup through three innings, you could increase your run line (-1.5) stake on the New York Mets.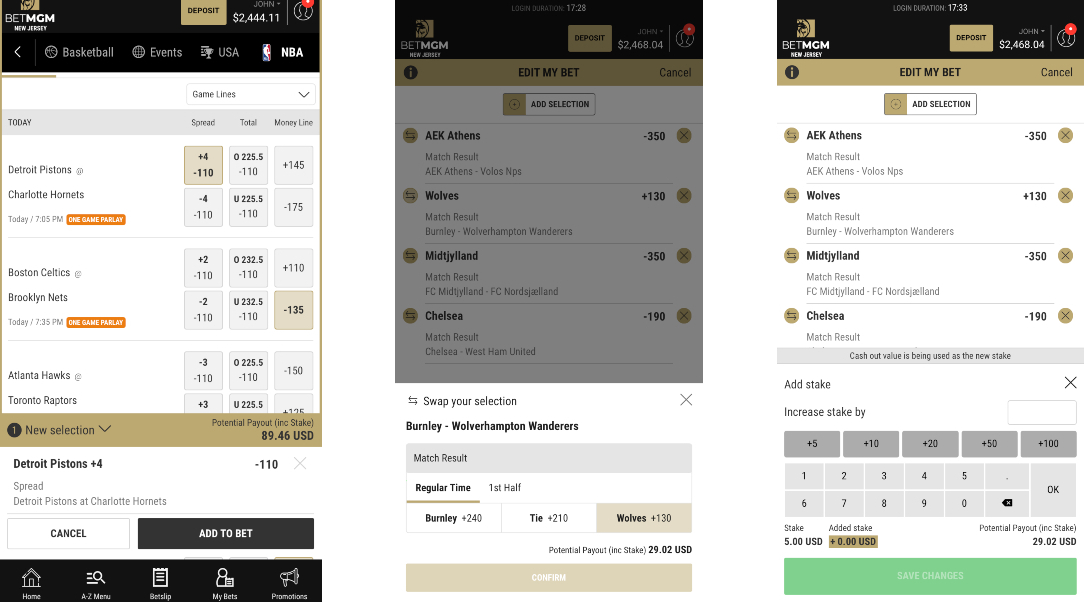 When is Edit My Bet Available?
If Cash Out is available, Edit My Bet is also available and easy to use.
To check eligibility for bets, visit the My Bets section of your account, and click the Edit Bet label on the bet card you wish to edit. The bet will now be placed in Edit Mode, which enables editing features.
If you don't want to edit after reviewing the options, you may cancel edits before saving changes and exiting. Your existing bet will remain and be subject to changes in Cash Out values or status, e.g., if an outcome is decided, it will be settled accordingly. This can affect the eligibility of Edit My Bet.
If you wish to proceed with the edits, you must save them before the new bet placement is made. Once saved, a new bet will be placed, which will reflect the edits you've made.
Cash Out
Cash Out is a similar opportunity to take more control of your sports betting experience and better leverage your sports and betting knowledge into more payouts.
With Cash Out, you can guarantee winnings before the final result, minimize losses, and/or increase your account balance immediately without deposit. Like Edit My Bet, Cash Out isn't guaranteed on all bets at all times. 
From your mobile device (on the BetMGM sportsbook app) or desktop browser, you have two options to view Cash Out eligibility. If the event has started, Cash Out is displayed in the My Bets section of the bet slip. If the event hasn't started, Cash Out is displayed in the Cash Out section.
BetMGM is your ticket for betting flexibility regardless of your level of expertise. Whether you're a novice browsing mobile sports betting odds, an obsessed football fan breaking down NFL odds, or a betting veteran pouring over live sports betting odds, the BetMGM sportsbook offers a one-of-a-kind experience.