Five weeks after the Seattle Seahawks lost to the Carolina Panthers in the Divisional Round of the 2015 NFL playoffs, Marshawn Lynch announced his retirement on Instagram. 
The retirement didn't stick, nor did his run with the Seahawks; he returned to Seattle in 2019 for the final regular-season game and two playoff contests, which proved to be the last of 88 total games for the franchise over seven seasons, 2010-15 and 2019.
Over those 88 regular-season and postseason games, what were Lynch's most impressive stats?
51 Touchdowns
Lynch's first full season in Seattle came in 2011, one year after he was acquired in a trade with the Buffalo Bills. And in that first season, the former first-round pick had 12 rushing touchdowns, tied with Ray Rice and Adrian Peterson for third in the NFL.
He added 36 more over the next three seasons and three in an injury-shortened 2015, giving him a league-leading 51 touchdowns in six years. No other player had more than 45 from 2011-15.
45-25-2 ATS
While Lynch was dominating on the field, Seahawks' bettors were dominating at the online sportsbook.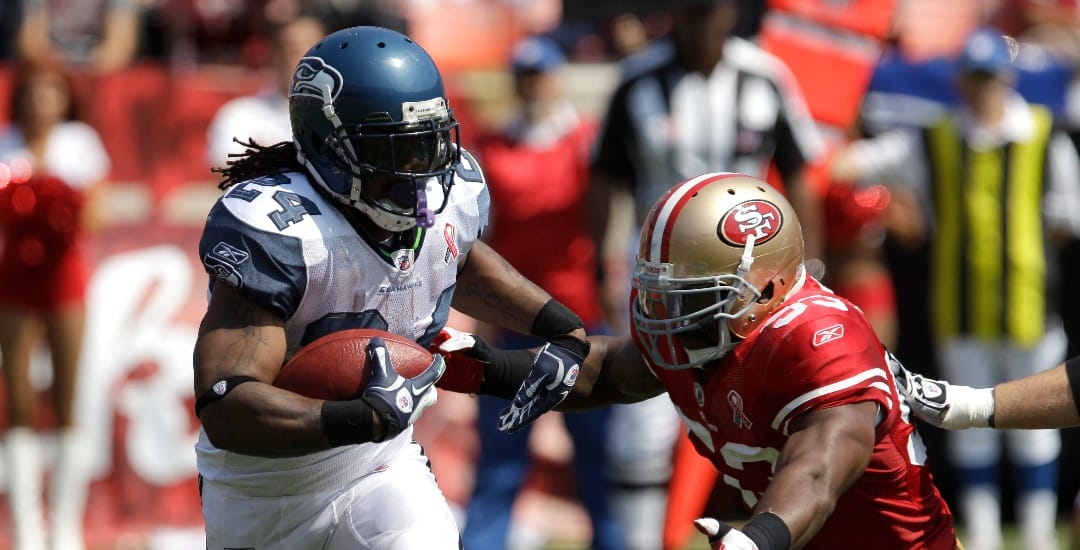 From 2011-15, the Seahawks were the best team against the spread in NFL betting, covering in 45 of their 72 total games. That run includes back-to-back seasons with 13 ATS wins; they went 13-5 in 2012 and 13-6 in 2013.
1,000 Yards, 10 Touchdowns
Also in each of first four full seasons with the Seahawks, Lynch had at least 1,000 rushing yards and 10 touchdowns. 
Only two players in NFL history have done that in more than four consecutive seasons: Shaun Alexander (five) and LaDainian Tomlinson (eight).
He had two more 1,000-yard seasons in his career, though neither – in 2007 and 2008 with Buffalo – included 10 rushing touchdowns.
Beast Quake
Marshawn Lynch had 10 runs of at least 50 yards in his NFL career, five of which came with the Seahawks.
One of those was the Beast Quake, arguably the greatest run and most impressive coverage of 67 yards in league history.
Against the New Orleans Saints in a Wild Card game in January 2011, Lynch extended the Seahawks' lead to 11 points by discarding eight tacklers en route to the end zone.
Exactly a decade ago today, Marshawn Lynch caused a Beast Quake.

One of the most memorable runs in NFL history. pic.twitter.com/VBb8Lc0yGW

— Field Yates (@FieldYates) January 8, 2021
"We almost was running at top speed, so any kind of shove right there would throw a man off course," Lynch told NFL Films of the stiff arm to Tracy Porter. "It's just a little baby stiff arm. Yeah, a little baby stiff arm."
He finished the game with 19 carries for 131 yards and one touchdown.
11 Yards Per Carry
In Week 14 of the 2012 season, the Seahawks set the franchise record for the largest margin of victory with a 58-0 win over the Arizona Cardinals. 
In the blowout, Lynch had only three second-half carries – all on their opening drive – and only 11 total carries. But he was a monster on those limited touches, recording 128 yards and three touchdowns. 
It was the first of three career games in which he averaged at least 11 yards per carry on at least 10 carries in one game. He had another four games averaging at least 7 yards on 10-plus carries.
Place NFL Bets at BetMGM
At the best online sportsbook, you can view updated NFL betting odds throughout the year. From live betting and NFL spreads to parlays and Super Bowl odds, there's something for everyone in NFL betting at the sportsbook.