13 coaches are on the hot seat list entering the 2021 season.
Jim Harbaugh's new contract gives Michigan an easy out.
Akron, UConn, and UMass are in brutal spots.
"No," Virginia Tech head coach Justin Fuente isn't on the hot seat, Hokies' athletics director Whit Babcock tweeted in August 2019, days before Fuente's fourth season and eight months after the program failed to win at least seven games in a season for the first time since 1992.
Fuente's fourth season was better, but he wasn't hired – and extended in April 2017 – to win eight games, get plastered by a five-win Duke team, and lose a mid-level bowl game as they fell further into college football irrelevance. And he definitely wasn't hired to go 5-6, as they did in 2020, and require a four-hour postseason meeting with Babcock to determine his future.
"Saw and heard what I wanted to see, and it energized me," Babcock said in December while announcing Fuente's return. "I believe in Justin. It's not always the fashionable thing to keep somebody when everybody is yelling, but he's our guy, and I believe he gives us the best chance to be successful."
Babcock claimed the decision wasn't financially motivated. Fuente's 2017 extension called for a buyout of $10 million if fired after Dec. 16, 2020. The buyout decreases by approximately $2.5 million each Dec. 16 through 2023, which leads to his final contract year, Dec. 16, 2023, through Dec. 15, 2024.
Fuente, undoubtedly, is on the hot seat entering a season in which the Hokies are buried in college football betting odds for ACC Coastal winner.
And – because any real hot-seat conversation must be followed by a replacement conversation that includes the suggestion of a realistic replacement – if Fuente is fired, whom might Virginia Tech hire?
In 10 years as an athletics director at Cincinnati (2011-14) and Virginia Tech (2014-present), Babcock has hired two football coaches: Tommy Tuberville and Justin Fuente. A third whiff, while it'd be only his second at Virginia Tech – and, to be fair, he's made other strong hires at both schools, including Buzz Williams – might warrant his dismissal.
The pressure and resources to take a decent-sized swing point to one name: Jeff Hafley.
If Boston College capitalizes on a favorable schedule en route to an eight-win season, Hafley could be the candidate. The lack of college experience is a minor concern, but if the 42-year-old former NFL assistant impresses as much in 2021 as he did in 2020, he's a strong and realistic candidate for Virginia Tech.
Here are other coaches who might be on the college football hot seat entering 2021:
Chip Lindsey – Troy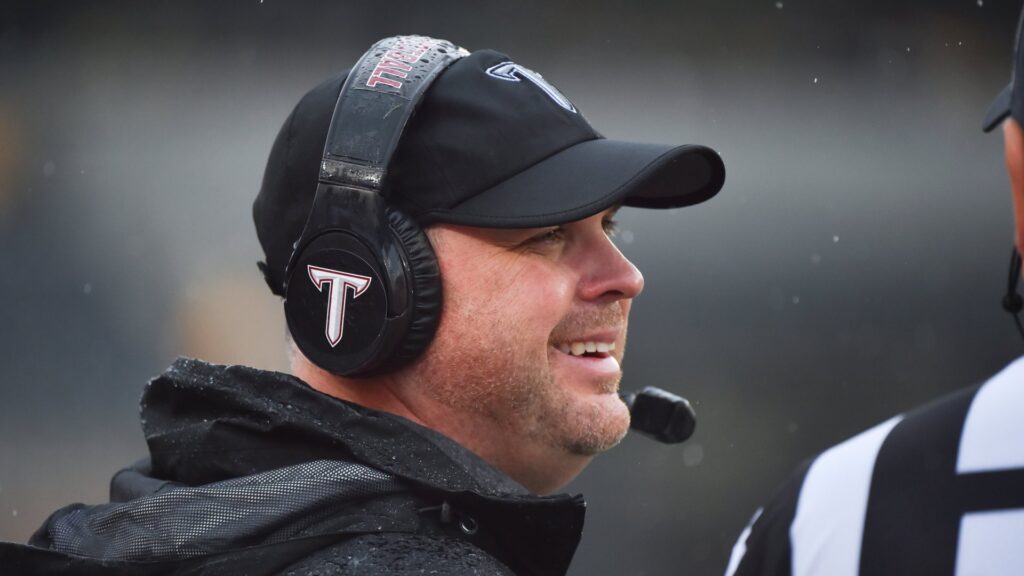 On one hand, Chip Lindsey was a logical hire at Troy in 2019. An Alabama native who started his career coaching high school football in the state, Lindsey was a Troy assistant in 2010 and has recruited every corner of the state.
On the other hand, he was run out of Auburn weeks earlier after two underwhelming years as offensive coordinator and was plucked from one of the worst jobs in college football as Kansas' offensive coordinator.
Despite a second straight five-win season in 2020, the Trojans dramatically improved in most areas and have the talent, especially at offensive line, to improve again in 2021. Nonetheless, it was still a second straight five-win season for a program that won 31 games the last three years.
Fair or not, expectations from the Neal Brown era might put Lindsey on the hot seat. And if he's fired, Matt Moore is likely on a shortlist.
Also an Alabama native, former Alabama high school coach, and former Troy assistant, Moore followed Brown to West Virginia and is currently the Mountaineers' assistant head coach and offensive line coach.
Clay Helton – USC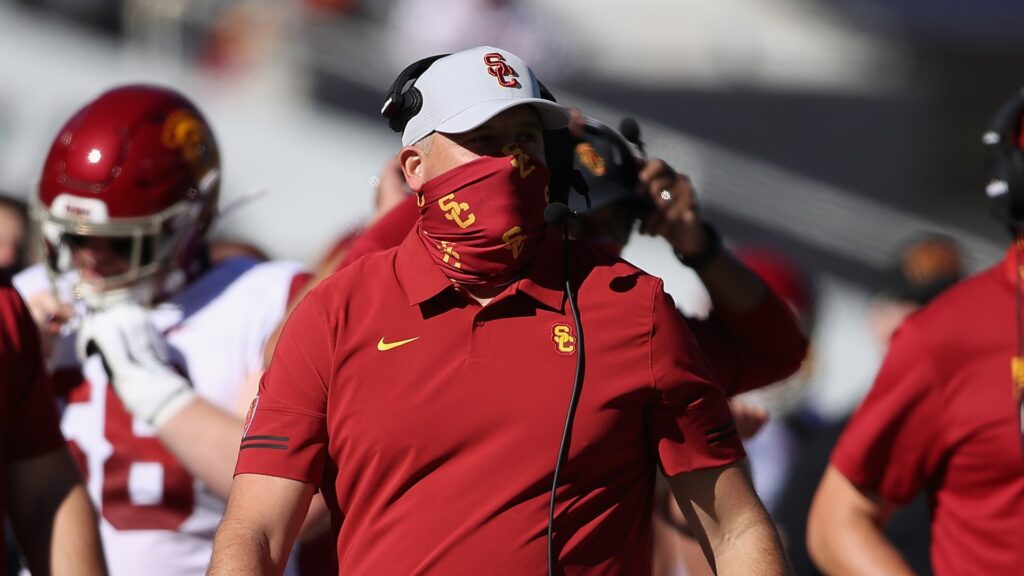 Since at least 2018, one of the great mysteries in college football has been Clay Helton's buyout. As a private institution, USC is not required to disclose the financial terms of any contract, including Helton's initial deal signed in late 2015, and extension, signed in February 2018, but tax records and reporting from several outlets have suggested the number was around $20 million if fired after last season.
Helton is 36-12 in conference games over four full seasons, one nine-game run as Steve Sarkisian's replacement, and one six-game COVID-shortened season. He has three division titles, one Pac-12 title, and signed the nation's sixth-ranked recruiting class this year.
Helton's job security, however, appears to hinge less on a not-awful résumé and more on an eight-figure buyout, apathetic fan base, irate donors, and new leadership. And if he's fired after this season, USC will whiff on Matt Campbell and Luke Fickell, leading them to Billy Napier.
Napier rejected Auburn's offer last year – and other Power Five offers and interview requests the last two coaching cycles, including Arkansas, Ole Miss, and South Carolina– because, as reported by 247Sports' Brandon Marcello, he's looking for a program that will allow him to fully implement a "complex" and "robust" plan.
Napier reportedly covets an SEC job, but maybe he'd go west if USC made an attractive offer.
Dana Dimel – UTEP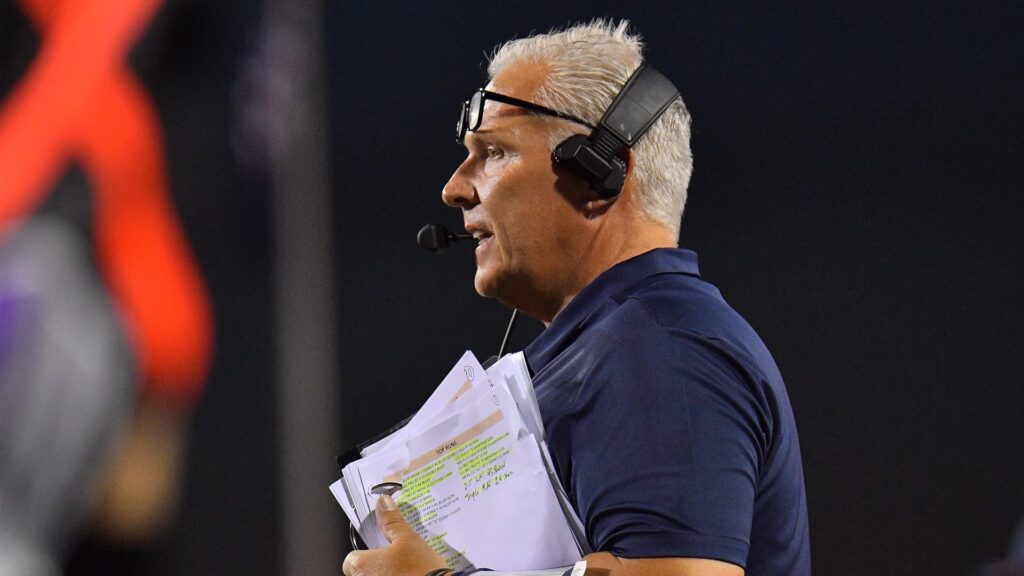 UTEP built a 31-point lead against Rice in November 2018 en route to a 34-26 win that snapped a 20-game losing streak. The Miners haven't won a conference game since then and enter 2021 with a 1-19 Conference USA record in three seasons under Dana Dimel.
When Dimel left the comforts of Bill Snyder's staff in 2018,  we knew he'd have time to rebuild the worst program in college football. Three years later, UTEP is still horrendous and has shown no signs of turning the corner.
Even with another one-win dude – and a reasonable $1.4-million buyout if fired after the 2021 season – UTEP can justify giving Dimel a fifth season. If they make a change, K.C. Keeler must be the first call.
Keeler made an immediate impact at geographically incompatible Sam Houston before reinventing the program and building a national champion. UTEP can triple his salary and give the six-time national champion his first FBS shot.
Dana Holgorsen – Houston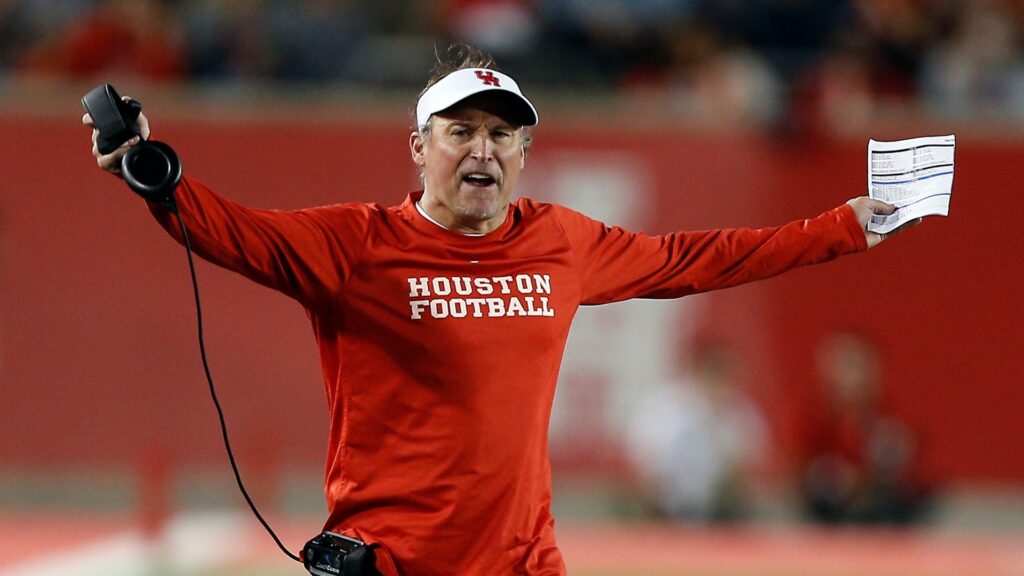 An overrated and overpaid hire from day one, Dana Holgorsen has been a disaster at Houston.
In executing the rare Power Five-to-Group of Five poach on Jan. 1, 2019, Houston made Holgorsen the highest-paid G5 coach with a starting salary – base salary plus non-salary compensation – of $3.7 million for 2019. His five-year deal included annual six-figure escalations, a fully guaranteed salary for his first three years (2019-21), and a 60-percent buyout if fired without cause with two years remaining.
In two years, Holgorsen has zero notable wins, zero top-four finishes in the American, was criticized for deliberately tanking in 2019, and is recruiting like a low-budget G5 program. While a $5.1-million buyout isn't nothing – if fired after 2021 – another season with conference irrelevance could warrant a change.
An outside-the-box name to consider: Sean Lewis.
This high-potential program needs to wake up. Since the demolition of No. 3 Louisville in November 2016, the Cougars have been plodding through coaching changes, mid-level bowl games, and more hype than production. Lewis hasn't coached in or anywhere near Houston but is a high-energy, young, and attainable coach entering year four of an impressive rebuild at Kent State.
Dino Babers – Syracuse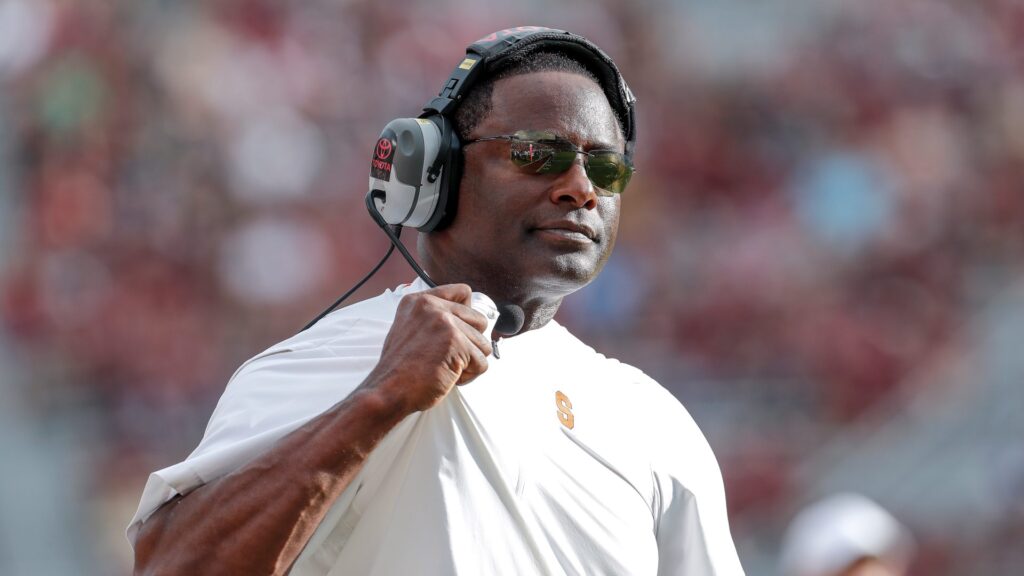 Dino Babers would be entering his second season as USC head coach, I predicted two years ago. Instead, Babers is entering a win-or-GTFO season at Syracuse.
Two years ago, the former journeyman, who worked at 12 different programs over 28 years before taking his first head-coaching shot in 2012, was months removed from Syracuse's seventh-ever 10-win season and tied to several potential high-level coaching vacancies. Now, Babers is months removed from Syracuse's fifth-ever one-win season and the subject of hot-seat musings, though athletics director, John Wildhack, said Babers' job is secure.
A significant buyout – reportedly north of $10 million – might play a role in Wildhack's vote of confidence. If it doesn't, or the Orange still make a change, Jeff Monken presents an interesting opportunity for stability.
The triple-option ceiling might be limited, as it was with Monken's former boss, Paul Johnson at Georgia Tech, but for a program constantly fighting for bowl eligibility, a change of pace is worth considering.
Doug Martin – New Mexico State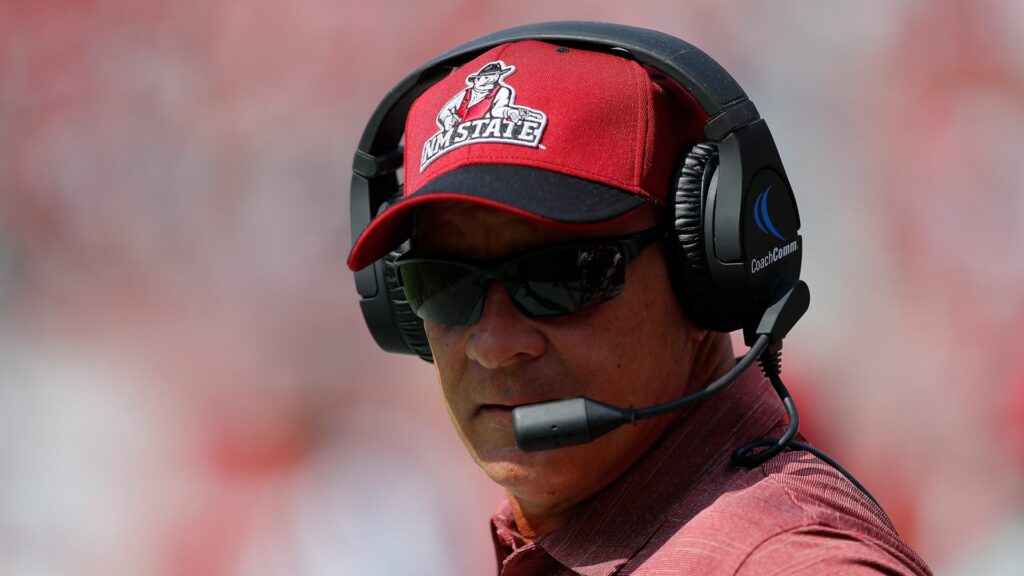 A highly respected veteran coach with nearly 40 years of experience, Doug Martin has plunged into futility after one of the most remarkable rebuilding jobs in recent history.
Named foreman of a sewage plant in Las Cruces in 2012, Martin generated more financial support for the country's most irrelevant program and led a seven-win season in 2017 (and their first bowl game in 57 years). Since then, New Mexico State has six wins, only half of which came against FBS teams.
Martin, after a new four-year deal in July 2018, is entering the final year of his contract. If fired after the season, there's no buyout beyond the prorated salary for the remaining weeks.
Despite better facilities and proof of concept four years ago, this remains an FCS-level program stuck in FBS mud. Still, the losses are piling up, and if a change is coming, seventh-year athletics director Mario Moccia might get creative in finding Martin's replacement.
One under-the-radar name to watch: Dixie State head coach Paul Peterson. The former Boston College quarterback has spent the last 12 years in FCS and JUCO jobs, including 2017-18 at Snow College, in California and Utah. He led Dixie State – soon to be renamed Utah Tech – to eight wins in his first season (2018), almost beat the Aggies in March, and is entering his second year of a Division-I transition.
Jim Harbaugh – Michigan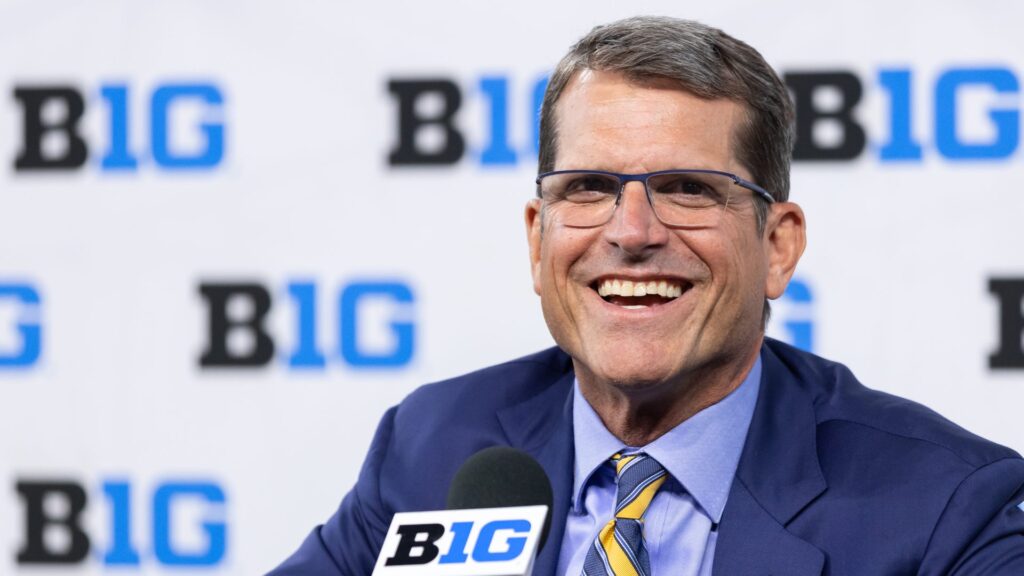 Michigan athletics director Warde Manuel can pretend Jim Harbaugh's four-year extension is a vote of confidence for his former college teammate and a signal of Harbaugh's "leadership for years to come." The numbers, however, speak for themselves.
Harbaugh's incentive-laden deal ensured he remained head coach for 2021 – his last deal expired after the 2020 season – but is otherwise empty. He's now one of the lowest-paid coaches in the Big Ten and would be owed just $4 million if fired after the first year. If a $4-million buyout stops Michigan from firing a football coach, the athletics department has big problems.
If Manuel fires his buddy and is allowed to hire a replacement, Matt Campbell and Luke Fickell must say no to Jimbo-like offers.
Matt Wells – Texas Tech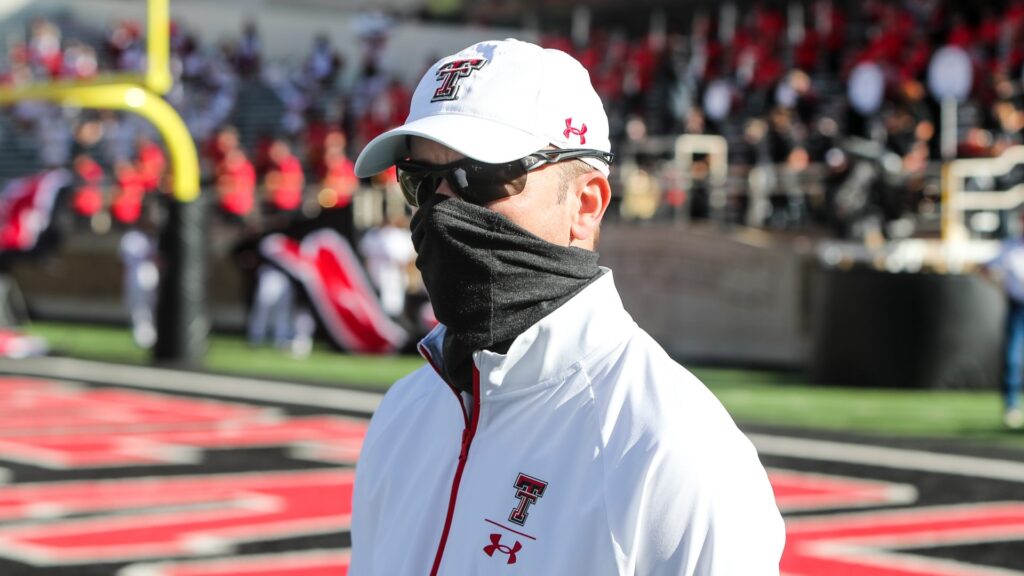 What was widely regarded as a sneaky good hire by veteran athletics director Kirby Hocutt has been a trainwreck. Several on-field blunders alone could've cost Matt Wells his job after a second straight four-win season, though Hocutt, after nearly two weeks of radio silence, said Wells would return in 2021.
Wells signed a six-year, $18.8-million deal upon his arrival from Utah State in December 2018. He's due 70 percent of the remaining base salary and supplemental compensation if fired before the contract expires on Dec. 31, 2024. If, for example, and simplicity's sake, Wells is fired on Jan. 1, 2022, he'd be owed 70 percent of his remaining three years' salary, or approximately $6.93 million.
That move would come just three years after paying a $4-million buyout to Kliff Kingsbury and $800,000 buyout to Utah State per Wells' contract with the Aggies. Three poor years of Wells would ultimately cost Texas Tech more than $20 million.
Sonny Dykes has been "pretty close" to following in his father's footsteps as Red Raiders head coach, he told me two years ago. He grew up in West Texas, played baseball at Texas Tech, and spent seven years on Mike Leach's staff.
Maybe it's time for Dykes' return to Lubbock.
Randy Edsall – UConn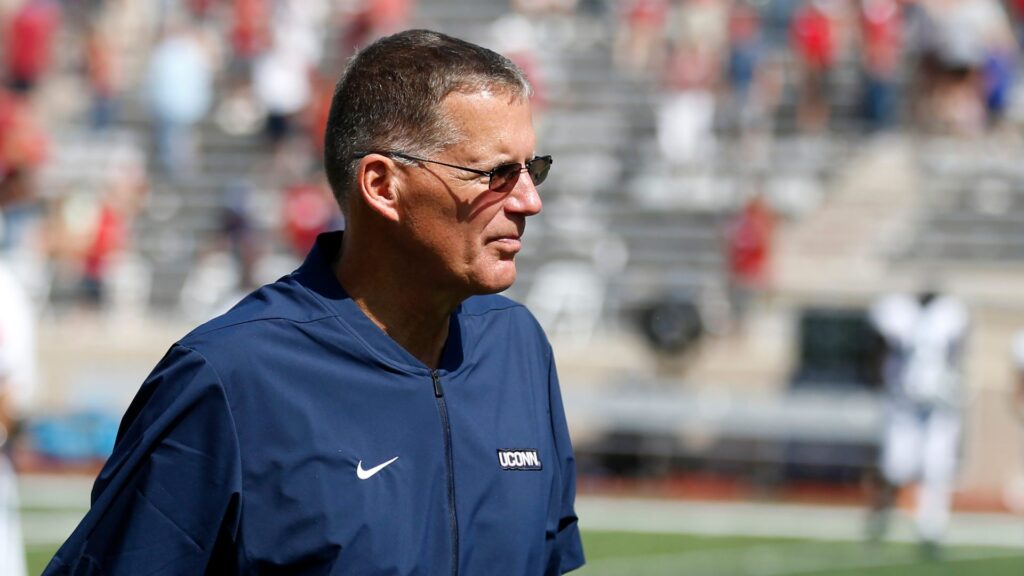 The best part of Randy Edsall's return to UConn has been his amusing contract.
He returned to UConn in December 2016 but didn't sign a contract until late 2019, instead working under a memorandum of understanding amidst legal disputes over his son's employment on his staff. And both the memorandum and contract have been relentlessly mocked by the masses as UConn pays Edsall for halftime leads, turnovers, and points per possession.
In three years in his second stint as head coach, Edsall has six wins. He has one FBS win (UMass) since 2017 and enters 2021, after a canceled 2020 season, with a buyout of $0.
Athletics director David Benedict has repeatedly supported his head coach and requested patience with a long-term rebuild. Still, without a buyout and no signs of on-field competence, a change could happen anytime.
Replacement: Literally anyone with experience at a moribund program.
Rick Stockstill – Middle Tennessee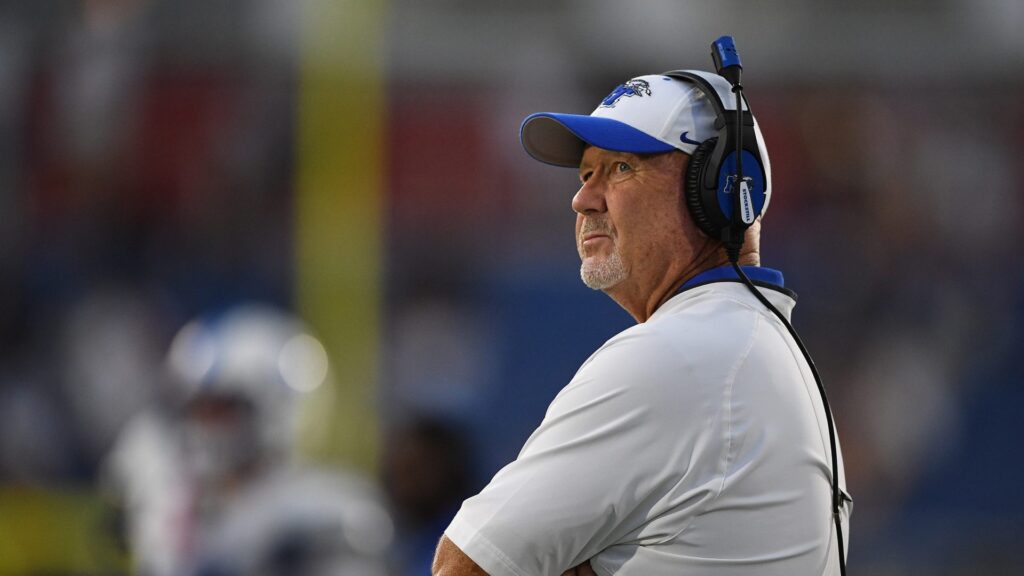 The epitome of mid-level Group of Five stability for more than a decade, Middle Tennessee is struggling for relevance, and Rick Stockstill might be on the hot seat for the first time in his career.
The 63-year-old former longtime Clemson assistant is beloved across college football and has 94 wins and 194 contract extensions over 15 years as head coach. He has a modest salary – $912,504 in total pay in 2020 – but an enormous buyout of nearly $5 million if fired after this season.
MTSU won't give Stockstill $5 million to go away; either Stockstill is back in 2022 or the two sides find common ground.
If there's a change, Michigan State defensive coordinator Scottie Hazelton might be a name to watch. A former small-school assistant who did incredible work with Wyoming's defense in 2017-18, Hazelton is barreling toward a head-coaching job.
Scott Frost – Nebraska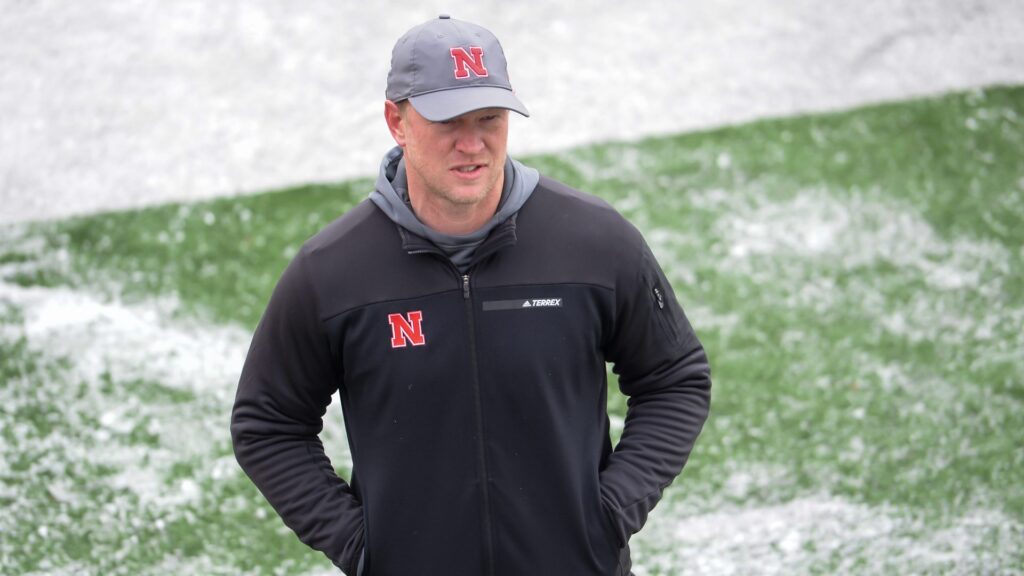 It's finally real for Scott Frost.
The buyout numbers and what-ifs were tossed around from day one of Nebraska's on-field struggles under the prodigal son, but there was never a real hot-seat conversation for Frost.
After three underwhelming seasons, there's a real hot-seat conversation for Frost.
From the uninspired performances and lack of player development to the on- and off-the-field whining, there's been no indication the program is headed in the right direction. And while it's not entirely Frost's fault, as he deals with reported infighting and conflicting leadership within the athletics department, he's still an underachieving head coach at a program with delusionally high expectations.
An extension, signed after the 2019 season, calls for a $5-million-per-year buyout from 2021-24 and a $2.5-million-per-year buyout for 2025-26, the final two years of the deal. For those scoring at home, that's a $20-million check if fired after this season.
That won't happen, though Frost should be on the hot seat until he shows anything.
There isn't a next-up name for Nebraska. Anyone from Justin Wilcox or Neal Brown to Billy Napier or Bill Clark could be in play.
Tom Arth – Akron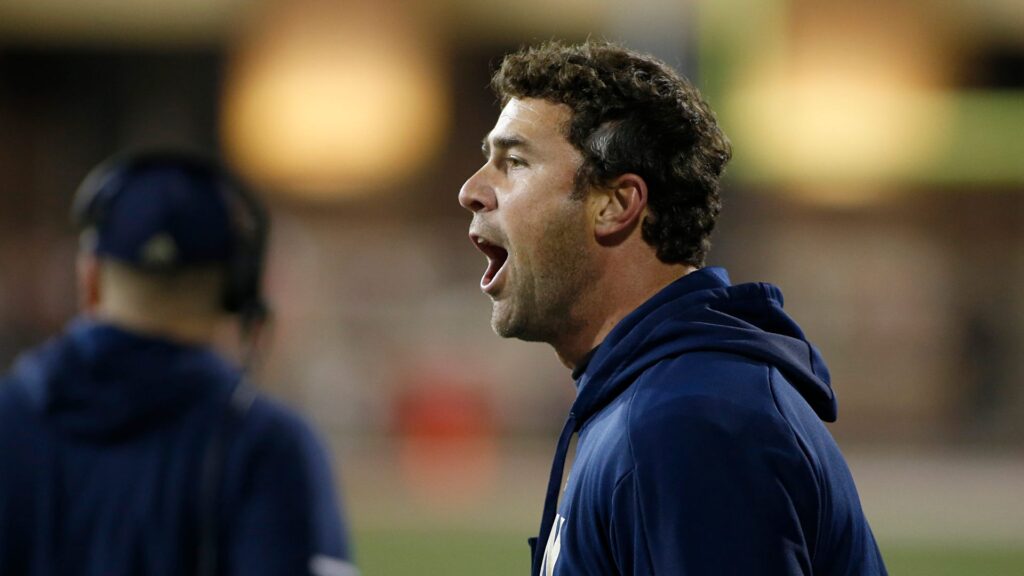 Akron football is in a tough spot: First-time, first-year FBS athletics director overseeing a program with one win in two seasons under a first-time FBS head coach amidst an athletics' financial crisis that wiped out three programs and forced widespread budget cuts.
The aggressive hire of a second-year FCS coach with zero FBS experience – and only two years, as Chattanooga head coach, of FCS experience after a successful Division-II run at John Carroll – isn't working. And with only $1.5-million remaining on a five-year, $2.5-million, 70 percent of which is due in the event of termination without cause, it wouldn't be a crushing blow to move on after 2021.
Tom Manning was reportedly in the mix before Arth was hired in late 2019 and could be a target again. At the time, the Ohio native and former Mount Union offensive lineman was tight ends coach for the Indianapolis Colts. He's now entering his third season on the Iowa State staff, the last two as offensive coordinator.
Walt Bell – UMass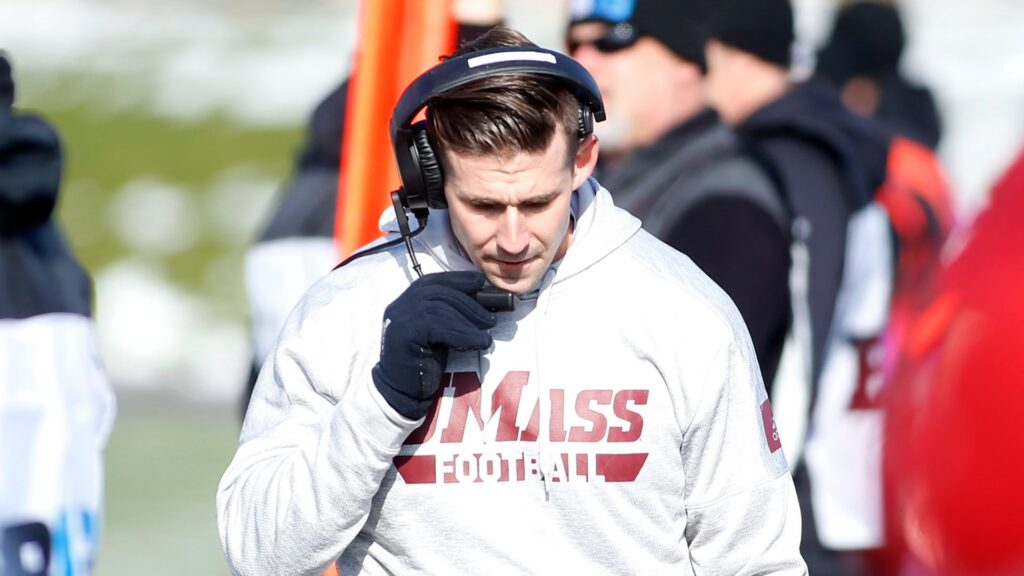 Walt Bell's departure from Florida State after the 2018 season was as much of an indictment on the mess in Tallahassee as the actual on-field mess for Willie Taggart's program. Bell was willing to leave a high-end Power Five coordinator job for one of the worst jobs in college football.
Unfortunately for Bell, he evaded one sinking ship for an already sunk ship with little hope for resurrection. His lone win in 16 games over two years came against winless Akron in 2019. And even with two FCS opponents, UConn, and New Mexico State, on a light 2021 schedule, another winless or one-win season is possible.
If fired after this contract year – Dec. 3, 2020, through Dec. 2, 2021 – Bell would be owed approximately $1.1 million, an amount equal to 100 percent of his fourth-year salary and 75 percent of his fifth-year salary.
Former UMass assistant Bob Shoop was mentioned before Bell's hire. Then in his second year as Mississippi State defensive coordinator, Shoop "would be interested" in the job, Mass Live reported. While Shoop's coaching stock has cratered in recent years, he's still a highly respected and experienced coach who knows the region well.
Check out the updated NFL hot seat, and listen to High Motor by BetMGM for more news and analysis on college football and the NFL: