Founded in 1869,
MLB
has been the darling of American sports for as long as we can remember. Throughout every era, it has produced a crop of big hitters, unbelievable pitchers, and outfielders that will remain as legends far into the future. Since we're entering a new decade, we thought it was only fitting that we make a list of the top baseball players to grace the MLB stage. Although the current stars lighting up baseball undoubtedly have the potential to be written down in the baseball hall of fame, they still have a while to go to achieve legendary status. As such, we're going to keep the list to baseball players of the ages. However, we fully acknowledge that if players such as Mike Trout and Clayton Kershaw keep playing like they are, then they'll find themselves mentioned along with the names below before long. Of course, naming just two handfuls of the best players in MLB history isn't going to be largely debatable; we've chosen the following players due to their stats and awards. We'll list their teams, awards, stats, and backgrounds to give you a comprehensive look into the lives of ten of the best players.
10. Satchel Paige
Position: Right-handed Pitcher Playing years: 1926-53 and 1965 (24 seasons) Teams: Chattanooga Black Lookouts (1926) Birmingham Black Barons (1927-30) Baltimore Black Sox (1930) Cleveland Cubs (1931) Pittsburgh Crawfords (1932-34, 1936) Kansas City Monarchs (1935, 1939-47) New York Black Yankees (1941) Memphis Red Sox (1943) Philadelphia Stars (1946, 1950) Cleveland Indians (1948-49) St. Louis Browns (1951-53) Kansas City Athletics (1965) Accolades: 1948 World Series title MLB All-Star in 1952 and 1953 Negro League All-Star in 1934, 1936, 1941, 1942, and 1943 Negro League World Series champion in 1942 About: Satchel Paige, whose real name is Leroy, was one of baseball's greatest stories. The MLB didn't allow African American players until 1947 and as such, many of the great black players before this had to play in "Negro League". Paige learned how to play baseball during his five-year stint in the Alabama Reform School for Juvenile Negro Lawbreakers. He became one of the best baseball players in the Negro League over several decades and finally signed his first professional contract at 42 years old with the Cleveland Indians in 1948. His stats and longevity weren't the only incredible thing about Paige - his personality was famous and he was one of the most enigmatic and much-loved baseball players of all time. He played his last game in the MLB for Kansas City Athletics in 1965 at the age of 48.
9. Barry Bonds
Position: Left field Playing years: 1986-2007 (22 Seasons) Teams: Pittsburgh Pirates (1986-92) San Francisco Giants 1993-2007) Accolades: National League MVP 7 times (1990, 1992, 1993, 2001, 2002, 2003, 2004) Gold Glove Award eight times from 1990-1994, 1996-1998 MLB All-Star 14 times: 1990, 1992-98, 2000-04, 2007 About: Barry Bonds was always a controversial figure in baseball. He was a five-tool player in the 1980s and 1990s, but then made the switch to the best power hitter in history. He set the record for the single-season home run in the MLB with 73 in 2001 and finished his career with 762 home runs. His reputation was somewhat tarnished by steroid use and he was convicted of perjury and obstruction in 2007, but the charge was overturned in 2015.
8. CY Young:
Position: Right-handed pitcher. Playing years: 1890-1911, (22 seasons) Teams: Cleveland Spiders (1890-98) St. Louis Perfectos/Cardinals (1899-1900) Boston Americans/Red Sox (1901-08) Cleveland Naps (1909-11) Boston Rustlers (1911) Accolades: World Series title in 1903 Baseball Hall of Game 1937 MLB All-Century Team in 1999 Pitching Triple Crown in 1901 About: Born Denton True Young, CY earned the nickname when his pitching was compared to a cyclone by some scouts. He had a single perfect game, 3 no-hitters and has the current record for 511 wins, 7,356 innings pitched, 815 games started, and 749 games completed.
7. Mickey Mantle
Position: Center Field Playing time: 1951-1968 with the New York Yankees. Accolades: 7 World Series titles from 1951-53, 1956, 1958, 1961, and 1962 American League MVP in 1956, 1957, and 1962 MLB All-Star 20 times in 1952-65, 1967, and 1967 Received Triple Crown in 1956 About: When it comes to World Series records in the offence, Mantle holds many of them; he played 12 World Series and won 7 of them. His father stopped him from quitting baseball while a minor several times. Although he missed a large chunk of games through injury (551), he still managed 1,509 RBI and 536 home runs.
6. Ty Cobb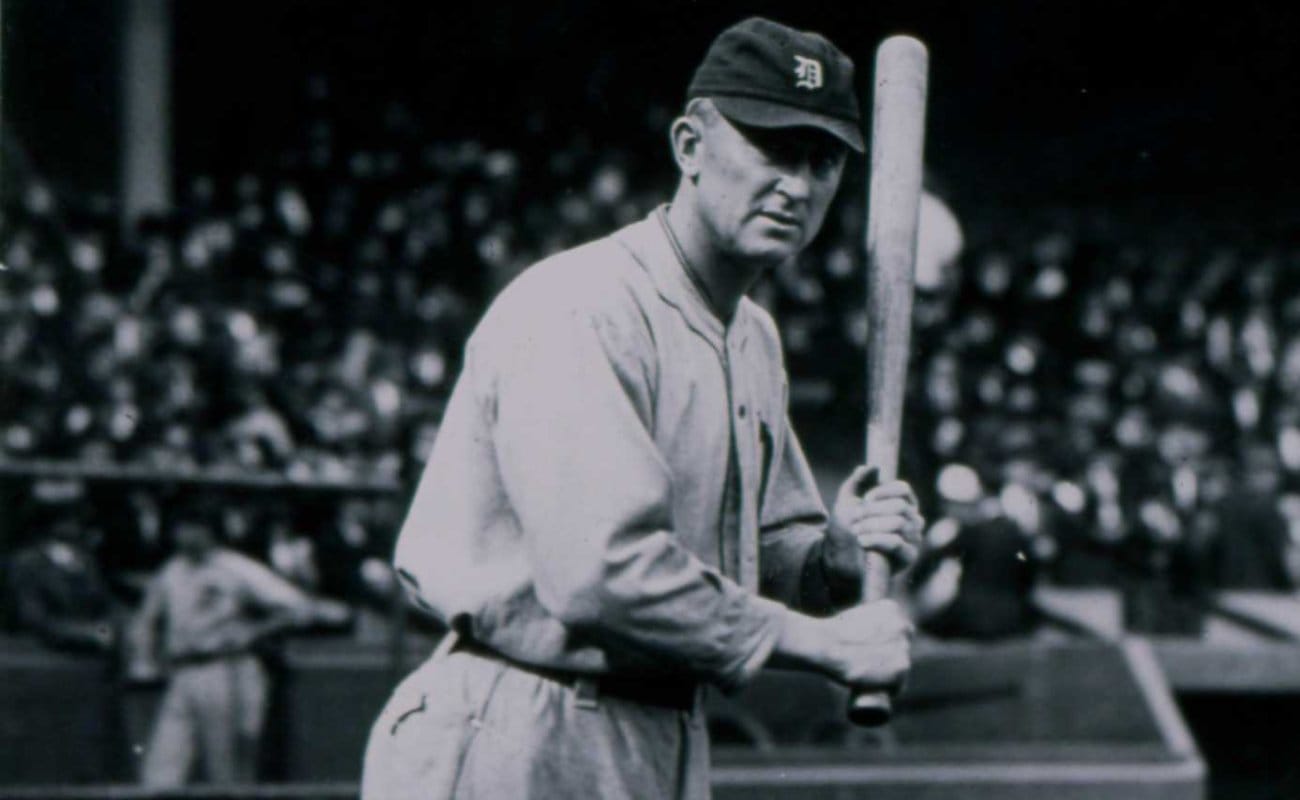 Position: Center field. Playing time: 1905-1928 (24 seasons) Teams: Detroit Tigers (1905-26) Philadelphia Athletics (1927-28) Accolades: Triple Crown in 1909 MLB All-Century Team 1999 American League MVP in 1911 About: Cobb was known as a passionate, ferocious player and personality. His numbers were simply astounding and he still holds plenty of records, such as 0.366 for batting average, 54 steals of home, 12 batting titles and he ended his career with 43 MLB records.
5. Ted Williams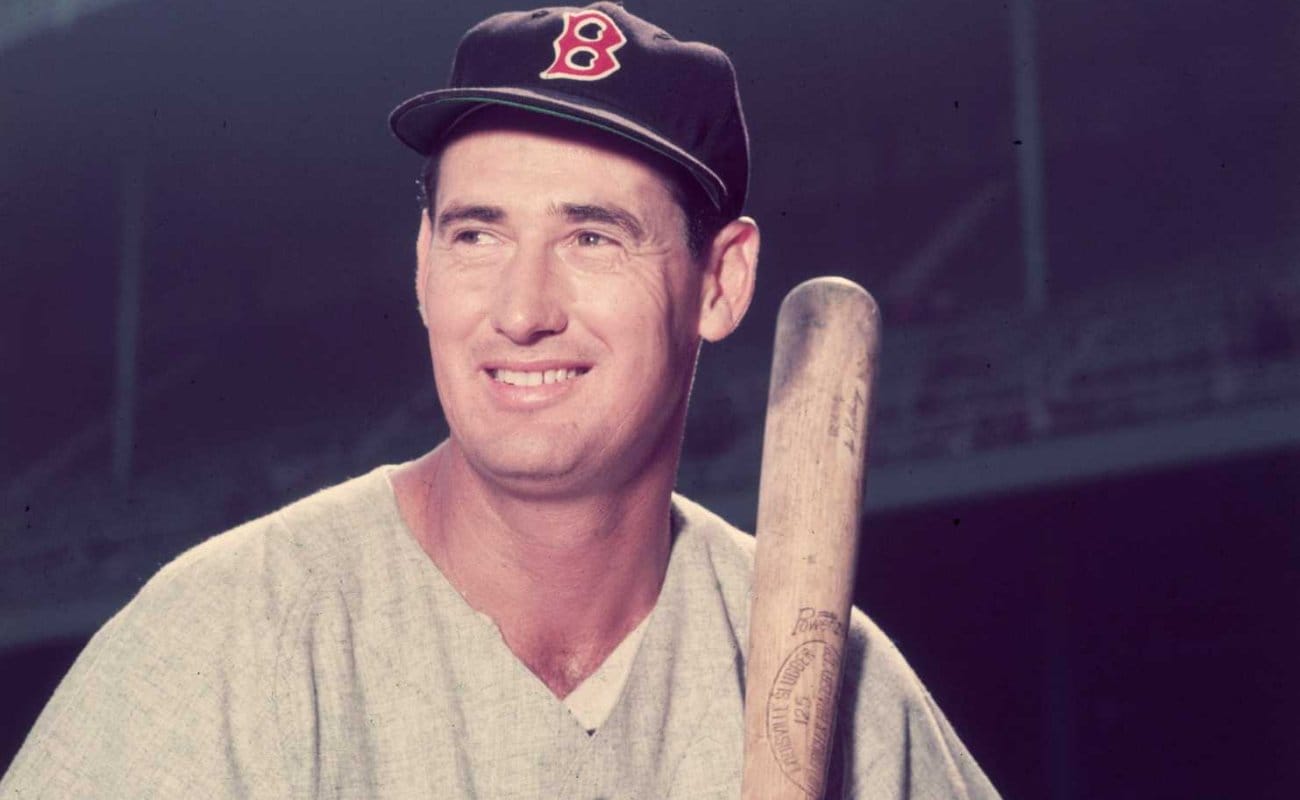 Position: Left Field Playing time: 1939-42 and 1946-1960 with the Boston Red Sox. Accolades: Twice American League MVP (1946 and 1949) MLB All-Star 19 times from 1940-42, 1946-51, 1953-60. Won the Triple Crown twice in 1942 and 1947. About: Williams is thought of as the best pure hitter to have ever graced the MLB stage. He is still the last player to hit over 0.400, which happened in 1941 and he has the highest career on-base percentage ever with 0.482. The five seasons he wasn't playing for the Red Sox, he was on active duty in World War II and the Korean War.
4. Hank Aaron
Position: Right Field. Playing time: 1952 and 1953-76 (24 seasons) Teams: Indianapolis Clowns (1952) Milwaukee/Atlanta Braves (1954-74) Milwaukee Brewers (1975-76) Accolades: World Series title in 1957 National League MVP in 1957 MLB All-Star 25 times from 1955-1975 All-Century Team in 1999 Gold Glove Awards from 1958-1960 About: From the humble beginning of hitting bottle caps with sticks and other miscellaneous items, Aaron dragged himself out of poverty to have one of the best careers in baseball. He was widely known for changing his number to 44 and then going on to hit 44 home runs in four separate seasons. He finished up his career with 755 home runs and still holds records for 2,297 RBI, 1,477 extra-base hits, and 6,856 total bases.
3. Oscar Charleston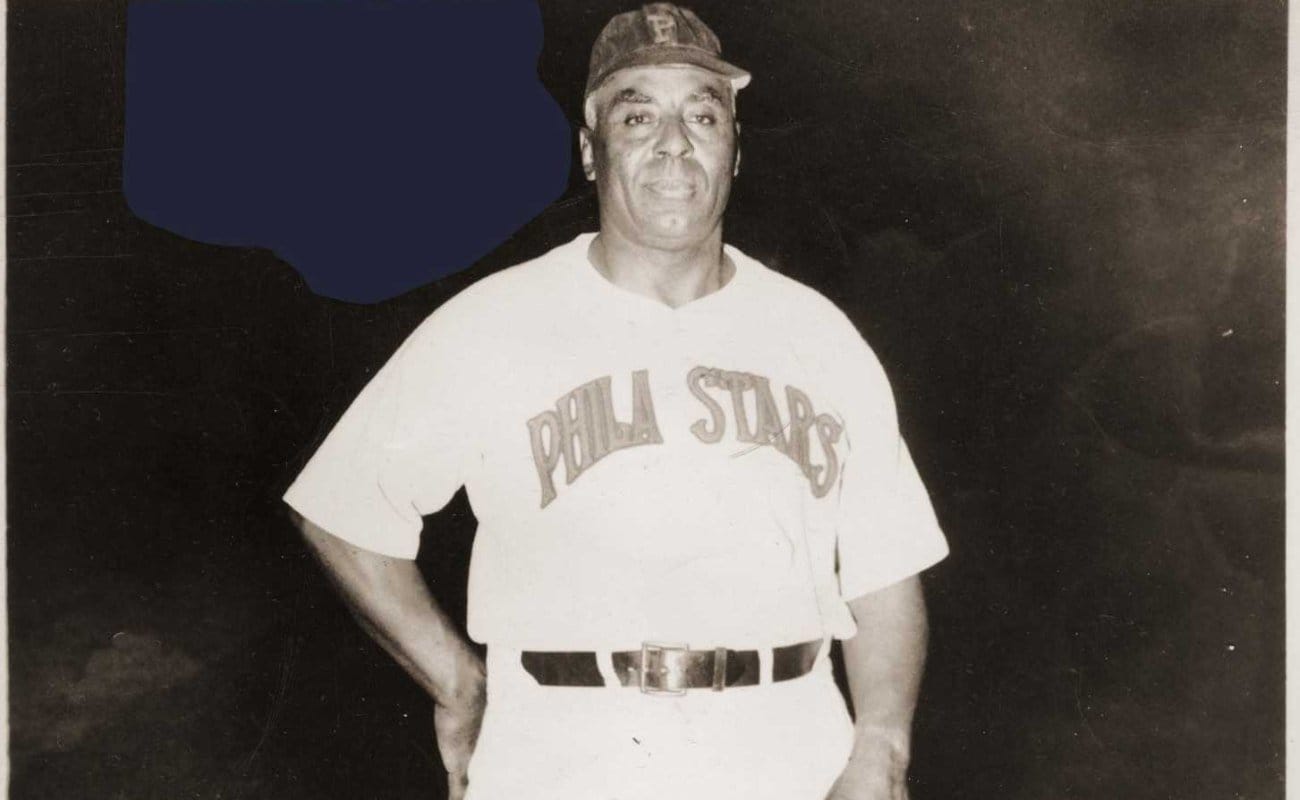 Position: Center Field/First Base Playing time: 1915-1941 (27 seasons) Teams: Indianapolis ABCs (1915-18, 1920, 1922, 1923) Lincoln Stars (1916) Chicago American Giants (1919) Detroit Stars (1919) St. Louis Giants (1921) Harrisburg Giants (1924-27, 1930-31) Hilldale Club (1928-29) Pittsburgh Crawfords (1932-37) Toledo Crawfords (1939) Indianapolis Crawfords (1940) Philadelphia Stars (1941) Accolades: Negro League All-Star three times from 1933-1935 0.339 bat and slugged 0.545. About: Charleston came into professional baseball before the Negro Leagues were even formed in 1920 and long before any people of colour would be able to play in the MLB. He finished his career with a batting and home average in the top 5 of the Negro Leagues and is the leader in stolen bases. He made it to the baseball Hall of Fame in 1976.
2. Babe Ruth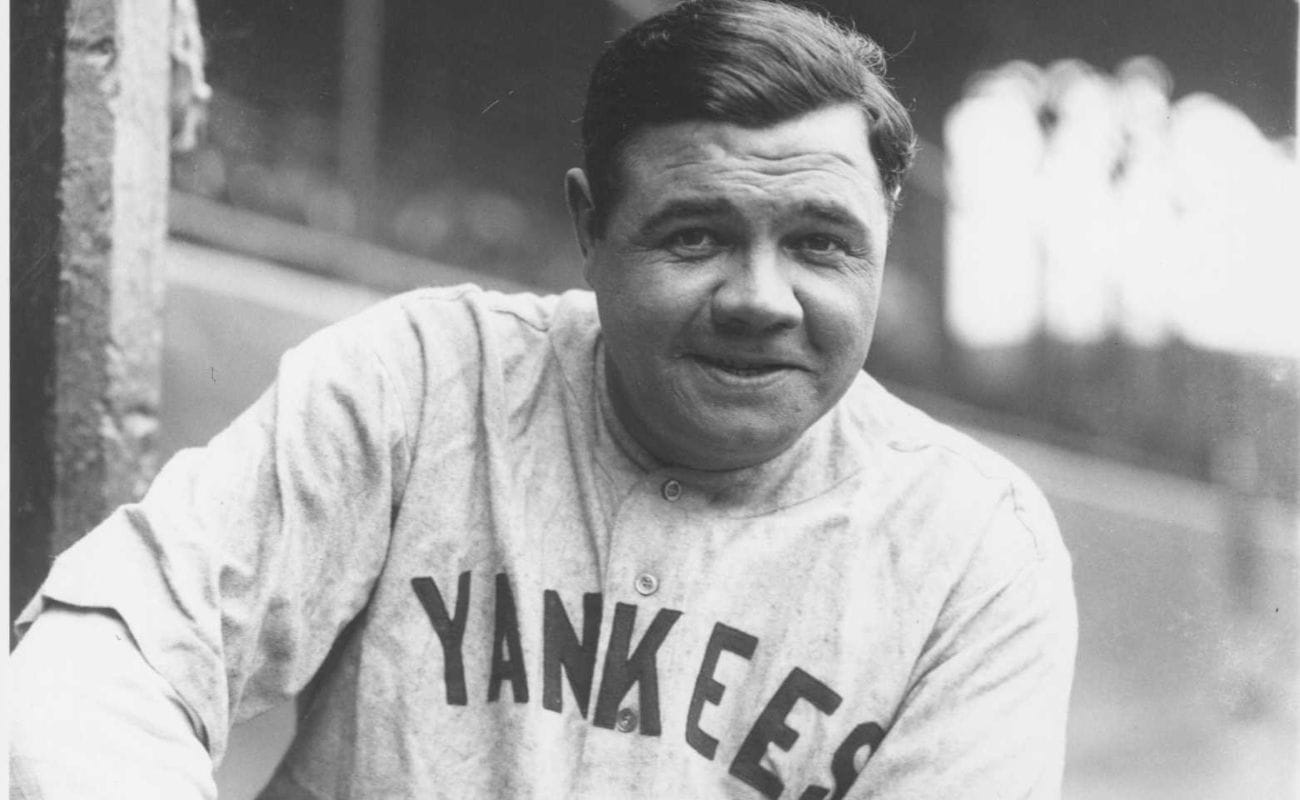 Position: Outfield/Pitcher. Playing time: 1914-1935 (22 seasons) Teams: Boston Red Sox (1914-19) New York Yankees (1920-34) Boston Braves (1935) Accolades: 7 World Series in 1915, 1916, 1918, 1923, 1927, 1928, 1932. About: "Babe" Ruth is arguably the most famous baseball player and his name is known all over the world. At 7 years old, George Herman Ruth ended up at a boys' reformatory because his family could not manage his behavior. This is where he learned to play baseball. He started out as a great pitcher with the Red Sox, however, he became the best slugger in baseball for the New York Yankees. Babe Ruth retired with a record of 714 home runs, 2,213 RBI, 2,062 walks and still has the record of a 0.690 slugging percentage and 1.164 on-base plus slugging.
1. Willie Mays
Position: Center Field. Playing time: 1948-52 and 1954-73. Teams: Birmingham Black Barons (1948-50) New York/San Francisco Giants (1951-52, 1954-71) New York Mets (1972-73) Accolades: World Series Title in 1954 National League MBP twice in 1954 and 1965 won the Gold Glove a dozen times 1957-68 MLB All-Star 24 times from 1954 to 1973 About: When it comes to an all-rounder, you don't get much better than Willie Mays. He plied his trade in the Negro Leagues in high school and then went to the New York Giants for the majors at the age of 19. His most famous moment in the game was his over-the-shoulder catch in the 1954 World Series' first game and is a globally recognized image. He finished his career with a batting average of 0.302, 3,283 hits, a 1,903 RBI, 338 stolen bases, and 660 home runs. He made it to the Baseball Hall of Fame in 1979.
Bet on the current MLB
These are just some of the most famous names in MLB history, but as we look forward to the 2020-21 season, it's time to turn your eyes to the current crop of youngsters that are trying to get their names into the history books. Sports betting is a great way to support your favorite MLB team and also win some cash. Legal online sports betting sites and online sportsbooks like BetMGM have changed the industry and now you can put money on your favorite team from the comfort of your own home. Sign up for sports betting tips and the best
sports betting odds
on a huge variety of sports from all over the world.