Rahm is atop The Open odds after U.S. Open win.
Player, Snead, Faldo never won back-to-back majors.
Only 3 golfers have back-to-back wins at the U.S. Open and The Open.
Jon Rahm would've been among the favorites in British Open betting odds if he went par-par on the 17th and 18th holes in his final round at Torrey Pines to finish second to Louis Oosthuizen at the 2021 U.S. Open. 
While Rahm might not have jumped to the top of British Open odds – or at least not held such a large advantage over Dustin Johnson, Rory McIlroy, and others – if he didn't go birdie-birdie to win his first major championship, the 26-year-old Spaniard still would've been a popular pick to win the Claret Jug later this month.
Now, as the U.S. Open champion, history says picking Rahm to win at Royal St. George's is questionable.
Since the first U.S. Open in 1895, 12 U.S. Opens have been canceled: five to World War I, six to World War II, and one to the coronavirus pandemic. An additional 28 editions were held after the British Open, thus making it impossible for the U.S. Open champion to later win the British Open in the same year.
That leaves 86 years in which the British Open was held after the U.S. Open, of which 82 were consecutively played in the major championship schedule, e.g., The Masters was played first, followed by the U.S. Open, British Open, and PGA Championship.
Tiger Woods' victory at St. Andrews in 2000 is one of only three instances in which the U.S. Open winner won the British Open as consecutive majors. The others – Lee Trevino in 1971 and Tom Watson in 1982 – join Woods in a group equal to that of U.S. Open winners cut at the next major, the British Open, in the last 13 years alone:
2019: Gary Woodland
2013: Phil Mickelson
2009: Lucas Glover
Only seven times from 2007-19 did the U.S. Open champion play on the weekend at the British Open. And five of the seven finished at least 10 strokes behind the winner. Another two golfers, Webb Simpson and Pádraig Harrington didn't play in The Open after winning the U.S. Open.
The misery didn't start with Glover's second-round 77 that booted him from Turnberry in the 2009 British Open. Six years earlier, Jim Furyk was cut in the 2003 British Open, as was Steve Jones at Royal Lytham in 1996. And between Jones' whiff in 1996 and Woods' win in 2000, the three U.S. Open winners – Ernie Els, Lee Janzen, and Payne Stewart – finished in 10th, 24th, and 30th, respectively, an average of 10.3 strokes behind The Open winner.
How does the 3.7-percent success rate of back-to-back U.S. Open-British Open champions (three of 82) compare to other back-to-back majors in the same year? 
It's the lowest rate among majors (min. 10 times played consecutively):
British Open-U.S. Open: Three British Open winners have won the U.S. Open in consecutive majors. Those occurred in 28 possible opportunities for a rate of 10.7 percent.
British Open-PGA Championship: 6 of 73 - 8.2%
The Masters-U.S.Open: 6 of 78 - 7.7%
U.S. Open-PGA Championship: 1 of 19: 5.3%
U.S. Open-British Open: 3 of 82 3.7%
It's never been accomplished in six opportunities for The Masters-PGA Championship, six for the PGA Championship-U.S.Open, five for the PGA Championship-British Open, and once apiece for the U.S. Open-The Masters and the PGA Championship-The Masters. (The Masters and British Open have never been played consecutively, in either order.)
It's damn hard to win consecutive majors in the same year; only 13 golfers have done it, combining for 19 consecutive majors in 299 opportunities, a success rate of 6.4 percent. 
Jack Nicklaus did it only once, as did Arnold Palmer, Walter Hagen, and Tom Watson. Gary Player never did it, nor did Harry Vardon, Sam Snead, Nick Faldo, or Byron Nelson. Only Ben Hogan, Bobby Jones, Gene Sarazen, and Woods did it multiple times. And Woods is the only golfer to accomplish the feat more than twice (four times).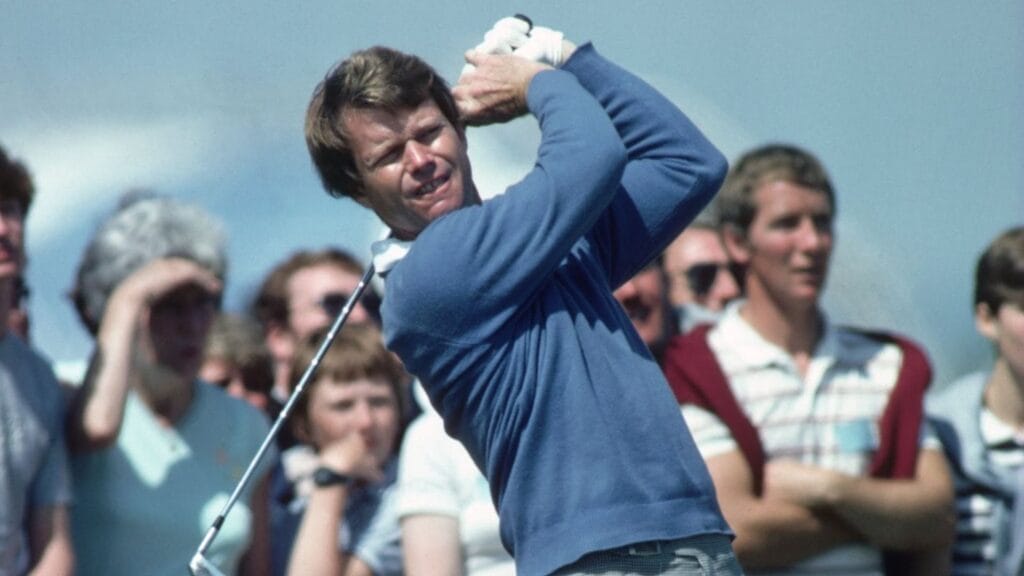 It's even harder to win consecutive majors as the favorite (in the second major), as Rahm currently is for the British Open. Consecutive majors aside, the British Open is cruel to favorites; only four of the last 28 favorites won the tournament.
McIlroy is the only golfer in the last 15 years to win the second of consecutive majors as the favorite. Three weeks after his wire-to-win in the 2014 British Open win at Royal Liverpool, he arrived at the PGA Championship as a heavy favorite (+600). And with a final-round 68 to finish 15-under at Valhalla, McIlroy won his fourth career major. 
On the one hand, Rahm has three straight top-10 major finishes and nine total top-10 finishes since October, not including his final-round withdrawal at The Memorial. 
On the other hand, Rahm is attempting to accomplish something that's happened just 19 times in 299 opportunities in major championship history.
Place British Open Wagers at BetMGM
At BetMGM, you can view updated Open Championship odds and place a bet online with online sports betting or mobile sports betting (with the BetMGM sportsbook app). With parlays, props, and live sports betting, BetMGM is your ticket for British Open betting.