Chewing tobacco is banned for all new Major League Baseball players.
Smokeless tobacco is also banned in 16 of 30 MLB stadiums.
From regular-season games to the baseball playoffs to historical footage of MLB legends, we've all seen footage of players dipping or chewing smokeless tobacco. 
It's been a cultural part of the game since the very beginning, but with the rather disgusting habit now linked to a range of serious health effects, it's understandable many want to see smokeless tobacco use eradicated from baseball.
Major League Baseball's 2016 collective bargaining agreement banned the use of smokeless tobacco, including chewing tobacco, for all new big league players. However, it did not apply to any player who already had at least one day of major league service at that time. 
Considering a 2015 study found 37% of major league players and coaches were still using smokeless tobacco, this was a significant, if controversial, move by the MLB to reduce the habit.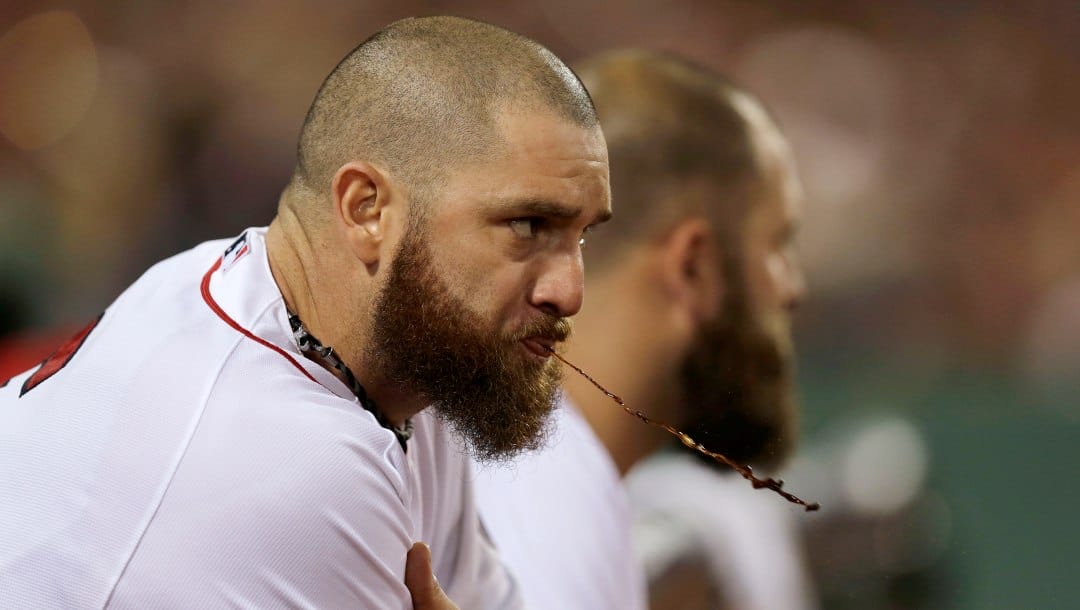 In addition to the ban on new players, no major league player is permitted to take the field or enter the dugout with a tin or package of smokeless tobacco in their uniforms once fans are in the stadium. They are also not permitted to use the products during on-camera interviews, acknowledging MLB players are role models to many fans and should not be encouraging the practice, even subliminally.
Smokeless tobacco use has been linked to an increased risk of mouth, tongue, cheek, and gum cancers, as well as numerous other medical issues, but not everybody in the majors was happy about the 2016 bans. 
Joe Maddon, then-manager of the Chicago Cubs, told the Chicago Tribune at the time, "I'm into personal freedoms, and I don't understand the point with all that … I stopped chewing tobacco about 15 years ago, and I'm glad that I did, (but) to tell me what I can and can't do as an adult, I'm not into that."
Despite the outspoken few, many players were very supportive of the ban, some saying it would be the push they needed to help them quit the habit, and others simply recognizing that it was obviously for the greater good. 
Following the death of Hall-of-Fame outfielder Tony Gwynn from salivary gland cancer in June 2014, most appreciated how important it was to turn MLB's dependence on smokeless tobacco around. 
Outfielder ​​Adam Eaton, who played for the Chicago White Sox at the time, told reporters, "It will be good for guys in here, but it might be difficult for some guys. At the end of the day, it's setting a good example for children with how they look up to us. It's a good thing."
MLB Stadiums With Smokeless Tobacco Bans
| FIELD | HOME TEAM | YEAR |
| --- | --- | --- |
| Fenway Park | Boston Red Sox | 2016 |
| Guaranteed Rate Field | Chicago White Sox | 2016 |
| Wrigley Field | Chicago Cubs | 2016 |
| Dodger Stadium | Los Angeles Dodgers | 2016 |
| Angels Stadium | Los Angeles Angels | 2016 |
| Miller Park | Milwaukee Brewers | 2016 |
| Yankee Stadium | New York Stadium | 2016 |
| Citi Field | New York Mets | 2016 |
| Oakland Coliseum | Oakland Athletics | 2016 |
| Petco Park | San Diego Padres | 2016 |
| Oracle Park | San Francisco Giants | 2016 |
| Busch Stadium | St. Louis Cardinals | 2017 |
| Tropicana Field | Tampa Bay Rays | 2017 |
| Nationals Park | Washington Nationals | 2017 |
| T-Mobile Park | Seattle Mariners | 2018 |
| Chase Field | Arizona Diamondbacks | 2019 |
On May 8, 2015, San Francisco became the first American city to ban smokeless tobacco at sporting venues, with the new ordinance going into effect on Jan. 1, 2016. Boston followed suit on April 1, with New York and Chicago joining them shortly after.
As of Aug. 13, 2022, 16 of 30 Major League Baseball venues have banned smokeless tobacco, most as a result of city or state bans. 
MLB Betting Lines at the Sportsbook
BetMGM allows you to get closer to the diamond with updated MLB betting lines for each game.
From April through October, you can place live wagers during games. Whether you want to hedge against a position on the Chicago White Sox, increase your investment on the Los Angeles Dodgers, or place a new bet on the Minnesota Twins, live betting is a unique way to add more excitement and potential payouts!
Sign in to your account today — or, if you don't have an account, sign up today with a sportsbook welcome bonus — to start betting. And don't forget to check updated sportsbook bonuses and promos each day of the year.